Kelsey
Bryn Mawr
+
It's only been three weeks since I arrived at Bryn Mawr, but it's felt like an eternity — not because there's nothing to do, but because there's so much. From when I wake up at 7:10am — early mornings sadly don't end in high school, at least not if you're me and take Arabic five days a week — to when I go to sleep at some hopefully not-too-late time, I'm doing things. And it's wonderful. The hard part is feeling that joy when my alarm goes off.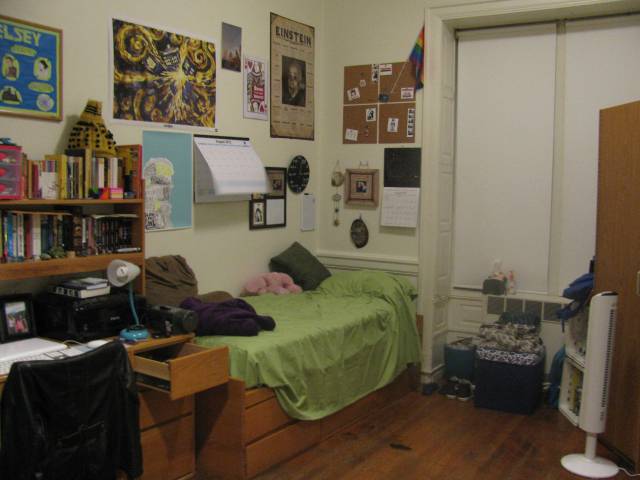 So far, my experience at Bryn Mawr hasn't been as gay as it probably will be once clubs start and I can go to things like Rainbow Alliance (our GSA), but it's still pretty gay, in both meanings of the word. During my first week at the Tri-College Summer Institute, a program for freshman to discuss issues of diversity, we each introduced ourselves with some of our identities, and one quarter of us openly identified as LGBT. I may have come from a somewhat liberal high school, but that is not a fraction I'm used to–in high school, it was more like 20 or 30 out of almost 2,000. So needless to say, the queer girls are not nearly as hard to find as I feared–searching for them would only be like Where's Waldo if Waldo was one out of every four or five people and looked just like everyone else.
Gaydar is definitely not a reliable thing here, not that I had it in the first place. There are straight girls with short hair and gay girls with long hair and girls who don't even go here, so I've quickly learned that the best way to find out if someone is gay is talking to them. It usually comes up sooner or later, especially if they talk to me because they read my Autostraddle column.
By far the least gay thing I've done so far is go to parties. There haven't been many parties at Bryn Mawr so far, so my friends and I have checked out a few at a nearby college. The only one that was even remotely gay was during orientation week, because my dorm group's theme was rainbow, and my rainbow knee-hi socks and earrings (from a gay pride parade, of course) made their college debut.
The others (and even that one, once we actually got there) were, to say the least, heteronormative. I talked to some cool people and danced a little, but the entire time all I could see were straight couples grinding and making out a few feet away from me, and I had to wonder, why aren't any same-sex couples dancing together? If I had any ability to flirt, I might have tried to change that, but instead I left the parties eager to go back to my Bryn Mawr bubble. Here, heternormativity isn't the norm, but the punch line of a rather bad joke.
I'm not quite sure what possessed me to do this, but I've started playing rugby. I haven't played a team sport since 2nd grade soccer, but a friend kept talking about how cool it is and now here I am, getting a sports physical and preparing to be tackled two hours a day, three days a week. It would be nice to actually be good at athletics for the first time in ever, but I've long ago accepted that I have neither athletic talent nor the willpower to develop skill, so I'll settle for having fun and making friends, hopefully including some queer ones.
For now, just being here is more than enough.

+
Lillian
Vassar
+
The last few weeks have been somewhat of a whirlwind. One of the first things I noticed is that people here are really nice. They aren't the kind of people I knew in high school—the judgmental, flaky, and neurotic kinds. Then again it could just be because it's the first month of school and everyone is just trying to make friends, though I seriously doubt this is the case.
Since I've been here I think I've become a better version of myself. I know people usually say this when they're in love with someone, so to be honest I'm in love with Vassar. Being in a totally new and welcoming atmosphere has encouraged me to step out of my comfort zone. I went to an ice skating meeting, danced with this girl, and even auditioned to be a drill instructor for French. The latter of which was actually super nerve wrecking. But guess what? I got the job and taught my first session the other day which, much to my surprise wasn't that scary.
I thought the whole process of adjusting to college life would be scary. I thought making friends would be difficult, but basically I can just walk into anyone's room and say "Hey, cool poster" or in my case someone will come up and want to play with my hair and friendships are born. Also there are lots of bonding activities and I've made friends just from showing pride for my house.
All my classes are great and the teachers here are really interested in what each student has to say. I have an insane amount of work and reading to do but it is all eye-opening and interesting (I feel like I should write brochures…). I could go on for a whole page about how awesome the academics are and explaining what my classes are like at Vassar but after all this series is called "College Lesbianage" so let's get down to the important stuff.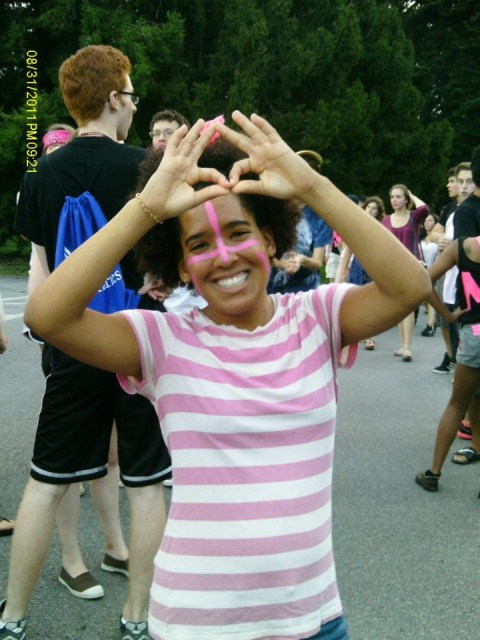 I've made a sincere effort to go to almost every gay related activity on campus. One interesting panel called was called "Gays of Our Lives" and consisted of five or six upperclassmen talking about their dating/sex lives, gender identity and sexuality. It was very honest and hilarious. There are also free dinners in the LGBTQ center for freshmen every Tuesday, which is basically a way for people to get involved in the community (and flirt) in a very casual setting. Did I mention there was free food? That's definitely a selling point. Out of all my favorite things, free food and the gays are tied at number one.
So at this meeting, there was this girl — we'll call her K. She asked if I happened to write for Autostraddle and we talked for a bit. The weekend after, I saw her dancing and went over and danced with her. She didn't immediately run for the hills so I took this as a good sign. The dance room was hot and disgusting and I saw this as a good opportunity to get some fresh air. K agreed. We walked around the lake together and into the Shakespeare Garden, a very romantic spot by the way. When we got there, the steps were slippery and I asked her if she wanted a hand — she didn't let go of it until she left my at my door later that evening. K asked me for my number and I spent the next 24 hours staring at my phone waiting to see a text. We eventually met up the following day and spent it chatting, walking hand and hand, and listening to what else but Tegan and Sara. At the end of the day K stopped me and asked me if I would go out with her. The question took me off guard a bit but I was more than overjoyed and now this girl is kind of my very first girlfriend.
Life just happened so fast. It's strange and scary but I'm definitely not complaining. Up until a certain point I thought my relationship status would perpetually be "forever alone". And now I have a girlfriend and a job and I somehow didn't mess up any of it yet. I can't wait to see what the next few weeks will be like and if my streak of awesomeness will ever run out (that sounded conceited, sorry).
Now it's time to get back to work, to reading hard texts and wooing K and also finding time to, you know, sleep and eat. Until next time lovelies!
+
Claire
Wellesley College
+
Last year, when I started touring colleges, I would make a special effort to check out the older students as we wandered around campus, listening to yet another peppy student tell us about the specific merits of that specific school. Did the older students look happy? I sincerely hope that none of the students from the campus tour this morning judged Wellesley by my appearance, because while I might be quite haggard on the outside, I'm beaming on the inside.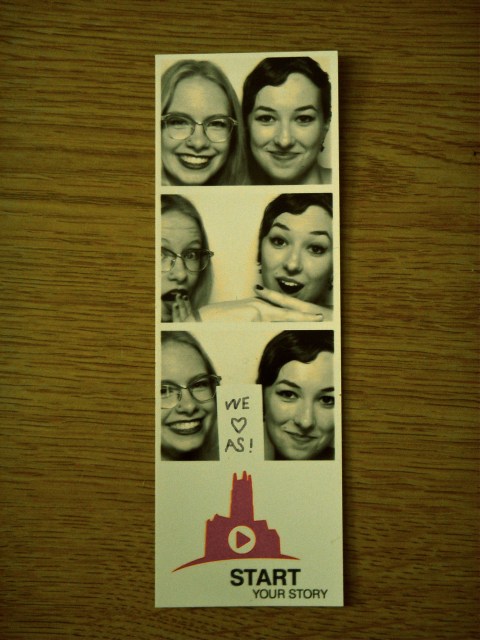 I didn't get to sleep before 1:00 a.m. a single night during Orientation. They had us very busy with events, panels, and other bonding activities like s'mores making, and on top of that, I made friends! I have often heard the maxim "You cannot have a social life, good grades, and a decent night's sleep in college" but I honestly didn't believe it until I actually got to college. During Orientation, I definitely prioritized my social life above my sleep schedule. How could I not?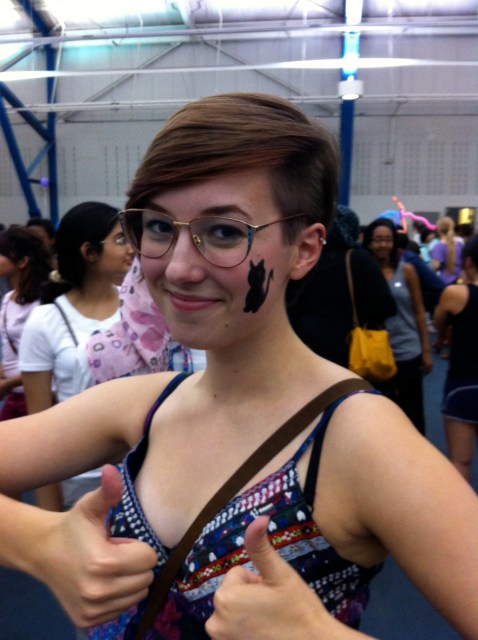 Sleep sounds so much more boring than staying up until the late hours of the night eating dessert and making crafts on the Davis plaza while a band played, or racing each other in a bouncy castle during a circus-themed party in the gym, or even taking a late night dip in the lake with the entire first-year class. I've also had plenty of opportunities to dance. There was a James Bond themed mixer during Orientation, complete with mock-tinis and intrigue, and every Thursday night at the Pub there is a dance party.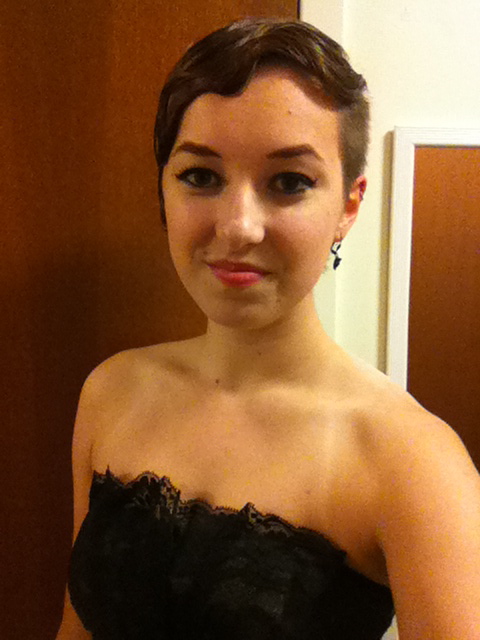 Sleeping in during Orientation wasn't an option either. I met my friends every morning for breakfast in the vegetarian dining hall, and then we were whisked off to a variety of panels and daytime events to help prepare us for life as college students.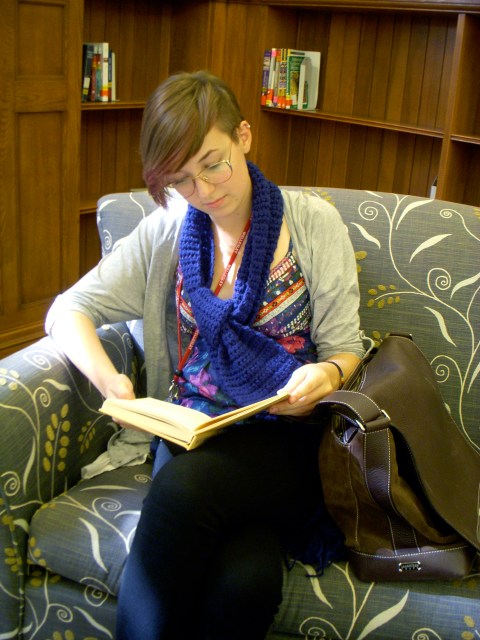 I particularly enjoyed the sustainable move in sale, and wound up taking home a ridiculous straw hat, as well as some more practical things such as a printer and a mini Christmas tree. They also had a panel called "Rainbow Connections" that was specifically for queer identified students. Watching a panel of students and administrators talk about life on campus as a queer identified student, and knowing that I am supported here, not tolerated, honestly takes my breath away.
Queer couples are significantly more visible on campus than anywhere else I've ever been. Walking down the sidewalk holding hands with your girlfriend will not turn heads. I feel comfortable here. There is so much community, and when they talk about safe spaces on this campus, they actually take them seriously. There is also a sibling-matching program through the Queer Council and Advisory Board. I was midway through a bite of delicious Thai food when they called my name. I was jumping almost as soon as I was standing- my big sister is awesome! I also have a "twin sister"– my big sister was paired with two first years (I got lucky) – and she's a friend of mine! We have a very cool and queer family going. What the familial relationship entails depends really on the people who are matched. Some drift apart from their big siblings pretty quickly. Some stay friends and hang out often. I'd like to be friends, even though it seems that we are all frantically busy.
Even though I haven't played team sports in at least ten years, and my level of athletic talent is definitely questionable, I've joined the rugby team. It happened chance: I was checking my email before going on a run, and saw the announcement for an open practice. I've been back to practice almost every day since. Anyone who knew me before college would be very surprised, but I love rugby. I love the team spirit and the sheer amount of queers present on all of the teams. We played a tournament last weekend, and alternative lifestyle haircuts abounded. Smith, in particular, had quite the queer looking team. I also love tackling people, and learning new plays, and discovering hidden bruises.
Between the questionable sleep schedule and the blooming bruises from shoulders to ankles, I'm quite the sight to behold. Even if I'm looking a bit rough at the moment, though, I'm happy. Wellesley seems like a perfect fit for me.
Pages: 1 2See entire article on one page