I hope you caught Natasha Lyonne and Melanie Lynskey's Actors on Actors interview; it was a highlight of this pop culture week for me! Also! Kayla reviewed Jagged Mind and she made you a list of documentaries to watch for Pride. Sai reviewed Wanda Sykes' new comedy special. Kristen Stewart and Dylan Meyer are writing a movie together. And look who made Tony Awards history!
Notes from the TV Team:
+ Hey, guess who's in this season of Human Resources! Alice Wong! They even got her trademark lipstick right! — Heather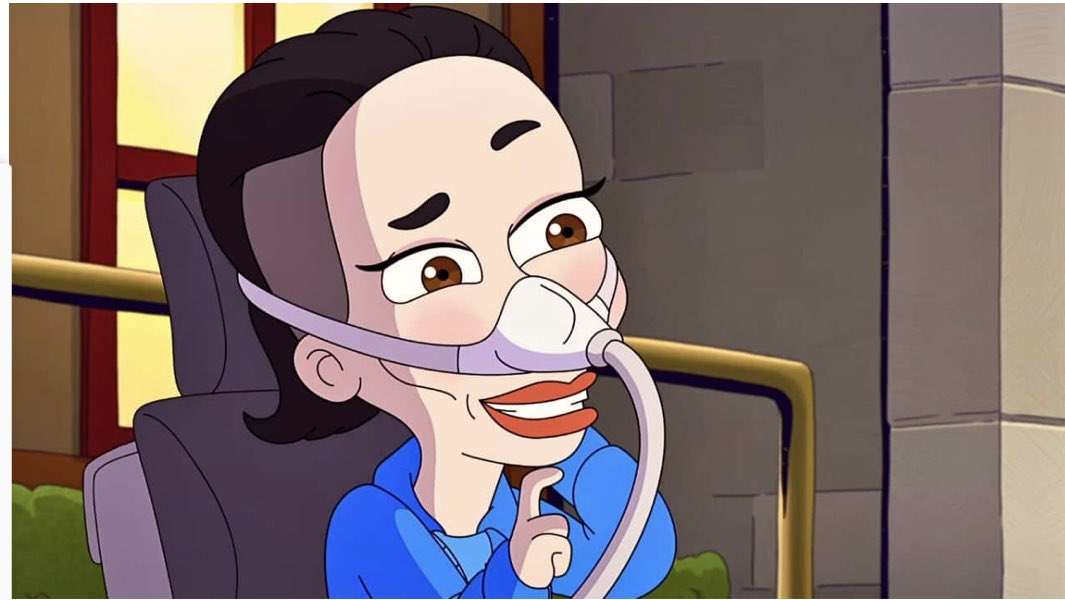 + I've been watching The Rising on The CW (it's not a CW show, it's just on the CW) and it's a really interesting story so far and while it's not confirmed yet I'm getting vibes between two girls so I'll keep an eye on that for you. – Valerie Anne
---
This week, Sophie decides she's tired of the freelance hustle and wants a proper day job, and the company Ellen works for is looking for an in-house photographer. She asks Ellen to put in a good word for her, and Ellen tries to couch Sophie's expectations but Sophie almost immediately gets offered the job. Ellen says she'll be Sophie's guide to day job living and even adds her to the Rich City Bitch sitcom intro.
At work, Sophie's new boss is surprised to see her and Ellen together and Sophie realizes Ellen never recommended Sophie after all. Ellen says she got busy and forgot, but after some needling, Ellen reveals that she actually didn't recommend Sophie because she didn't think Sophie would be good at holding down a day job. They have a fight during a meeting about rebranding cabbage, and the boss pulls Ellen into his office to discuss it, when Sophie bursts in to defend her, and Ellen defends her right back. In the end, they both are kept on the account, their cabbage campaign is a success, and friendship prevails.
We haven't had a lot of (if any??) storylines that are just Sophie and Ellen, and it was nice to see! Also, this is neither here nor there, but over in her B plot about fortune tellers and psychics, Val lands a flawless High School Musical: The Musical: The Series reference, which is one of my own personal favorite bits to execute, and I felt very seen in that moment.
---
Class of '09 Episode 107: "Orders Night"
Another day, another episode of Class of '09 giving me mixed messages re: the Poet/Hour love story.
One thing is for sure: Hour definitely loves Poet. That much has always been clear. This week it shows up in more subtle ways than last, like Present Day Hour being stressed about Present Day Poet going into a suspect's house alone with only the AI to assist.
Once again Poet's ability to think outside the box saves the day, because unlike some of her peers, she doesn't underestimate the suspect just because he's in a wheelchair. She's patient with him, and observant, and while she does end up needing Tayo to flash him to get free of his grip in the end, they get their guy; the AI worked where humans had failed.
In the past, after they get their orders, Past Poet talks to Past Hour about how her and her on-again, off-again boyfriend got placed on the other side of the country from her, and Hour tells her that after they broke up, he started seeing someone else. Hour says she feels bad telling her, but I think maybe she was internally screaming, "He's just a stupid boy!" Or, the modern version: "He is not the love of your life! He's literally just a guy!"
Present Day Poet runs into Hour at work and apparently it's been a minute since they've seen each other, because Poet gives her a big hug about it. Poet is staying at an FBI-sanctioned hotel, so Hour offers to let her stay in her new two-bedroom. Poet accepts and Hour smiles a sad smile about it; the love of her life will be so close, and yet so far.
The apartment is great, and has things like health monitors and grocery trackers for people living alone, and Hour tells Poet she can stay as long as she likes. Hour wants to take Poet to dinner, but Poet already has plans with Tayo. Hour plays it off like that doesn't hurt her feelings but this is already not going how she thought it would.
And then in the future, Poet gets randomly engaged to that man she dated in the Past. I didn't even know they were seeing each other again but he proposes and she accepts and I know in the future Hour is married to another woman but I stand by hating this development.
---
Nancy Drew Episode 403: "The Danger of the Hopeful Sigil"
This week the Drew Crew has to help some baby gays who accidentally got their bully possessed by a demon. Just another day in Horseshoe Bay.
The Drew Crew's efforts are split though, because this call comes while they're trying to break the love curse on Nancy and Ace, and the talisman they were using to try to break it is what the teens stole. The teens, George's sister Jesse and Jesse's girlfriend Birdie, were trying to prove that magic is real, because their bully won't leave them alone about it and they saw Bess deny it right to the bully's dad's face, all because she was trying to secure funding for the historical society.
Before they can figure out how to break the curse, the possessed bully shows up and steals Birdie and Jesse, and the Drew Crew chase them through the forest to find them floating in the air. They do the ritual and save the teens, but the talisman they needed for the love spell breaks.
Luckily, there's another one, so they find it and gather the rest of the ingredients… but Temperance had preemptively sabotaged them, so not only did it not break the cures, but Nancy almost dies about it. Ace decides breaking the curse isn't worth it; he'd rather live a lifetime alone together than risk her dying again. I personally think probably they could do all the things people in love do besides kissing like they're in Pushing Daisies but I guess I don't know what Temperance considered "acting on" their feelings. Maybe seeing a sunset while holding hands would set it off, too.
There's a side plot where Nick is trying to get the town to believe that the water supply is tainted, but Mama Bellwether from Motherland: Fort Salem is here to foil his plans. And drink the water. But that's a problem for future us.
Back at the Historical Society, Bess stands up to the bully's dad, saying she'd rather kids learn the truth from the source than try to hide it from them and have them learn about it on their own in a way that could be more dangerous. Kids are going to have sex/be queer/do magic no matter what, so might as well make sure they have all the resources they need to be informed and safe. Of course, the bully's dad huffs off muttering things like "I'll be in charge of what my kids learn" but she brushes him off and turns to the baby gays she's taken under her wing, telling them she will be the one to guide and teach them. And no one better than Bess to do it.