Chester French is a duo who had enough gall to put out a song called "Black Girls" and then promote it with a video of a white woman and black woman making out nakedly. I don't know that I like the video. I mean, who likes music videos anymore, but it did make me stop and think, which art is supposed to do, and I get mad when it does its job. I would rather mindlessly enjoy most things because I'm lazy. Instead of chalking this video up to hipster nonsense, LET'S TALK ABOUT IT. This video is not safe for your workplace and if it is, may I please send you my resume.
These Harvard chaps seem to know what they were getting themselves into. The song begins with the lines, "This ain't no fetish, ain't objectifying no one/I reject your deconstruction of my taste." In addition to this self-awareness, D.A. Wallach, the lead singer, majored in African-American Studies. He either takes his fetishes really seriously or perhaps he has genuine interest in dismantling the patriarchy. Honestly him majoring in African-American Studies is way more intriguing to me than this video, but back to business.
I'm passing on chalking the video up as a ploy to create a buzz or appear controversial. Let's pretend that people care about their art and actual decision making skills went into play. "The video's purpose is to celebrate female beauty, pointing the attention on same sex/interracial love," Italian director Francesco Carrozzini said. The point here is that the video is giving props rather than fetishizing which feels true. I'd rather assume the best when there are two women kissing on my screen. It's fairly interesting that having two women hooking up is the safe bet in this case. I think things would have gotten ugly if this video were of the two band members surrounded by and possibly making out with a gaggle of black women.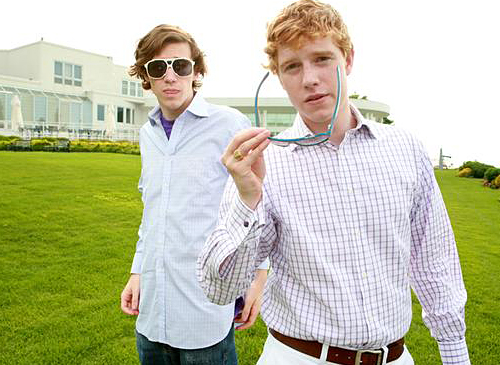 I don't like when people have problems with things just because they feel like they're supposed to and don't actually evaluate it based on their own values or moral systems. People are so afraid that liking something controversial could make them seem less down for the cause, whatever the cause may be. In this case, I suppose the cause is celebrating the awesomeness of black women. As a black woman, it's probs not the best idea to look to a couple of indie white dudes for validation. When it comes to self-acceptance, the motto for everyone should be "inquire within."
The song's most telling line is "my mom says I've got a thing for black girls." He's aware that certain people might have feelings about what he likes, but he doesn't care because that doesn't stop it from being true. There's a difference between potentially problematic and racist, and I think he's more likely to have pondered whether or not his attractions were coming from a messed up place than most of the people who will end up singing this song.
I think though most of us think we have a type, we often surprise ourselves with our own attractions. If you honestly have never pursued anyone outside of your supposed type, you're doing it wrong. I get it. The vagina wants what the vagina wants but when do we cross the line from preference to fetishization? We never talk about fetishizing one's own race, but I think that's a real thing.
Is having a thing for black girls worse than never having a thing for black girls? I'm more concerned with people who hear this song and can't relate at all. No matter what race you changed this song to be about, I'd be into it because I have a thing for all girls. I won't deny the amount of privilege in this song though. If I voiced a continued preference for women outside of my race, people could very well assume it's because I hate myself. Where do you stand on this video? Does it make you happy or sad?