Welcome to the fiftieth installment of  Queer Your Tech with Fun, Autostraddle's nerdy new tech column. Not everything we cover will be queer per se, but it will be about customizing this awesome technology you've got. Having it our way, expressing our appy selves just like we do with our identities. Here we can talk about anything from app recommendations to choosing a wireless printer to web sites you have to favorite to any other fun shit we can do with technology.
Header by Rory Midhani
---
I knew I had to alert you all to this when the first comedian pulled a Cara and started talking about Google search auto-complete. Like any other nerd out there, I have a healthy obsession with CERN. You may have heard of it – it's been in a Dan Brown novel, after all. CERN, the European Organization for Nuclear Research, is an international organization operating the world's largest and most sophisticated particle physics laboratory.
If you haven't heard of CERN, here is the extent of their science chops – via their about page, "What is the universe made of? How did it start? Physicists at CERN are seeking answers, using some of the world's most powerful particle accelerators." Damn. Those are some big, meaty questions.
If you have heard of CERN, you probably didn't know they were also funny people – their website has a section for CERN employees. It's not called that. It's not called "employees." It's called "CERN People." I never thought I'd find a phrase on the website for the leading particle physics lab that also sounded like it could have been written on Autostraddle. And apparently, they also host comedy nights.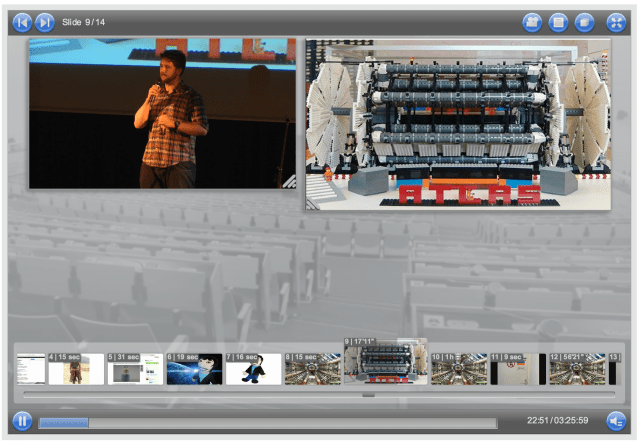 I wish I could embed this here for you, but I can't because it's a slide presentation plus comedy show. But you can click on this link right here and enjoy three and a half hours of scientists and professional comedians alike being nerd funny. You're welcome. This show is in English, but has moments of French. They have also have moments assuring the people of the internet that unicorns are real. You heard it at CERN, folks. (Spoiler alert: unicorns aren't real, they're just being funny people). Not everyone and everything is funny, but it has super charming moments: "Physics is like sex. It has practical applications. But that's not why we do it." And there's a guy that sings about particles accompanied by an acoustic guitar.
CERN's also done a couple of other cool things lately. Here's a few of them –
+Google Street View now lets you take a tour of CERN, supposing you can't just pop in.
+This dance company performed their piece, called Quantum, directly above the CMS particle detector that inspired the work. If you live in Paris, you could see this performance live during the first week of November. If you live in New York City, you might be able to see it some time next year.
+Jan Peters is the new CERN filmmaker in residence. That's a thing that exists now.
+CERN invented the world wide web in 1990 and they're really into preserving the first website that ever existed and preserving that experience as well.
+CERN is also having a quilt exhibit  in May 2014 – it's all Kate Findlay's work! She's got a series of quilts inspired by the Hadron Collider.