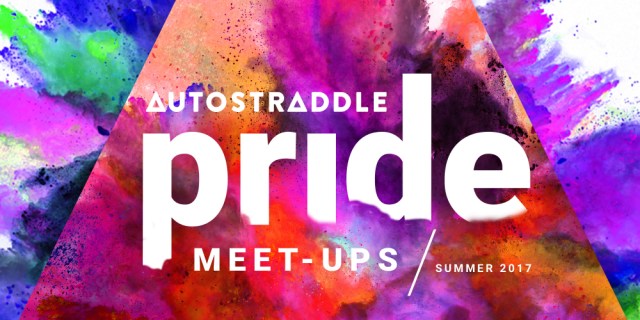 June is Pride month in the US — on June 28, 1969, the Stonewall Riot birthed the modern LGBT rights movement, and almost 50 years later, there's likely a parade happening in a major city near you. The expanse between those two events is wide! There's been a lot of good discussion about the dangers of increasingly corporatized Pride celebrations and iconography, from the bizarre surreality of rainbow-branded Doritos to straight celebrities being paid to make appearances to 8,000 Apple employees marching in San Francisco's eight-hour parade in 2015. At the same time, many of us get a lot out of Pride — the joy of seeing our communities out in the streets, the opportunity to remember our history and look toward our future and also maybe meet someone cute at an afterparty.
What do you look for in a Pride celebration? What should a community Pride event look like? Well reader, YOU have the power to make that decision this year when you host or attend an Autostraddle Pride meet-up!
Your local Pride-related meetup can be what you want it to be — as simple as organizing a group of people to attend an already-existing event together, or as unique as creating your own queer craft circle or movie night. Do you want to put together a quiet introvert hangout as an alternative to big loud Pride parties? Does your Pride look like a protest, or a day of organizing wellness checks on LGBTQ incarcerated people? Are you ready to test-drive your recipe for a rainbow waffle tower for a big DIY queer brunch?
To create your event, just use this link to submit a meet-up, and it'll get published to the official Upcoming Meet-Ups sidebar on the site! (You may want to also create a Facebook event or Eventbrite to allow people to RSVP.) We'll also keep a list of meet-up events on this page and update them as more come in. Although technically June is Pride month, is anyone going to complain if your event(s) go into July? Let's be honest: they are not. Want to talk about your rad meet-up and hear about others? Go ahead and post about it using the hashtag #ASPride2017 so we can all celebrate your celebrating!
---
Planned Meetups:
+ Chicago 6/4: Day at the Zoo
+ Indianapolis 6/11: Post-Pride Brunch
+ Shreveport 6/11: Equality March