THREE RIVERS: Much like Shane's tenure as the bro-mother of Shay-the-Milkshake-Eater, the lifespan of Three Rivers was shorter than perhaps its creators expected, and no iPods traded hands this time: "CBS announced today that Three Rivers, the Alex O'Loughlin drama about transplant surgeons, has been pulled from the schedule indefinitely and that reruns of NCIS: Los Angeles will take its place Sundays at 10 pm beginning Dec. 6. A CBS spokesman said the freshman drama will remain in production – the network ordered 13 episodes – but that no decision has been made about its future."
Yeah we heard that one before. CBS loves us, but it's not IN love with us right? She'll be back. They always come back. I mean, Three Rivers is currently ranked No. 45 among all primetime shows, which seems pretty high compared to all the shows in the world. There must be like a bajillion shows in the world.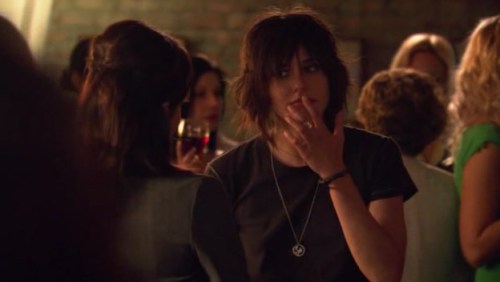 No but for reals-reals, as of November 30th (yesterday!) they're still casting for the 12th episode, so this shit ain't over 'til it's over. Has anyone been watching? DID CARMEN COME BACK?
TEGAN & SARA: It's a new episode of our favorite webseries, "REFLECTIONS," starring Tegan & Sara:
Reflections – Episode 5 from Tegan and Sara on Vimeo.
SINGLE MAN: Tom Ford's new film A Single Man opens in a few weeks, and you could win tickets to a screening party in New York! Modern Tonic also has some passes to previews at theaters in most major cities. Isn't that exciting? Don't you want to see Colin Firth play gay? And that guy from Imagine Me & You is in it!
NEW MOON: There's a lot of problems in the Twilight movie that have nothing to do with Mormons. (@ohnotheydidnt)
LADY GAGA: Is Lady Gaga a hermaphrodite is one of the most asked questions on the internet this year. Really you guys really. People are starving somewhere, I bet. Like Lindsay Lohan and Somalia. (@dailystar)
PETTY: Tom Petty told Rolling Stone that his father used to beat him because he assumed the singer was gay. Sounds like he was actually just kind of a cool kid. "Looking back on it, he probably was disappointed that I was so drawn to the arts," the rocker added. "He probably thought I was gay. I wasn't interested in sports. I didn't know the names of any baseball players. I liked films and books and records."
ANI: IT'S ANI DI-FUCKING-FRANCO ON THE VIDEO, "I've fallen in love with girls, and I've fallen in love with boys, and I've sung about the gender dynamics, the power dynamics, the queer dynamics against the overaching conform homogenous soicety anyone who is speaking to that and being free about it can probably connect with all kinds of people who share that same struggle." (@out)
COULTER DOLLS: Ann Coulter and Dr. Laura Schlessinger have been made into Barbie-like dolls, just in time for the holiday season.That's creepy on many levels. Howevs, you could do what many gay girls do with Barbies, i.e. take their clothes off
THE REAL WORLD: The Real World Washington DC is starting December 30th, and there is a gay in it but are there lesbians or not? That's really all we need to know!