4. Eat Pray Love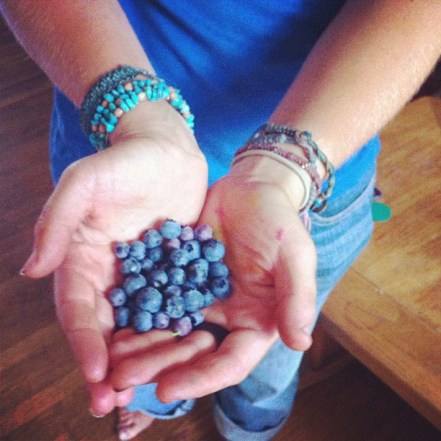 Shopping on a budget for food is by far the most depressing activity of all of the broke as fuck activities, including selling your old shit to strangers and sharing a room for the first time in five years. You're going to see so much food you can't buy, shouldn't buy, and would never desire to eat. The only problem? Sometimes food from the last category will fall into your life – but only rarely will food from the first two ever show up to dinner.
I go through my broke periods on a 10 – 15 dollar a week sliding scale food budget, meaning I shoot for 10 and refuse to go over 15. I do not eat lavishly or fancily or really all that fresh, but I do find that I live on surprisingly delicious, simple, and quick meals.
When you go shopping on a budget, think week-by-week just like your spreadsheet. A loaf of bread and cheese will last one week, but a bag of rice will last a bunch. So stagger what you buy and make investments with your money! For example, you could easily buy pasta, sauce, bread, cheese, and canned veggies at once with this budget. And depending on how much you eat, that could mean that next week you don't need a lot of veggies or pasta, and you can invest instead in a bag of rice. That bag will last you all summer, or, if you eat it twice a day, a little over two weeks. I promise. Buy enough to get by in a week, but don't buy lavish or short-lived items only. Take shopping as a challenge and try to plan accordingly. How long can you make 10 bucks last, after all?
Also, get in the practice of reflecting on small to large purchases to decide if they're worth it. The hint: often they're not!
Always look for the cheapest kind of something and the cheapest form of everything — canned over frozen, frozen over fresh. Buy store brand and buy what's on sale. Remember staple items when you're living on a budget, and to sometimes revert to childhood. Try eating a banana and a peanut butter and jelly sandwich at work, or making a simple bowl of pasta and sauce with some bread and melted cheese on the side.
My favorite purchases include: artisan breads, store-brand pastas, plain white rice, canned mushrooms, canned string beans, canned tomatoes (diced, not pureed or anything weird), avocados, bananas, provolone cheese pre-sliced and pre-packaged, small tortillas, UTZ anything, Ramen, store-brand macaroni & cheese in a box, and Celeste personal size pizzas. When I come into extra money I spring for pre-bagged apples, artificial meat via Morningstar Farms, string cheese, and store-brand Diet Cola. And my ultimate advice? Be a vegetarian when you're broke. Seriously. That doesn't mean you can't eat deliciously, though! See the following:
Get Baked: Broke As Fuck Edition
+ Broke Lunch: Pasta Salad
You Need: one box of pasta, one can of three bean salad
This is super easy. Boil tri-color pasta (I love wagon wheels but haven't bought them in a while) – the whole box. Drain it and then rinse under cold water so it isn't hot to the touch anymore. Then, add a can of Three Bean Salad (try the Hanover brand, it's only two dollar by me) and mix it well. Even better than eating it is knowing that you can eat it like four more times this week! Never again will you dream of going home and having to cook. Now, you can dream of going home and eating amazing things.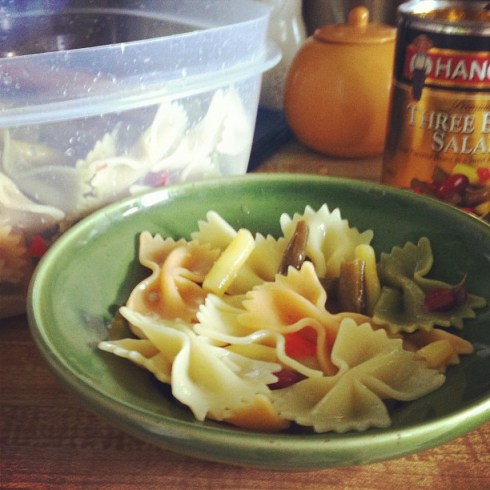 + Broke Dinner: Rice and Beans, Tortilla Pizza, and Veggies
You Need: rice, Goya Sazon seasoning, one can of red/black/refried beans, tortillas, cholula, cheese, canned veggie
Rice and beans is the cheapest thing ever. Seriously. And beans? PROTEIN? Honestly. How much luckier can you get?
Boil about three cups of rice and use one packet of Goya Sazon and one can of beans. Prepare the rice with spices and the Sazon, and then use a pan or skillet to season the beans and warm them up. Mix them together once they've both cooked completely. This will feed you dinner twice and lunch twice, unless you're not eating just this as a meal. If you aren't it will last forever.
In the image below I have prepared rice and beans with pizza-style baked tortilla and broccoli with cheese. I lived in a house, so stuff like olive oil and spices were readily available. I was living on 10 dollars a week when I made this. I ate it 5 nights in a row.
I made the pizza-style baked tortillas by slathering corn tortillas in butter on both sides and throwing them in the oven at 350. I added Cholula as if it were pizza sauce on a pizza, grated cheese, and spices before baking. I baked until it was crisp, and sometimes I also divided those into slices and dipped them in refried beans as a snack.
The broccoli was from a can.
+ Broke Dinner: Mac and Cheese, Garlic-ish Toast, and Salad
You Need: a Mac N' Cheese box, two slices of bread, cheese of your choice, salad stuff to your preference
This meal, which I made last week and put on Instagram, required as much effort as being asleep. I made Kraft Mac n' Cheese and added all-purpose seasoning, mustard powder, and a slice of real cheese. I never put butter in my Mac n' Cheese. That powder dissolves in water, for God's sake. Everything else is just fancy.
I made a salad with iceberg lettuce, carrot slices made with a carrot slicer, walnuts my friend gave me, cheese I broke into pieces from slices, and poppyseed dressing – store brand. Today I made the same thing and threw canned tomatoes in. Oh My Gaga.
Finally, I heated a slice of Ciabatta with half a slice of cheese and added garlic, onion, and magic. I couldn't get my oven to work well, but I bet you could.
For step-by-step directions and other broke recipes, check out the Tumblr I started when I was very fucked up and broke for the first time, Simmer and Smoke.
5. Have A Good Time
Having fun is important when broke because it might be your only outlet for happiness when you lose all your energy working all day, stop being able to go out, and find yourself with a laptop that has no functioning speakers and no DVD copies of most Wes Anderson films.
Just kidding. Kind of.
Let's start with spirits, assuming you have time and/or any leftover money for consuming alcohol. Drinking can be complex when you're broke, but you can do it. When you go out, stick to happy hour or drink specials, and do not splurge on anything fancy. You are not too proud to drink Bud Lite at the Drake After Party. That's what being broke is like. Alcohol is a stupid thing to waste money on, especially when you could be spending that money on stuff like food or transportation.
Also, Jello Shots.
Consider drinking at home. It's efficient and minimizes the costs of going out. Also, consider throwing BYOB events so that you can maintain a social life and your budget at the same time.
Once you've sobered up, try to find cheap and free activities nearby to partake in to mix up your routine a little. If you're in a city like, say, Washington, DC, you could go to any number of free museums or cheap-as-fuck lesbian parties. And even if you're not, look out for stuff like free movie screenings, free small-time concerts, and anything that looks like it includes tabling AKA free stuff. Do not be too proud to go to your university's free graduation events purely for food and wearing all of the wrong things.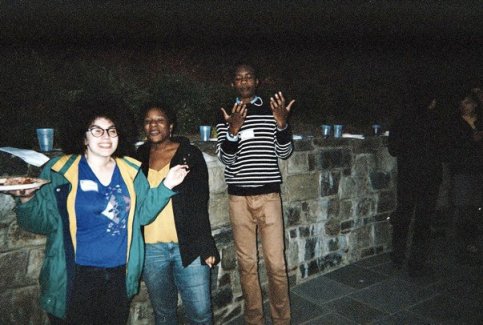 At the end of the day, remember that the only things necessary for you to live happily ever after are any combination of stable interpersonal communication and relationships, doing it frequently, owning a pet, and/or finding a source of personal fulfillment in your average every day activities – and that all of these things are free or have extremely minimal month-to-month costs! Give and receive many hugs and you will make it. Also, cuddle with my dog. Or maybe pick strawberries and then go to IHOP, where endless coffee is like, two dollars.
As a reminder, protests are free and often include the opportunity to meet others, be featured in news photographs online, and be hilarious. They are always free, and sometimes you can meet ladies at them. Also, if you like free stuff you like protests. Especially if that free stuff you want includes stickers of any kind.
Other free / cheap / worth it activities include lounging at a public pool or the one at your friend's apartment building, volunteering at the ASPCA so you can pet the animals all day, taking a bike tour of anywhere, taking a lot of photographs, decorating and redecorating your room, painting your nails, taking long spa showers and indulging in stuff you already own, melting into the couch and watching Under The Tuscan Sun on VHS, exploring your neighborhood, listening to Nico, reading books you bought at thrift stores because they had pretty covers, going thrifting and checking out estate sales to pick up old issues of National Geographic.
Also, I know I've said this already, but day drinking with friends is always the cure for being broke. Always.
6. Give Back
I have found that the following things remain true despite scientific and basic mathematical evidence otherwise: when I stop thinking about my weight I am able to eat anything I want, when I let go of my need for control everything works out, and when I share and give to others, I never find myself too broke to function or without the things I need. When I share my cigarettes the pack always lasts as long as I need it to, but sometimes when I don't it disappears. And despite being broke, and quantifying everything I own and use based on how much it costs per unit, sharing and giving always makes me feel good.
Don't use your financial problems as a reason to stop taking care of the people you love and giving back to them in any way possible. Got some extra tips today? Buy a round. Did mom send you birthday money? Share the love by buying a handle for the pool party. And if you get a job, get promoted, win the lottery, or come into an inheritance, an accidental drug dealing situation, or old war bonds, live it up with the people who matter most.
(Lucky) 7. Don't Let The Bastards Get You Down
Do what you can, and live like you must, and give up what you should – but keep what you love. Being broke is something you will hopefully grow out of, so get something out of it while you can. Learn something about yourself and the little fire inside that never goes out. When you feel frustrated write about it so you can put it in your memoir. Never give up. Don't be afraid to ask for help, but only when you seriously need it, and attempt to do all you can to free yourself from any anxiety and/or stress caused by piles of bills, your gas being turned off five days before you move out of your apartment, or carrying 20 pounds of dog food in one hand so you can continue buying in bulk from a store two miles from your front door.
Be really fucking proud of yourself every night when you go to bed.
You're gonna make it.
Pages: 1 2See entire article on one page