Brittany Murphy, 32, died early this morning, following a full cardiac arrest from which she could not be revived.  TMZ reports that the 911 call was made at 8:00 AM from an L.A. home listed as belonging to her husband, Simon Monjack. According to The Wrap's Sharon Waxman, a highly regarded reporter, Brittany "had been fired from her last film just two weeks ago, and had lost consciousness during shooting on the set of another film that she'd recently completed…The actress reportedly died suddenly of cardiac arrest. But warning signs that Murphy was on a dangerous behavioral spiral were visible to those familiar with her life."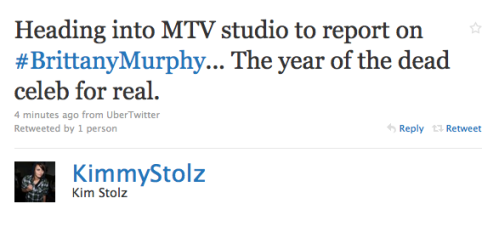 We generally don't dedicate entire posts to the death of an actress or actor, because it's problematic to us that Americans feel more emotionally affected by the death of an actor/actress they only knew via movie roles and subsequent interviews and likely never met in real life than they are by say, world hunger, or gay genocide in Uganda.
But we really like Brittany Murphy! CLUELESS YOU GUYS FUCKING CLUELESS. Also it's Sunday Funday so we can't put this story in the (almost done) Daily Fix. Death is not Sunday Funday Material.
Brittany Murphy rocked this hot raspy voice and tough vulnerability that made her seem so fast and sexy all the time. I mean seriously; Brittany Murphy made sex with Eminem look hot.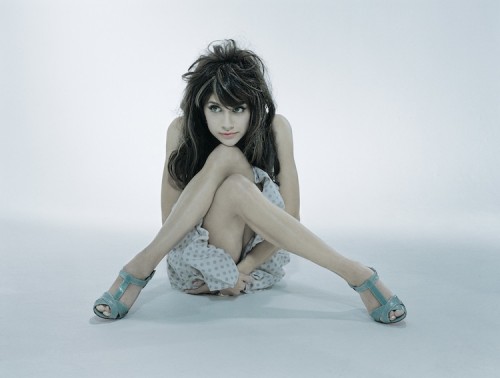 The History of Brittany:
Murphy was born in Atlanta, Georgia in 1977, her parents divorced when she was two and she was raised by her mother, Sharon Murphy, in Edison, New Jersey, and later Los Angeles. Her father, Angelo Bertolotti, is a convicted mobster.
Murphy's career began in the early 90's with a string of TV spots including Drexell's Class, Parker Lewis Can't Lose, Almost Home, Blossom, Party of Five, Sister Sister and Boy Meets World.
Mostly we know Brittany 'cause she popped up in so many of Generation X/Y's iconic girl flicks with so many of our favorite girl actresses of the 90s and 00s, including Clueless with Alicia Silverstone & Stacey Dash (1995), Riding in Cars With Boys with Drew Barrymore (2001), Freeway with Reese Witherspoon (1996), Girl Interrupted with Winona Ryder & Angelina Jolie (1999) and Drop Dead Gorgeous with Kirsten Dunst & Amy Adams (1999).
What Happened to Brittany?
So wtf happened? According to The Huffington Post, "Murphy made headlines earlier this month when her husband had a brief health scare that led him to the hospital. And she reportedly parted ways on bad terms from production of the upcoming movie The Caller." The article also points out that Michael Jackson's death was also initially described as a Cardiac Arrest, which probs means that we're supposed to wonder "what was really going on." Well …  Coronary Heart Disease is the leading cause of sudden cardiac arrest (Brittany didn't have CHD as far as we know, it would be unlikely) and only 10% of cardiac arrest deaths occur in people under 40 years of age … soooo … Karen Carpenter also died of Cardiac Arrest at the age of 33, following many years struggling with an eating disorder.
An insider on the production of another horror-thriller,"Something Wicked," an independent film shot in Oregon, said that Murphy was barely able to shoot her scenes and would lose her focus in mid-sentence during a take.
"Her husband was her handler, he shuttled her around. She was barely there," said an individual with knowledge of the production, referring to Murphy's husband and manager, Simon Monjack.
"She'd go in and out of consciousness in the middle of takes."
The individual said Murphy's inability to stay fully conscious caused producers to rewrite her character, a therapist to the two main characters, and her scenes. He said colleagues on the set had presumed she used prescription drugs.
Some of her more memorable roles from the past five years include Sin City (2005)and providing voiceovers for Happy Feet (2006) and King of the Hill (1997-2007). Upcoming films  include Across the Hall (2009), Abandoned (2009) with Dean Cain and Something Wicked (2010).
The first week of December 2009 Brittany was photographed at a public event for the first time in year and a half; attending the premiere of her film Across the Hall and a Tt Collection Pop-Up Party in Los Angeles.
In 2005, Brittany Murphy lost a lot of weight and it was rumored that she had an eating disorder and/or did cocaine. She denied the allegations, saying, "Wow. No, just for the record I have never tried it in my entire life, I've never even seen it, and I don't leave the house too much, except to go to work. My worst vice is caffeine. [The rumor is] really pretty darn far-fetched — it couldn't be further from the truth. I have known people over the course of my life that have bad problems with drugs, and it's something really serious."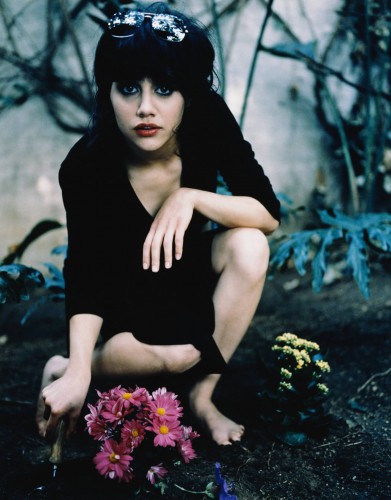 Murphy married her husband British screenwriter Simon Monjack in a private Jewish ceremony in 2007. Previously she had been linked to Ashton Kutcher, who tweeted the following in response to her death: "2day the world lost a little piece of sunshine. My deepest condolences go out 2 Brittany's family, her husband, & her amazing mother Sharon… see you on the other side kid."
Interestingly enough, Brittany Murphy's date to the high school prom was Jonathan Brandis of SeaQuest DSV and cross-dressing family film Ladybugs, who committed suicide in 2003.
Remembering Brittany Murphy's Iconic Chick Flick Roles:
Tai in Clueless (1995)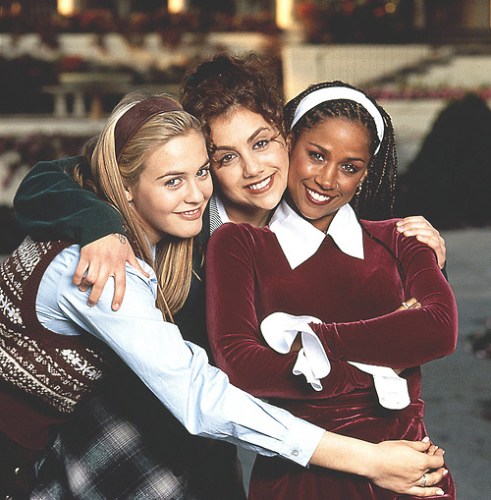 Her most beloved role to 90s grrls everywhere! As Tai in Clueless, Brittany was the subject of one of cinema's greatest makeover montages of all time, co-starring with hotties Stacey Dash and Alicia Silverstone. Here she mourns her recent breakup:
Daisy in Girl Interrupted (1999)
As Daisy, the psycho girl with all the chicken carcasses under her bed, Murphy was part of one of cinema's greatest Gen-X Girl Ensembles, starring alongside Angelina Jolie & Winona Ryder & Clea Duvall.
Molly in Uptown Girls (2003)
Uptown Girls (2003) is secretly a f*cking adorable movie, and this is the cutest scene ever, which you might not want to see if you plan on actually seeing the film itself, because then it will be less likely to make you cry, which it would do if you saw the film. Not 'cause Brittany is dead, but 'cause Dakota Fanning is so cute (like in a "cute girl to babysit" way, not a "what is she doing with her tits and Kristen Stewart in The Runaways" kind of way) when she freestyles and 'cause it's such a cute terrible/AWESOME film.
Girl-on-Girl Roles
In 2006, Brittany starred in The Dead Girl with Toni Collete, in which she played a prostitute and crack addict. In the film, references are made to her ongoing sexual relationship with fellow prostitute Kerry Washington, though we never got to see them make out though AND NOW WE NEVER WILL.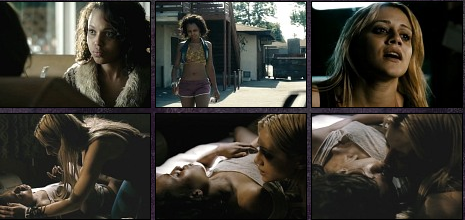 In 2000's Common Ground, which told three stories relating to homosexuality, Brittany starred in "A Friend of Dorothy" (written by brilliant playwright Paula Vogel) as a woman joins the Navy during the 1950's and discovers lesbianism. She co-starred with Jason Priestly, a.k.a. Brendan from 90210. Here she is making out with Canadian actress Joanne Vannicola, a cross-dresser named … um … MAX.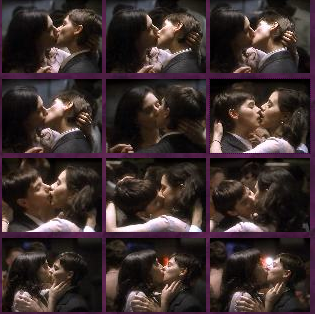 ETA: She also played gay in Freeway, which PS is a totally underrated movie you should see. She plays a fellow inmate who sort of perpetuates the lesbian sexual pervert/predator stereotype we LOVE SO MUCH but it's okay 'cause the movie sort of exploits everyone equally. (Also what's funny is that Alanna Ubach, who played the lesbian stalker/pervert in The Brady Bunch Movie, is in Freeway as another predatorial inmate.)
Rhonda: "I don't get how a person could go through their whole lives never being into girls. I just — I love girls."
Vanessa: "Well you can keep 'em."
Rhonda: "You don't know what you're missing."
Later, Rhonda makes the moves on Vanessa and Vanessa says "I'll make out with you, but no f*cking, 'cause I'm straight," and then they get caught before anything scandalous happens.
The Autostraddle Tribute to a Great Autostraddler
But most of all? Brittany was a great autostraddler. When you spend as much time online searching for Autostraddlers as we do, you come to recognize some familiar faces, and Brittany is one of the top actresses most likely to be photographed straddling something of all time: