It has been a weird week for TV. The internet is still reeling about Lexa; The Fosters set up a bisexual predator storyline that they're somehow managing to thread the needle on (for now); neither Luisa nor Susanna were anywhere to be found on Jane the Virgin; and instead of Maggie/Lauren lovin' on Younger, we got Will Schuester banging an actual sheep. Hey, but the lesbians on The Walking Dead are still alive (and adorable)!
---
The Walking Dead
This week on The Walking Dead, the gang has recently became aware that other communities like theirs exist in post-Apocalyptic Virginia or wherever. Problem is, while Rick et al have tons of guns and ammo, they're pretty much out of food, and things are getting bleak – the cold open features badass den mama Carol making tons of cookies out of canned beets and foraged acorns. She puts them into Tupperware containers and hands them out to all the Alexandrians, including a criminally under-utilized young lady who has chosen the zombie apocalypse as a perfect time to maintain her alternative lifestyle haircut.
In order to establish a trading relationship with Hilltop (the new community), Rick explains that the Alexandrians will have to face off against the Saviors, a group of terrible dudes headed up by a particularly evil leader named Negan. If they want a share of Hilltop's crops and livestock, they'll have to sneak into the Saviors' compound and kill a bunch of living, breathing bad guys in their sleep. Not zombies – actual human beings. This causes a lot of squeamishness among the gang, particularly for Heath, Glenn and Tara. As far as we know, Heath has been pretty sheltered from violence of all kinds throughout the zombie uprising. Glenn's managed to stay out of most of the human-to-human combat on this show so far, but Tara? Tara was part of the Governor's ambush on the prison, and has a lot of conflicted feelings about carrying out yet another one.
The good news is, Tara is still dating adorable Dr. Denise, and they seem to be living together. Tara is afraid to tell Denise she's been a part of a massacre like this before, so instead she blurts out that she loves Denise. It's cute because she does, but it's awkward because it was a weird time to tell her. Denise is pretty adorable about the whole thing and tells Tara she'll return the favor upon Tara's return. Tara invites Denise along on the two-week supply run she's going on with Heath afterwards, but Denise has to stay in Alexandria as she's the only medical doctor available these days. This whole scene takes about a minute, but it was so cute I thought about it all episode.
Later, Tara unpacks her gay gay gay feelings with Father Gabriel and Jesus, who assure her that the whole thing with Denise is fine and that it gives her something to fight for. As of the end of the episode, there's good news: Tara's still alive, Denise is still alive, and that foxy Alexandrian is presumably still alive. There's bad news: Abraham is still alive (after the stone cold way he dumped Rosita, I'm kinda hoping he won't be much longer). There's more bad news: Carol and Maggie are being held hostage. There's more good news: sounds like they're being held hostage by Alicia Witt.
---
Grey's Anatomy
Thursdays on ABC at 8:00 p.m.
Written by Aja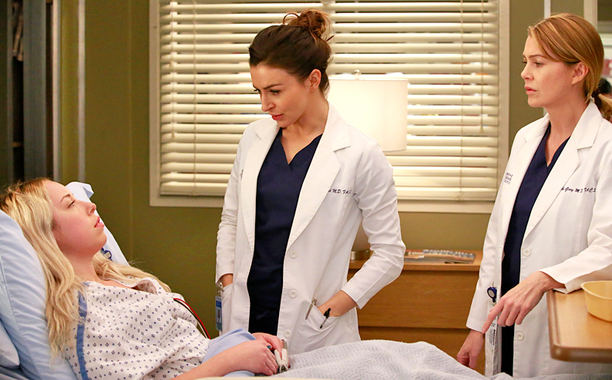 After last week's dud, this week's lively opener revisits Grey's "any day that somebody doesn't die is a good day" mantra as she barks at the residents to mind their cadaver manners, loudly yawns at Karev and Wilson's carat-sized elephant in the room, and then there's Amelia and Hunt happily going at it in his charming trailer abode.
In that awkward, "Hey, the Sprint bill came after we got a divorce, so…" talk that we all know and love, Keps magnanimously chirps, "It's on me!" and luxuriates in the private glowing power and secrecy of her pregnancy, stalling (of course) on coming clean to Jackson. Arizona scolds her, to no avail. Speaking of Arizona, we find out that Webber's facilitated over a dozen "Lez Hook Up!" introductions for her, and she's not being very forthright about the results. Bad lesbian! Bad! Webber needs feedback! To recalibrate maximum wingman-ness! Duh! But when Arizona says her last date resulted in "She, uh, knows her way around the neighborhood…the hills, the low country and all around downtown" with little swirly hand motions, Webber decides he's actually cool with "less is more" in the details department, but he does want her to know that while she's truly feeling herself — and she's earned it! — she shouldn't go squandering her lady vibes on just anyone. "I'm too young and too fun to spend the rest of my life alone and I was too scared to try, but you helped me remember what it was like when I was open and confident and fun and a little slutty. You helped me be slutty again…I gotta fly now," Arizona says, and that's that. There's also a bunch of creepy Purity Ball-esque nonsense going on between Pierce's boy toy and Webber, but it's asinine and gross so NOPE.
Meanwhile, Edwards is super bored AF clipping aneurisms, but since Amelia's sex-drunk she placates her with the promise to clip the very next aneurism herself! Exciting! As luck would have it, a throwback patient is in the ER, and after another awkward moment — exasperated sigh from the patient, followed by "Dr. Shepherd is a guy" (yeah, a dead guy) — we eventually find out she's got the Biggest Aneurism Ever, and she was Mere's first surgery. Unfortunately, Pretty Penny's back to being her usual bore self, this time as a hapless go-between frantically facilitating a game of surgeon telephone between Meredith and Amelia, regarding the aforementioned Biggest Aneurism Ever. Amelia starts buckling under the pressure of "having to save the surgical love child of Derek and Meredith," tries to break up with Owen, but he gives her one of his super great "go get 'em!" pep talks, which makes the patient's "Please don't kill me" plea almost not at all intimidating!
Callie the Divorce Expert is prying into April's well-being (she doesn't know about the pregnancy yet) in a very tiresome mid-episode Men Are From Mars, Women Are From Venus montage, and April's response is straight out of an issue of absurd lifestyle publication Goop. A heartbreaking case with a cancer survivor nearly brings Grey and Riggs a little closer, but when Grey pushes him too hard Riggs ends the conversation with, "I don't go asking about your dead husband, do I?" and walks away. He did tell her what happened to Hunt's sister, Meg; apparently all those years ago they fought over who would take Meg's patient on a dangerous helicopter ride through a war zone in order to save her life. Needless to say, Meg won the argument and the helicopter disappeared. "I couldn't tell her no," Riggs said.
Karev is informed by Jo that he can keep the ring in the drawer for now (uh…thanks?), and after he overhears Jackson give April a check for his half of the phone bill (class act, that one), Karev calls her on her "happy, kinda sweaty" pregnancy, and warns her that she'd better tell Jackson before he, too, figures it out. Pierce decides it's cute that Webber is cockblocking her and they go out for a father/daughter dinner, and Amelia finally triumphs over the Biggest Aneurism Ever. Maybe it's the peace, the little bit of closure, that she's needed all along. Let's hope so, the girl has certainly earned it.
Friendly reminder, folks. You don't need to be Instagram-ready 24/7 or Facebook picture perfect or in tightly controlled possession of a life that'll make a splash across the NYT Obituary page, okay? You just gotta love, and be loved. In this life, the one you've got right now. That's all.