Welcome back, Boobs Tubers! This week, Heather and Laneia tracked down some years-old Suranne Jones' gayness to fill the Gentleman Jack-shaped holes in their hearts. Riese and Kristin released another episode of To L and Back into the wild. Natalie recapped the season two premiere of Good Trouble. And Nel recapped the first two episodes of Pose!
Some notes from the TV Team: 
+ The Feels is an LGBTQ web series that devotes one full episode to Sara Ramirez! . — Heather
+ Siren is back! And I'm a fool who went to Earp Expo immediately after A-Camp (no regrets though, both were perfect soul-healing experiences) so I haven't watched the two episodes that have aired yet but I will be caught up for next week, promise! — Valerie Anne
+ Speaking of Earp, Wynonna Earp Season 3 drops on Netflix July 16th! — Valerie Anne
+ OWN's new soapy drama, Ambitions, debuted this week and we got a small peak into the life of their closeted lesbian character, Carla Lancaster. Played by Kayla Brianna Smith, Carly is the daughter of Atlanta's mayor and, if her mother has her way, the heir to the family's legal legacy. But Atlanta's first daughter has her own ambitions and her own desires….which, seemingly, includes hooking up with the daughter of a rival family. I'll be keeping my eye on Ambitions as the season progresses. — Natalie
---
grown-ish 214: "Can't Knock the Hustle"
In the real world, Zoey Johnson and Nomi Segal would never have been friends but thanks to a comedy of errors, they both ended up in a Midnight Marketing class and managed to forge a friendship. Despite their differences, Zoey and Nomi are really able to see each other: when Zoey was torn over which suitor to pick, it was Nomi who knew Luca would be best for her and when Nomi began to second guess her regular hook-ups with straight girls, she talked to Zoey first. Somehow, the loser Zoey "normally never would have even spoken to," became the person she leaned on most…the Clyde to her Bonnie. That history makes what happened this week on grown-ish even more noteworthy.
After a series of fuck-ups, Zoey's father has cut her off: cancelling her credit cards and repossessing her car. Struggling to fend for herself, Nomi, Jazz and Sky encourage Zoey to get a real job…but Zoey Johnson isn't exactly the real job type. Luca gets her a job at a high end boutique but Zoey can't resist doing way too much and gets fired on her first day. Unwilling to settle for a entry-level, minimum wage gig, Zoey finds a job that fits her vibe: being a living art exhibit. Everything's going well until she spots Nomi kissing their former gender studies professor, Paige Hewson Shane.
Zoey escapes from the box and confronts her roommate about what she saw. The conversation does not go well: the roommates end up having their very first fight. Zoey calls Nomi out for having an inappropriate relationship with a faculty member*, while Nomi blasts Zoey for being judgmental. Neither girl is totally wrong: Zoey absolutely is judgmental, especially when it comes to things outside her worldview, but she's not wrong about Nomi's relationship with Shane…it feels wrong. The episode leaves the rift between the roommates unresolved but Zoey does manage to wise up so, hopefully, there's hope for Nomi too.
(*FYI: USC, the school upon which the Cal U depiction is based, has a policy that discourages but does not prohibit relationships between faculty and students, as long as the relationship is voluntary and consensual.)
---
Burden of Truth 203: "The Milk of Human Kindness"
I started watching Burden of Truth last summer because I was intrigued by the premise and thrilled to see First Nation lesbian representation on television but this week's episode stepped up the stakes and made everything a lot more interesting. Let's recap!
After her orientation session last week, Luna starts volunteering as part of the Bear Clan Patrol, in hopes of making the streets safer for Indigenous communities in Winnipeg. But when she realizes that she can only do so much to protect the life of Doreen, a sex worker she meets while out on patrol, Luna returns home frustrated. Molly suggests that she take a break from volunteering since the work always leaves her depressed. The statement draws Luna's ire and she begs Molly to drop it…but, oh no, Molly just keeps digging.
"I never know what to say to you anymore," she confesses. "It's like, just tell me the politically correct thing you want me to say, and I'll say that."
Oh, Molly, noooo…..
Thankfully, Molly's saved by the bell, as Taylor arrives to borrow the car for an impromptu trip to Millwood. While Molly searches for her keys, Luna packs a small bag and asks to tag along. When she gets back to Millwood, Luna's mom just listens to her daughter recount her encounter with Doreen and holds her as she cries out for justice. Later, Luna makes plans to spend the evening with Taylor but when she shows up at the hotel, she runs into David Hanley. He's in town trying to get Luna's mother to settle the civil suit she's filed against him and he encourages Luna to get her mother to accept his offer. Only thing? Luna's mother didn't tell about the settlement offer and the mention of it — and the tacit admission of his guilt — rightfully enrages Luna.
Following David inside his hotel room, she yells, "You're my dad. You are! You slept with a teenager and then you left her. You live in this delusional world, but my mom didn't get to. She had to raise me alone in the very real world."
But the man who raped Luna's mother can't stand being held accountable for what he did, even for a second, so he goes to call the police…which leads to a scuffle between the pair. We don't get to see everything that happens: instead, Luna returns to her car, still seething, cancels plans with Taylor and takes refuge under her favorite tree near the river. Later, Luna slides into bed next to her mom and we see that David Hanley's been killed in his hotel room.
---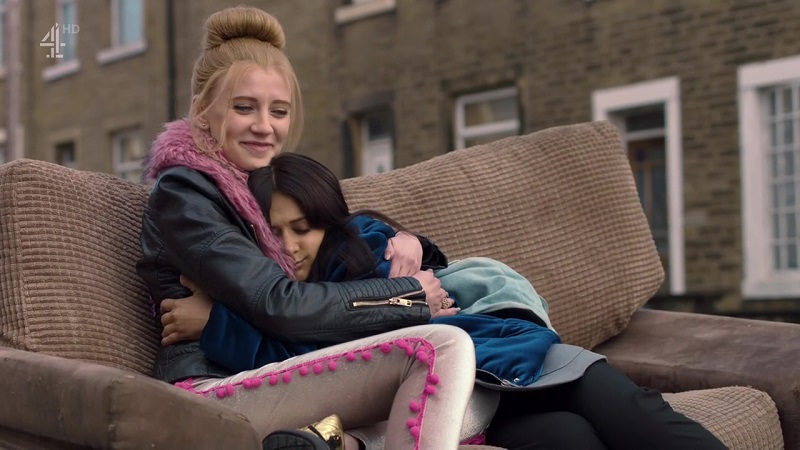 A few weeks back, the NY Times ran a story about Fawzia Mirza's quest to bring more authentic representation of queer Muslims to television, starting with her work on The Red Line. While noting queer Muslim characters on American Gods and The Bold Type, Mirza said what she really wanted to see is a show with a queer Muslim character as the lead. And while Mirza's certainly right — we need more queer Muslim characters on screen — I did wonder if she'd seen Ackley Bridge, the UK show that comes as close as anything I've seen (on English language television) in bringing her desire to have a queer Muslim lead to fruition. It got me excited for Ackley Bridge's third series and what the show would have in store for its ostensible lesbian Muslim lead, Nasreen Paracha.
I see now that I was setting myself up for an emotional fall by putting too much of my faith in the TV Gods. But I'm getting ahead of myself…
When the show returns, Nas' family storms into her room to find Nas, her BFF, Missy, and some random guy they met the night before at the fair in bed together — fully clothed! — there's no time for questions, though, as Nas received a letter from Oxford. She's been granted an interview for admission and everyone's thrilled for her. But soon, Nas starts feeling the pressure — first from Ackley's principal who needs a high profile win to bolster the school's reputation and then from the other interviewees who all seem more "Oxford" than her — and she leaves her interview to go back home. Thankfully, though, Missy's there to set her straight. She reminds her best friend that she's been saying for years that she'd be the one to get out…the one to leave Ackley Bridge and really do something with her life…but, given the opportunity, she's letting it slip through her fingertips.
"I've got news for you, Nasreen Paracha, you'll never know enough, your skin will always be brown and if someone's bleeding to death, they won't give a toss if you don't sound like Carmilla Parker bleedin' Bowles," Missy says before breaking out into song. Yeah, that was weird but it's enough to convince Nas to go back to the interview and, of course, she kills it.
By the time the girls return home, Missy's feeling melancholy about what her future holds and Nas' mom, Kaneez, unintentionally throws more salt in the wound. Missy wonders, how can two girls who were born at the same time, on the same day, in the same hospital and in the same ward end up on two disparate paths? She's not jealous of what Nas has, she just wants a path out of Ackley Bridge for herself. It's a compelling series of questions — understandable, given the circumstances — but seems a divorced from the interest Missy expressed for attending the fashion institute last season.
When Missy decides to leave Ackley Bridge to join the fair, it leads to a big fight between the friends. Nas dismisses Missy's decision outright and Missy's miffed that her estranged mother is more supportive than her best friend. But later Kaneez gets to the heart of Nas' anger: she wants to go to Oxford but she wants everyone else, including Missy, to stay the same. Nas recognizes how selfish she's been and apologizes to Missy when she sees her that morning. The pair make amends and Missy promises that they'll go out the same way that they came in: together.
And then they both get hit by a speeding car.
See, I told you: never put too much faith in TV writers.
---
My Little Pony 912: "The Last Crusade"
Keeping up with the trend of so many all-ages shows before it — Good Luck, Charlie; The Legend of Korra; Adventure Time —  My Little Pony: Friendship is Magic ended its series with some canonical gayness. Scootaloo is, as you all know of course, a Cutie Crusader, along with Apple Bloom and Sweetie Belle. In "The Last Crusade," Scootaloo's parents arrive home and reveal their plan to move to a new city to take new jobs and bring Scootaloo with them. There's a lot of crying and scheming amongst the Crusaders because they don't want to have their friendship broken up! They're doing way too much good in Ponyville! They ultimately decide their best hope is to run away and live with Scootaloo's caretakers, a lesbian pony couple called Aunt Holiday and Auntie Lofty. But Scootaloo's parents are reasonable! Once they see how distraught Scootaloo is, and how important the Crusaders are, and how much they love each other, they agree to let her stay in Ponyville and live with Aunt Holiday and Auntie Lofty full-time. Pride cutie marks for everyone!