Welcome to your Friday round-up of queer teevee! If you want to talk about your non-queer TV fall finales and summer premieres, Kayla's hosting a FRIDAY OPEN THREAD you might be interested in!
---
Empire
Wednesdays on Fox at 9:00 p.m.
Something happened over at Empire. Somebody told them we were talking shit about them in the first half of the season and they have done a major step up and step back. I know I start every recap with that but I think I'm in shock at the about face that they have done in returning to the show they were when they first came on the air. There's a whole lot going on in this episode!
Life is like a game of Bingo. We find Andre at the retirement home with Leah Walker visiting with her as she plays Bingo. Andre is trying to have a conversation with her but they keep getting interrupted by her neighbor who clearly doesn't like her and contradicts everything she says. After Leah violently reacts to losing a round of Bingo, she starts to talk about her boy who is famous now. Then she recognizes Andre's eyes and asks, "Are you related to me?" Oh Lawd, where is my tissue?
Now that Hakeem has been booted from the CEO spot, he and Jamal are able to get back into the studio. They're working on a song they hope to place in the next Ryan Coogler (director of Creed and Fruitvale Station) film. They just have to decide who will be the girl voice on the hook. Will it be Laura or Tiana? Hakeem doesn't seem too concerned. He believes Laura knows how to separate business from their relationship. Clearly, he has never been in a love/work relationship. He says he will take care of it, even though his version of "taking care of it" never works out.
Co-CEO's Cookie and Lucious are meeting with D. Major who is the musical producer of the ASA Awards. Cookie is lobbying him for a longer spot on the show so that they can do a Lyon family showcase. Lucious of course wants to run the show but Cookie is the producer and Jamal is the most nominated Empire artist. Lucious is only a passenger on this train. D. Major is all for remixing Jamal's song as a Lyon family anthem with Lucious and Hakeem, but Jamal isn't going for it. He wants to perform his song as is. D. Major advises him to perform the remix on the biggest stage in the world and stop throwing a hissy fit. A hissy fit, huh? Was that some backhanded homophobic shade? Hold on to that thought. Don't forget it.
*BLACKGIRLMAGIC ALERT* Taraji P Henson, Vivica Fox and Tasha Smith are on the same screen again! Cookie's sister, Candice, shows up to inform Cookie and Carol that she refuses to keep Carol's kids anymore. Cookie reminds her that Carol is still trying to get her life together after recently getting out of rehab and that they are living in Cookie's two-bedroom apartment. Candice's bourgie ass is not having it. After winter break she says she is sending them to Carol. Cookie advises Carol to talk to her sister before she has to kick her ass. Another family full of tough love. At least Cookie sent a warning shot.
Back in the studio, Hakeem is working with Tiana to lay down hook for this track. She kills the hook and Hakeem is staring at her as if he hasn't seen her before, let alone hooked up with her. She questions him about whether or not his wifey signed off on the collaboration and invites him to an after-party at the club, like they did in the past. Really she actually challenges him by questioning where the old Hakeem that turned up at the club every night is. He claims that he is all about work now and tightening up the ASA performance. That doesn't stop him from staring at her ass after she teases him with a peck on the cheek and walks out of the door. Tiana is running behind Hakeem, but where is the girlfriend she left him for last season?
Meanwhile, in another studio somewhere else, Jamal confronts D. Major about not singing his own song at the ASA's. D is upset that Jamal confronted him in the middle of a session with another artist. I could beat around the bush recalling their entire argument but really it's all just a tired lead into D. Major kissing Jamal. You knew it was coming when he told Jamal that there were ways to change his mind, but ambushing him in the middle of a session wasn't it. Next thing you know they are ripping each other's clothes off and getting it in on top of a speaker. Here we go.
The next day the family is at Leviticus practicing for their ASA performance but they can't stop arguing long enough to get it together. Just as Cookie insists that they are going to come together and do it as a family, Andre shows up with Leah Walker in tow. The fear in Lucious' eye alone is worth the price of admission. The rest of the family doesn't want to believe but Andre lays out Leah's story. Lucious locked her away in a home 21 years ago and sent Vernon there every week to pay off the staff. Lucious warns Andre that he doesn't know what he has done and runs out just as D Major is arriving to get a peek of their proposed performance. Jamal stops D before he can get in the club and warns him of the family drama. Plus, he says, "You don't expect me to think you really only came here for the rehearsal." D blows him off like he doesn't even know him. See where this is going.
Back in the club, Cookie asks Lucious why he lied. He says he didn't lie. The story that he told was all true. She did try to drown him and put a gun to her head, except there were no bullets in the gun. After that she was sent away. But under the Reagan administration all of the mental health patients were put on the street with nowhere to go. Great job sneaking in the horrifying legacy of the Reagan administration, Empire. I see you! I didn't even know that little bit of history.
Anyway, she was put out on the street and almost tripped on her in front of the subway. He didn't bring her home because he and Cookie were on welfare at the time, with two and a half kids. It just became one more thing that Lucious hid from the woman he allegedly loved. Cookie is deservedly disheartened by him not telling her, but Lucious says he needed his mom to stay dead. He thought that by taking Andre to the grave he would be able to keep her dead. However, it seems the dead has risen. He is insistent that this poor woman is dangerous.
As we all thought, Laura is livid about Tiana being on the song with Jamal. She insists that he probably didn't even bring her up as the vocalist. His lying ass says that it was a producer's decision and he didn't have a say. Really?
Andre and Rhonda are in the parking lot arguing about whether Leah will come to live with them, when they spot Thursty attempting to whisk her away in a car. Andre jumps out to stop him. Before Lucious can have her sent away for another 21 years, Cookie and Lucious try to explain that Leah needs professional attention, but Andre asks her doesn't she want to go home? She says she does want to go home. Home with her Dwight. So Lucious takes her home and gives the housekeeper strict orders to watch Leah's every move
Thursty didn't get to whisk Leah away, but he was able to pick up Harper Scott for a little ride. He asks the same question we all have: "You believe running your mouth about Leah Walker could get you hurt?" She is acts as if she doesn't care because she has truth on her side to protect her. She clearly didn't do as much research about Lucious as you would have thought she did. She can uncover his mother but not that he is a murderous asshole? She is a terrible journalist. Seriously, you reveal to a man's family that he has had his mother locked away for 21 years then his goon shows up to give you a ride and you take it? I mean, really, you don't have to be a genius to figure out where this is going but you do have to be a little creative. Thursty doesn't do a thing. As a matter of fact, he unlocks the door and lets her out of the car. Unfortunately, just as she gets out and sticks her head in to have the final word, a shadowy figure swoops in and tosses a sack around her head. The shadowy figure picks her up and carries her off kicking and screaming. That is the last we hear of Harper Scott.
D Major tracks Jamal down at his loft and gives the typical straight person speech. I like you a lot, but it's hard. He admired Jamal for hooking up with Sky. Basically saying he thought it was cool that he was able to make himself look straight in public. Jamal says he has worked too hard to live his truth and that he can't deal with someone in the closet.
Carol has asked Candice to lunch so that she can beg her to keep the kids. She says that she just needs a little bit more time to make things right with people. Make what right, Carol? According to Candice, Carol just helped Lucious kill a few people while Cookie was in prison. No big deal. Nobody got hurt. Wait, Whuuut? Candice tells Carol she is crazy and needs to keep her mouth shut so they don't have to deal with hurricane Cookie. Too bad for both of them: Carol has an old friend sitting at another table listening to their conversation. He later offers Carol a drink, which she does well not to take. She asks him if she is still a cop and he says nah cop work was too hard. Not only is he still a cop but this old friend is also the FBI.
Rhonda is still kicking it with Anika. She is giving Anika all of the baby clothes and furniture that she and Andre had purchased. When one of the movers crashes into Rhonda, she starts to have flashbacks to when she "fell" down the stairs and says now she remembers hands on her back and someone pushing her. "Oh no," exclaims old fake Anika with her lying ass, "I thought you said you fell down the stairs?" I can hear the crazy welling up in her voice and the wheels of a plot turning.
Leah is at the piano in Dwight's house. I mean Lucious' house. She playing around with a melody and Lucious sits down at the piano to play for her and they sing together. She tells Dwight that she loves him. He says, "My name is Lucious" and walks out.
Lucious meets up with his family at Leviticus to rehearse Jamal's song, but when he sits down, he starts playing a different melody. He explains that it is something that his mama gave him. Just like that, all of the parts fall right together. Once again, the Lyon's are all on the same page. They put on a flawless performance that starts with Andre proclaiming that "We aren't perfect but we all we got." They get their primetime spot on the ASAs. Jamal pulls D aside and invites him back to his place. Looks like he wants to play around in the closet for a while.
Back at Anika's house, she and Rhonda are unwinding with a drink. As Anika rubs her sore feet Rhonda recognizes he Christian Louboutin flats and has another flashbacks. What kinda fool wears designer shoes to attempt murder? Apparently Anika is that fool. Rhonda is starting to connect the dots and she looks terrified, as she should.
Leah wakes Lucious out of his sleep and brings him into the dining room. Here is a handy tip. If somebody invites you into a room full of cakes and it ain't your birthday, don't go! There are at least five cakes there on the table. He asks where the housekeeper is and she says she sent her away. She makes Lucious sit down and eat these cakes that she slaved in the kitchen making for him. She goes on to talk about how everyone leaves her, like his father. She does all of this brandishing a huge cake knife. Then she says her life was fine. Lucious brought all of the trouble and wickedness into her life and she should have killed him when she had the chance. I just sat there waiting for her to stab Lucious in the chest. The scene fades with with her still holding him at knifepoint forcing him to eat. I wouldn't be entirely shocked if the next episode started with her standing over his bloody body.
---
Grey's Anatomy
Thursdays on ABC at 8:00 p.m.
Written by Aja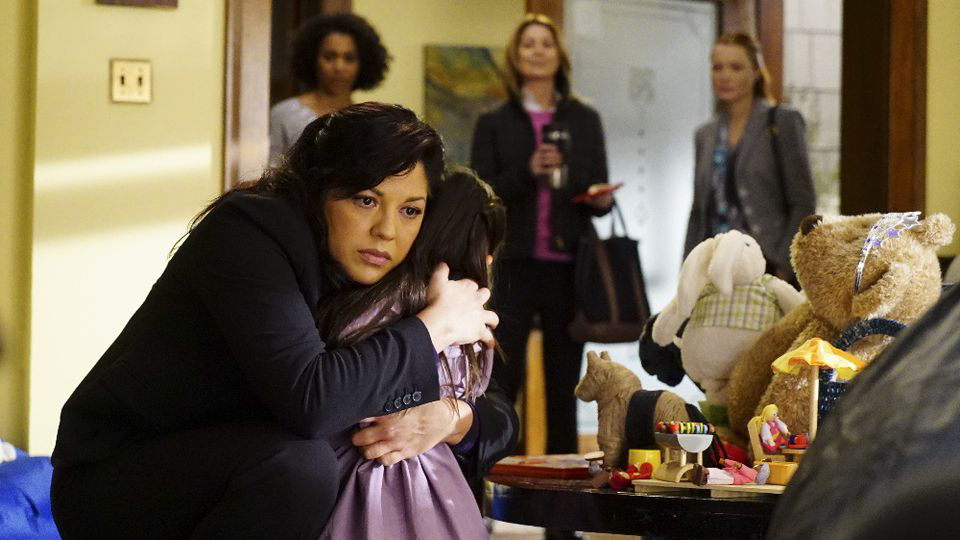 Welcome to Child Custody 101, aka Calzona: Civil War, aka last night's Grey's Anatomy episode, "Mama Tried."
This episode could have gone a hundred different ways, and it seemed to really want to remind us of that at every possible turn. Was anyone not dragged into the mud in that courtroom? (Which is the HTGAWM courtroom, for anyone in Shondaland paying attention!) Can everyone just — to employ one of my most hated catchphrases on the show — "take a beat, " maybe hit the rewind button and give things a little bit of berth here?
Nah.
If someone made a child custody-themed shitty carnival ride, it would look and feel like this episode. If someone made a really crap brochure with weak ass illustrations to hand out to parents contemplating the perils of divorce with children, it would look and feel like this episode. You know what this episode was? One of those weird Christian hell houses but for divorced lesbian and bisexual parents fighting over their child with a relentless minx lawyer hissing about the kid's super dead bio dad and a treacly beige wad of cotton candy excuse for a human being as the potential evil new stepmother.
I'm honestly surprised they didn't bring up Webber's alcoholism, that's how bad it was. (What they did bring up was just as callous, if not more so.)
At least someone agrees with me that no, actually, this isn't consistent for Callie's character. Nobody on earth would agree that yes, it's fully plausible that Callie is just sitting there smirking like Martin Shkreli while a lawyer double-fists two paintball machine guns labeled LESBIAN SLUT WHORE and WORST MOM IN THE WORLD and aims them straight at Arizona on the stand. I'm so sure.
Look, let's forget the arc of Callie over her eleven seasons. Let's just look at the arc of Callie right now, in this episode. She verbally confesses massive amounts of doubt and uncertainty and second thoughts over all this, to say nothing of the more subtle signals she puts out. And then she smirks? LIKE A DOUCHE PHARMA BRO, FOR REAL?! Girl, no.
The fact that all this is contrasted with (heterosexual) April and Jackson calmly, maturely and pleasantly making rational co-parenting choices for their unborn child as if they were at an elegant little tea party politely passing one another tiny sandwiches and macarons flown in from Paris is all kinds of bullshit given their epic public meltdowns and genuinely terrifying confrontation-riddled past.
Mama tried my ass.
That was the long version. Here's the short one:
https://twitter.com/dearjonesey/status/728398977461301253
https://twitter.com/dearjonesey/status/728399055253049344
https://twitter.com/dearjonesey/status/728399301274173441
https://twitter.com/dearjonesey/status/728399757790593024
https://twitter.com/dearjonesey/status/728400979557818370