Marco and Frankie are doing Italian Fascist Things, which basically means stealing vegetables and punching low-level security guards. Meanwhile, Gladys is sucking up to Mrs. Moretti and taking the Fascist Handbook as proof that Marco is bad. She does this while munching on phallic symbols and drinking espresso. Gladys, baby, I love you, but. But.
Over at Witham Palace of Beans, Gladys and family is hearing that a guard got beat up by some Italians, who promptly stole their butternut squashes! Probably to use in a quality sauce that they'll serve over pasta, the bastards! Gladys thinks her mom is being a Grade A Bigot by referring to Italians as "those people" but then she remembers SPIES! And goes back to being a covert spy. SPIES!
Over at Ye Olde Factory Floor, Kate and Betty are dealing with their tension. It's sort of working but mostly not because their clothes are still on. They keep passing a giant dildo back and forth and fight for control of it while shoving it into a hole. So.
Gladys sees that Marco's hand is all bruised. She confronts him about it and he says he was just boxing and stirring his spaghetti really hard so can she just back off already??? Gladys goes to the dark and wet cellar where Bad Accent Huh is waiting and tells him about her spy findings. Someone walks by so to be subtle she goes right ahead and kisses him. Gladys' magical vaginas, ladies and gentlemen. SPIES!
Marco is having another Italian Party in his kitchen, this time with free produce, but his mom comes in and straight up slaps him silly. He's like, mom, I'm a fascist now, you don't get it and you'll never get it! and then he goes upstairs to listen to Avril Lavigne's version of O Sole Mio in his room.
Gladys goes to talk to Marco about his life problems at the Only Bar in Toronto. Vera sees and is NOT DOWN because everyone knows that Gladys' Magical Vagina has a tracking beam like no other. Lorna and Weirdly Erotic Milkman are dancing and flirting. It's going there, guys. You don't know if you want it to, but it is anyway.
Vera gives Gladys the 411 in the bathroom, just like at middle school dances where you would meet all your friends in the bathroom and tell each other who you should try to dance with and who you should not try to dance with because Stacy Cleaves already called Matt Banks which means you skanks need to stay the fuck away from Matt Banks. In this case, Gladys Witham and her Magical Vagina need to stay the fuck away from Marco Moretti because Vera is the queen and has had it hard and deserves nice things. Gladys sort of gets it.
Marco shows up at Vera's place for a little drunk nookie. It ends up being a very touching conversation in which Vera, who is the queen of the universe and someone whose self-confidence is stupidly inspiring and beautiful, opens up about her own insecurities and the trauma she still deals with after the factory accident. I'm so in love with this character, guys. I know y'all are ridin that Betty train pretty hard, but Vera is the kind of perfection I was convinced you'd have to die and get to heaven to see.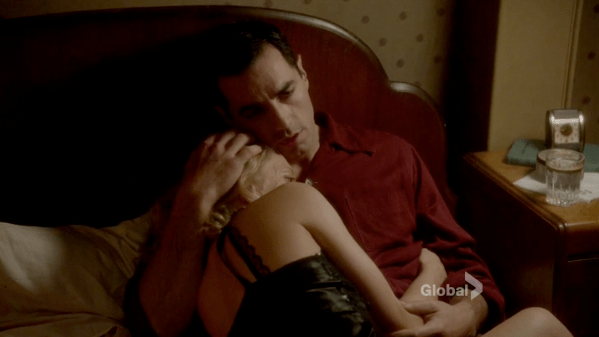 Reggie finds out that the milkman is coming over. Her reaction to the whole situation is pretty great.
Vera wakes up to Marco chattin' it up in Italian on the phone. She asks him what's up and he says it's none of her business. Little does he know that Vera is queen of the universe and thus everything that even minor mortals do, such as himself, is her business.
Kate and Betty have a moment in the locker room. It's intense for a number of reasons. Firstly, it's maybe the first time this season they've acknowledge the deep connection they have and what they mean to each other. Secondly, it's super important that Kate expresses some kind of verbal approval of Betty's queerness, and she does, even if let's face it, that is a situation that needs to be addressed in a much more complex way, maybe once Kate is ready. I don't know, guys. I just really love them, okay? I love them a whole lot and I want them both to be happy so badly and I keep believing that some day eventually they will find that happiness in each other but in the meantime I am okay with these other things but oh, feelings.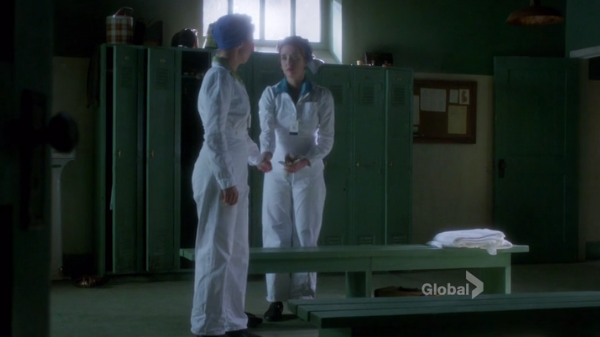 Of course, this scene is followed up by some more heart stomping as Teresa comes to see Betty for one last goodbye. And they can't even kiss! Give this lady a break, people. Gives this lady a goddamned break before my eyeballs are ripped from their sockets in protest of all this crying.
Betty goes to Lorna's house to apologize and gets a meal out of it. Oh, Lorna, and your mothering ways. Meltin' my queer heart.
In conclusion, Betty is perfect, Kate is perfect, Vera is perfect, Lorna is perfect, Gladys is working on it, and look at these perfect faces having a perfect moment.
Bomb Girls: the little show that can and will destroy your heart, and you will be happy to have your heart decimated.
Pages: 1 2See entire article on one page