This week on Bomb Girls, Betty's military booty call goes long distance, Vera makes everyone teary-eyed with her perfection, and Gladys' magical vagina continues to act as a doofus magnet. Yep, if you thought McBond meant the end to your Make Betty Happy Fund, better pull out the jar and count your quarters, because homegirl is back to square one and we're still crying about it.
Also, it's a Marco episode, which is either great or terrible news depending on how you feel about cannoli. And by cannoli, I mean Marco's wang.
Marco is having an Italian Party, which I guess is where you arm wrestle and roll around in tubs of marinara sauce and encourage each other to join fascist groups. Unfortunately, his mom comes home early to a kitchen full of half-naked muscular Italian men and makes a mental note to add this moment to the running list on her Livejournal of "Reasons Marco Might Be Gay or Fascist". She also explains that she got totally discriminated against at the supermarket for squeezing too many cantaloupe. I, too, have had that issue, Sra. Moretti, but it usually ends with the girl telling me she has other places for me to put my hands.
That supermarket happened to be Witham's Emporium of Well-Priced Beans and Daughters Who Keep Making Out With Everybody. Marco says he's gonna fix this. Considering the fact that every time Marco attempts to do something good, he is immediately accused of being an Italian fascist spy, I have a feeling this is going to be super successful!
Somewhere in a car that is probably in the Greater Toronto Area, Terrible British Accent and Gladys are driving around talking about spy things. Terrible British Accent says that Marco is a security threat. Gladys is like, yeah, you and every other writer who has rehashed this narrative about five times this season. He hands her a file full of Evidence Marco Is Bad and tells her to look it over. SPIES!
Back in Marco's kitchen, Frankie is talking about how Canada makes Italians eat crow when they just want to eat spaghetti, and Marco is inspired to action because if there's one thing you don't want to fuck with an Italian on, it's their goddamned food. There's a lot of yelling and hand gestures and mentions of eating. In my adventures of dating a Very Italian Girl, I have gotten used to frantic hand gestures as a Thing Italians Do, but I've found it's also a great way to assess one's lesbian sexual abilities with nothing more than a conversation. In this conversation, we learn that Marco is probably great at reaching the g-spot, while Frankie is better suited for fisting. Fun.
Frankie gives Marco a little handbook about fascism so Marco can become a fascist. This is like when lesbians distribute little handbooks about lesbianism to convert girls to lesbianism! That's how we do it, folks. Secret divulged.
Meanwhile on Chilly Housewives of Toronto, Lorna and Reggie are reading the morning paper and refreshing Hulu to see when the new episode of The Daily Show will be online. After hearing Jon Stewart's bit about the Nazis taking down a civilian ship in Newfoundland, they are interrupted by the milkman, with whom Lorna is sharing a weirdly erotic moment. Did I mention the moment was erotic and weird? She gives him a hard time about where he leaves the cream, and the amount of tension is disturbing. Lorna literally says "naughty neighbors steal my cream." Bomb Girls: the show that continues to go there even when you are not sure that's a place you want to go.
The ladies that own my heart are all convening before work, stressed the fuck out due to news that the enemy is now in Canadian waters. But wait! Ivan and Kate's wedding announcement is in the paper, complete with an adorable caricature that I'm going to need to be Lesbianized asap. Betty's reactions to these Kate/Ivan situations continue to be top notch.
I'll say this, though. The tension between Kate and Betty is at a level it has not been in ages, maybe ever, and sorry for not being sorry that my little McAndrews heart is excited to see anything between them. There is so much unresolved shit here, and I'm all about a version of the story where that intense emotion finally reaches its fruition.
In other lesbian news, Teresa is shipping out. Betty's reaction to this is accurately summed up here:
Vera and Marco are having lunch and being adorable while Gladys not so subtly listens in on their conversation. Gladys, I love you, okay? I love your angel face and your perfect hair, but sometimes I genuinely wonder what you are doing with your life. Then she joins them for lunch and gives them oatmeal raisin cookies. SPIES!
Marco tells Gladys that her family's stores are dens of sin and misery. Gladys interprets this as Fascist Talk. SPIES!
Betty joins Ivan and Kate for lunch because I guess it's not awkward that Ivan has boned both ladies at the table? Ivan is experiencing a situation that I like to call The Bryn Mawr Dining Hall Every Single Day. Ivan and Kate are wedding planning which is exactly what a lesbian wants to witness her former crush and beard doing right after she's been told the only girl she's ever had sex with is leaving forever. Kate is lying through her teeth about her family and Betty is onto her ass. Mostly because Betty is the only one who knows Kate's darkest secrets, and vice versa. Oh, ladies, someday you'll figure this all out.
Terrible Accent Sir tells Gladys she needs to get close to Vera to learn Marco's secrets, and Gladys actually does what he says. Gladys, baby girl, sweet cheeks? What are you doing, honey? She suggests that she and Vera go "cry into some beers" which is weirdly a thing I don't suggest to my friends but something that happens anyway?
Vera is suspicious of Gladys' magical vagina, second only to Taylor Swift's magical vagina, and gives her the Lucille Bluth side-eye before walking away.
Lorna is supervising a dance class because VicMu is actually a girls' summer camp that happens to make bombs. The dance instructor is none other than Weirdly Erotic Milkman, who flashes her the look of Tryna, to which Lorna literally responds "YOU?"
Anyway they flirt and dance and it looks like we're about to get our hands on another Lorna Infidelity Plotline, minus cannoli, plus milk. Girl has definitely got a food thing going for her. Whatever gets you off, honey.
Marco and Frankie are doing Italian Fascist Things, which basically means stealing vegetables and punching low-level security guards. Meanwhile, Gladys is sucking up to Mrs. Moretti and taking the Fascist Handbook as proof that Marco is bad. She does this while munching on phallic symbols and drinking espresso. Gladys, baby, I love you, but. But.
Over at Witham Palace of Beans, Gladys and family is hearing that a guard got beat up by some Italians, who promptly stole their butternut squashes! Probably to use in a quality sauce that they'll serve over pasta, the bastards! Gladys thinks her mom is being a Grade A Bigot by referring to Italians as "those people" but then she remembers SPIES! And goes back to being a covert spy. SPIES!
Over at Ye Olde Factory Floor, Kate and Betty are dealing with their tension. It's sort of working but mostly not because their clothes are still on. They keep passing a giant dildo back and forth and fight for control of it while shoving it into a hole. So.
Gladys sees that Marco's hand is all bruised. She confronts him about it and he says he was just boxing and stirring his spaghetti really hard so can she just back off already??? Gladys goes to the dark and wet cellar where Bad Accent Huh is waiting and tells him about her spy findings. Someone walks by so to be subtle she goes right ahead and kisses him. Gladys' magical vaginas, ladies and gentlemen. SPIES!
Marco is having another Italian Party in his kitchen, this time with free produce, but his mom comes in and straight up slaps him silly. He's like, mom, I'm a fascist now, you don't get it and you'll never get it! and then he goes upstairs to listen to Avril Lavigne's version of O Sole Mio in his room.
Gladys goes to talk to Marco about his life problems at the Only Bar in Toronto. Vera sees and is NOT DOWN because everyone knows that Gladys' Magical Vagina has a tracking beam like no other. Lorna and Weirdly Erotic Milkman are dancing and flirting. It's going there, guys. You don't know if you want it to, but it is anyway.
Vera gives Gladys the 411 in the bathroom, just like at middle school dances where you would meet all your friends in the bathroom and tell each other who you should try to dance with and who you should not try to dance with because Stacy Cleaves already called Matt Banks which means you skanks need to stay the fuck away from Matt Banks. In this case, Gladys Witham and her Magical Vagina need to stay the fuck away from Marco Moretti because Vera is the queen and has had it hard and deserves nice things. Gladys sort of gets it.
Marco shows up at Vera's place for a little drunk nookie. It ends up being a very touching conversation in which Vera, who is the queen of the universe and someone whose self-confidence is stupidly inspiring and beautiful, opens up about her own insecurities and the trauma she still deals with after the factory accident. I'm so in love with this character, guys. I know y'all are ridin that Betty train pretty hard, but Vera is the kind of perfection I was convinced you'd have to die and get to heaven to see.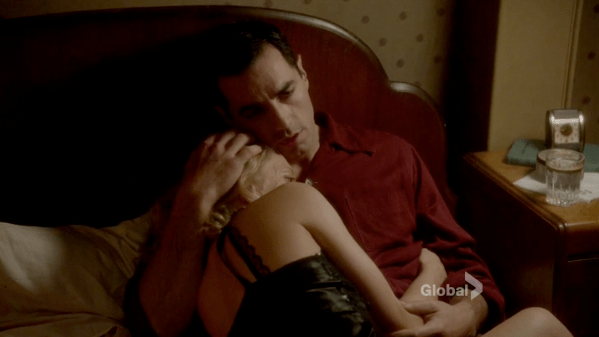 Reggie finds out that the milkman is coming over. Her reaction to the whole situation is pretty great.
Vera wakes up to Marco chattin' it up in Italian on the phone. She asks him what's up and he says it's none of her business. Little does he know that Vera is queen of the universe and thus everything that even minor mortals do, such as himself, is her business.
Kate and Betty have a moment in the locker room. It's intense for a number of reasons. Firstly, it's maybe the first time this season they've acknowledge the deep connection they have and what they mean to each other. Secondly, it's super important that Kate expresses some kind of verbal approval of Betty's queerness, and she does, even if let's face it, that is a situation that needs to be addressed in a much more complex way, maybe once Kate is ready. I don't know, guys. I just really love them, okay? I love them a whole lot and I want them both to be happy so badly and I keep believing that some day eventually they will find that happiness in each other but in the meantime I am okay with these other things but oh, feelings.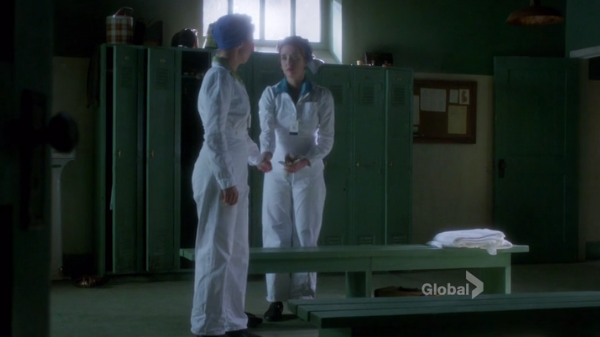 Of course, this scene is followed up by some more heart stomping as Teresa comes to see Betty for one last goodbye. And they can't even kiss! Give this lady a break, people. Gives this lady a goddamned break before my eyeballs are ripped from their sockets in protest of all this crying.
Betty goes to Lorna's house to apologize and gets a meal out of it. Oh, Lorna, and your mothering ways. Meltin' my queer heart.
In conclusion, Betty is perfect, Kate is perfect, Vera is perfect, Lorna is perfect, Gladys is working on it, and look at these perfect faces having a perfect moment.
Bomb Girls: the little show that can and will destroy your heart, and you will be happy to have your heart decimated.
Pages: 1 2See entire article on one page