Blue water road is Kehlani's first album since affirming their use of "they/she" pronouns and coming out as a lesbian. You can hear it throughout the album, although one could argue that Kehlani has never shied away from their queerness in their music. Maybe it's the knowing that they are leaning into this shift in their sexuality that makes it much more apparent that the object of their affection is very likely a woman.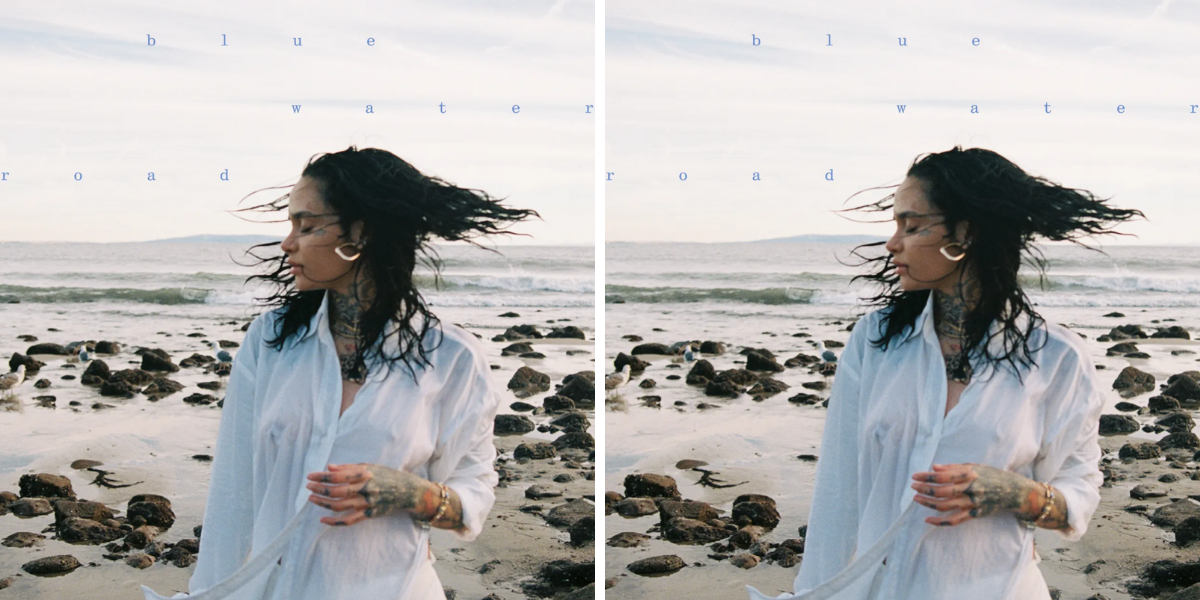 Sensuality is the overarching theme of the album, even in songs that are not explicitly about romantic entanglements. You can find it in bass lines, or just the overall vibe. Of course, it's more obvious in songs like "any given sunday," where they sing lyrics like "Call me daddy in front of all your bitches in the lobby." The lyric (and the song as a whole honestly) also shows how they straddle the gender line — there is a certain kind of masculine energy that just permeates in the most delicious way.
While sex is often played at and alluded to, it's most explicitly explored in the song "tangerine." Full of fruit and garden metaphors, it doesn't sound cheesy or inauthentic. In fact, all the metaphors blend together in a way that just allows you to get lost in the moment. Am I adding it to my sexy time playlist? Absolutely.
To accompany the release of the album, Kehlani did a short video documentary series. Kehlani explains that "little story" is the first song to start the album "…with a confessional, and then we'll get into it." It's a song that examines loss of a relationship that clearly meant something but also acknowledges that they are at fault for what went wrong.
"Wouldn't say I'm a lie, but I'm not always honest," she sings. This is literally the first line, so you know what you're getting right off the bat.
"You got a face I can lie to," they croon, mentioning the ambiance of blue light in a white room.
"I want you to love me again, and complete our little story. We got one hell of a story" sounds like there is unfinished business there that may be hard to let go of.
While it's hard to know for sure if all of the songs are about the same person referenced in "little story," it's safe to assume at least some of them are.
The track "wish i never" definitely sounds like it could be related to the longing they confess in the opening track. Clearly it's a song that is about regret.
"Wish I never did it, from the bathroom to the kitchen. Wish I woulda kept it pimpin', shoulda never took that mission," they sing, and you can feel those emotions are still right there in the front of their mind. This mystery person is someone Kehlani can't outrun, but it doesn't seem like they want to, which transitions perfectly into the next track.
"Up at night," which is the next track, features Justin Bieber. It was the first song from the album I heard but is actually the third single released. A total bop (do we still say that?), it has a groovy melody and a memorable hook. There's something incredibly relatable about it, too. "Thoughts of you keep me up at night…" Who hasn't been there? Personally, I'm ambivalent about Justin Bieber, but having him on the track really does give it a little extra something I enjoy.
From start to finish, you can tell how deeply personal and cathartic blue water road is for Kehlani. Beyond the admittance of regret, there are songs like the lead single, "altar" that is "dedicated to all those [they]'ve lost" during the COVID-19 pandemic. "Shooter interlude" profiles some of the stressors fame have on you by outside voices, and perhaps the most beautiful is the last track, "wondering/wandering." At the end, you can hear a little voice saying "it's blue water," that belongs to their precious daughter. It's the most perfect ending.