I had the honor of meeting Charleene Hall for the first time when she came to get tattooed by me. We met at Time Being, the co-operative tattoo shop I helped open in Chicago. It was right after we opened and it was her first tattoo. Doing anyone's first tattoo is a huge honor and I felt an immediate connection with Char. The tattoo was one that she designed and I could tell that it would be the first of many. Now nearly three years later Char is helping to open a new tattoo studio in that very same space with three of her best friends. Gabi Zahradka is someone who I've had the pleasure of working alongside for the past year at Time Being. She's tattooed so many places on her own body, breaking boundaries of what I thought was even possible. She has this passionate energy about her that is unstoppable. And watching her journey learning how to tattoo has been such a blessing.
Both Gabi and Char are in the process of opening a space in Chicago called The Jungle. A plant shop, a vintage clothing showroom, and — A tattoo studio. I'm so grateful for the opportunity to speak with Gabi and Char about their process of learning how to tattoo and their future plans for the space.
Char has always been encouraged to express her creativity and that art has consistently been a part of her life. Her relationship with art has been a tumultuous one, "I felt there wasn't space for me after leaving academia." A move that led her to make illustrations of Black non-men in safe spaces. "Ultimately, I always end up being creative, and now I'm stepping into a new medium on a living canvas. I care about Black people experiencing joy and taking up space. I want marginalized people who get smothered under the oppressive systems we live in to get to stretch far and wide."
At this point in my career, I have been tattooing for quite a few years, and because of that, I know the importance of having the perspectives and energy of people like Gabi and Char entering into the industry. Char expressed that she feels both welcomed and encouraged to be a part of this tradition. But she is also very aware that the majority of tattooers in the industry are cis white men, there is rampant anti-blackness and also knowledge that has been gatekept for decades. This kind of culture makes it even more necessary for tattooers like us to create our own spaces, spaces where we work to dismantle anti-blackness, truly support each other and share what we know. Char says "I want to continue something that my people have done for thousands of years. I want to lead my tattoo practice with care and prioritize Black skin and the liberation of Black bodies through this practice. Tattooing belongs to us as well, and we are actively creating a tattoo culture where there is no scarcity mindset because there is so much that is possible."
Each person who enters tattooing brings so much with them from their own identity and background. Both Gabi and Char are Black women who come from arts backgrounds. Gabi's background in performance and burlesque actively inform the way she approaches her tattoo practice. All of the identities we hold and each of our lived experiences can shape the decisions we make as tattooers. Char comes from a lineage of healers and caretakers, "I want to bring that spirit to my tattoo practice. I walk through the world in a dark Black body and that often means being erased, overlooked, unheard and left to endure and accept. I want to make sure that my clients feel seen and heard and know that through our session we can affirm their bodies and experience through the art of tattoo." 
I was present for the first tattoo that Char did on herself, and during it, I got to share some of the knowledge that had been shared with me. When I asked her about the experience she said it made her fall further in love with the medium. Gabi learned how to tattoo from my dear friend Eachna McGraw. She's tattooed most of her body herself and has been tattooing clients for the past year. She spoke about how learning how to tattoo has taught her so much more about herself than she could have imagined. "After a hard day of tattooing, I can still come home and be super hopeful. The process of learning how to tattoo has given me so much hope"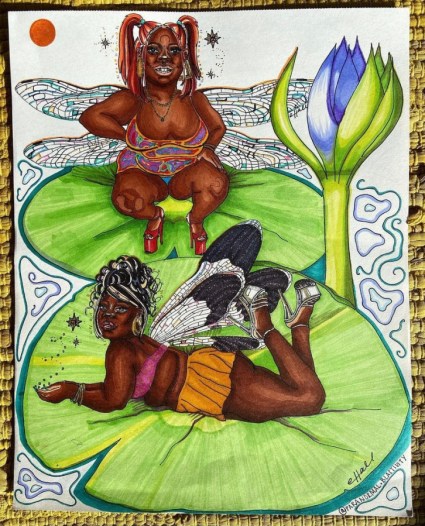 When we wrapped up our conversation, Char said something that stuck, "I believe in divine timing and the time is now….It's both terrifying and invigorating." Things are changing rapidly in and out of the industry, but these changes will inspire more places like The Jungle to open in the future all over. The Jungle will be a multidisciplinary tattoo space where the focal point is creation and creativity, but most importantly it will be a place for unrestricted and interdisciplinary queer Black creativity to thrive. Historically there hasn't been much space made for Black creativity in the tattoo world. The Jungle is both a manifestation of Gabi and Chars' hopes and dreams in the present moment — and a clear promise for the future.