Southern trees bear strange fruit
Blood on the leaves and blood at the root 

Black bodies swinging in the southern breeze
Strange fruit hanging from the poplar trees
Billie Holiday's rendition of Abel Meeropol's "Strange Fruit" is probably her most famous work. Meerpol, a Jewish man and former member of the Communist Party, wrote the jazz ballad as a protest anthem after viewing photographs of lynched black bodies in the south. If you've learned anything about violent hanging of black bodies in this country at all, you probably encountered this song. We use it often as a stand in for what we cannot bring ourselves to say  – that the horrific, disgusting, truly vile history of race and anguish and "mob mentality" in this country never stopped at slavery. If anything, it only ever began with it.
I've spent most of my life studying black history. I'm proud of us and to have dedicated what I've lived of my adult life thus far to studying what we've overcome. Recently, just this month in fact, someone asked me, could I say I was proud to be an American? We were talking about Michelle Obama, and more specifically about a famous remark she said way back in Barack Obama's 2008 Presidential campaign that her husband running for the highest office was "the first time in my adult life that I'm proud of my country." Republicans hammered her for it. How could she ever become First Lady of a country she wasn't even proud of? (Spoiler Alert: She did. And she was the greatest First Lady we'll ever have.) Anyway, this person asked me – as a black woman – could I ever say that I was a proud American?
I told her that I could not. I knew too much about our greatest sins. I knew too much about the strange fruit borne out of Southern trees (and Northern trees, though we rarely talk about that). I'll always believe in the promise of the unfinished project of America – that every generation has responsibility to do our part to help fix what's broken, that America can always strive to be a better, more inclusive version of herself than she was the day before. It's this unfinished project that drives my activism, my writing, my heart. I'm proud of the work.
So yes, I knew exactly what Black Lightning was laying down when, in the course of looking for Anaya's missing baby, Jefferson encountered dead black bodies hanging upside down off of trees. I suspect a lot of you did, too. It went by quickly, and everything was so cloaked with night air that you'd be forgiven for not knowing those were black bodies when you first saw them. But I couldn't miss it. Even if my eyes didn't register what they were looking at right away, the lurch in my stomach would've told me.
It's why this week's review is late getting to you. Black bodies on trees. Nooses being left in front State Capitals. Some weeks it is all too much, and this week is one of them. Usually I'm happy to add little black history lessons into my writing if it helps bring us greater context to the show, but not today. If you don't know enough about the history of lynchings in the country, or want to learn more, I'd start you with the Equality Justice Initiative's Lynching in America series. I can't do it for you here.
I will say that as much as I love Black Lightning, and in particular as much as I love their willingness to ground the supernatural within the – admittedly sometimes ugly – realities of black life in America, I worry that the show has begun to dabble in exploiting the violence against black bodies as a means of spectacle. By that I mean more than "why do all the villains (save Tobias) have to be racist white people?" That's not my investment. What I mean when I talk about "exploiting violence against black bodies as spectacle" is this: when you are a majority black-produced show with a large black audience, what are the responsibilities that come with that? If you are dealing with a community that's constantly bombarded with and re-traumatized by imagery of our own violent agony and suffering, then you have to be purposeful as a creator with what you are putting on the screen.
One of the things that truly made the first season of Black Lightning shine was not just that it was willing to wrestle with the constant, racist pain of being black in America; it was willing to contextualize that pain within the social justice rooted resistance and joy of our people. It was (and remains) one of the few shows on network television, regardless of genre, that has fundamentally no interest in engaging with a white gaze. It doesn't explain its inside jokes or musical queues or language choices for white people. Either you get it, or you don't. That's why up to this point, I've been willing to grant them grace when it came to depictions of anti-black violence. However, this season has started a trend that worries me.
Natalie first rang little alarm bells in my ear when the second season opened with the on screen death of a young black teenager, Issa Williams. Back then, I told her that I trusted where we were going. But between last week's random dive into the perdi and the sanjay and this week's rushed execution of lynching analogies and confederate flag waving racist villains painted with all the subtly of a Saturday morning cartoon character, I think it's time to revisit the question. Because it should never just be about using violence to shock, it should always be about the story you are telling with it. What Black Lightning has put forth as allegories for anti-blackness this season has been rushed and sloppy and carelessly written. You can't "half dip" into the deaths of black and brown children by a government agency, you can't "half dip" into lynchings and the confederacy as if somehow just giving it a wink is enough. It's not enough. And either we are going there or we aren't. Anything in the middle is, quite frankly, irresponsible and beneath us.
The best thing I can say about this week's episode is that at least the South Freeland storyline is over now. I have my fingers crossed that we never have talk about it again.
Oh wait, that's not exactly true! There is another best thing that I can talk about this week: THUNDER GRACE!!!!! Which is what I'm sure you all came here for anyway. And for good reason! Look at these cuties: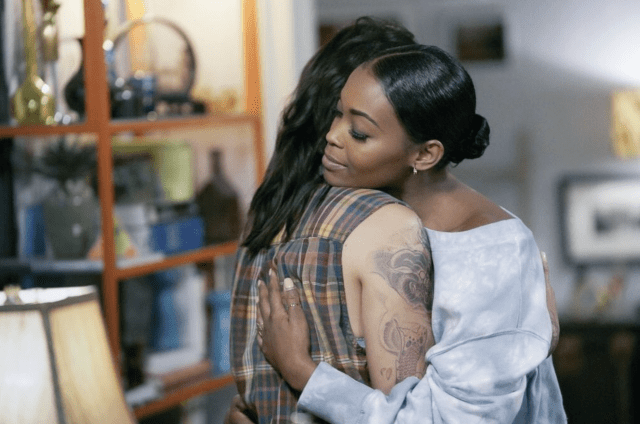 Despite an impressive online push from Nafessa Williams and Chantal Thuy ("HYPE THEM UP LIKE YALL HYPE UP YOUR WHITE GAYS YOU COWARDS!"), our time with the couple was far too short this week. Unfortunately, it also added very little to their development. We know that the couple has made up since their last spat, but also that Grace is still keeping her growing powers from Anissa. I know we are getting more Grace in the future because Chantal is still filming all over Atlanta, so I guess we all have to be patient for now as this slow burn romance continues to simmer. Still, isn't this stew ready yet? It's been nearly a year. Also! Did you catch that Anissa and Grace were watching the 2000s black girl sitcom classic Girlfriends? Because I sure did! Hey there, Joan Carol Clayton!
This show is so black. It's SO, SO, SO, SO BLACK. It's references are for us, and despite anything else going on, I will always love them for it.
Yes, I know Jennifer ran away with Khalil. My fleeting happiness over seeing Maxine Shaw: Therapist at Law aside, I am not ready to deal with it. Maybe next week.
I'd also be remiss not to mention the truly atrocious sexual assault accusations brought up last night against Black Lightning showrunner Salim Akil (even though you may think you know what you're about to read by clicking that link, it still deserves a trigger warning. Yes, it's that bad). Heather and I are aware and weighing what to do about it, and our coverage of the show, over the winter hiatus. Just to be transparent as possible at this time.
Ok, this was a really hard week. I love you all so much. Thanks for hanging in there with me.