Previously, everyone and their cousin made their way to Coryana despite it being super hard to find, the Bat Team discovered Ryan's favorite plant was actually Desert Rose in disguise, and Kate Kane was officially declared dead. In this week's on Batwoman recap Wildmoore gets a new shipper as Sophie gets a new wingwoman. Read on!
---
I don't ask for a lot. I'd just like one episode of this show where Mary doesn't cry. It looks like I'm not getting my wish today, because Julia, Luke, Sophie, Jacob, and Mary are all at a cemetery holding a funeral for Kate while Ryan writes her one last letter. Ryan can't go to the funeral herself, so she honors Kate the best way she knows how: with her words and her favorite miracle cure plant. Thanks to both Kate and the Desert Rose, Ryan got a second chance; and she's going to use it officially be Gotham's Batwoman. I have no idea what's going to happen if and when Kate's family realizes she's not actually dead, but I do know that the Kate they knew and loved will live on in their hearts. May your memory be a blessing, Kate.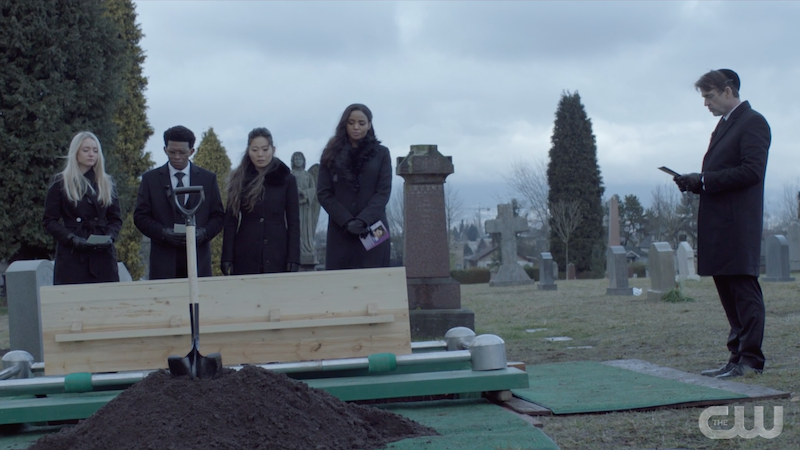 Oh and Black Mask has Kate prisoner and tells her that her family declared her dead. Surely that's fine.
It's one month later, and before he heads into a budget meeting, Commissioner Forbes is answering questions from Gotham's one (1) reporter about the city's Snakebite problem. Before he can demand more money to patrol Black neighborhoods (which is what I assume happens in those meetings), a young Black woman stops him to explain exactly what defunding the police means (spoiler alert — it's not about taking away all of their precious money). Forbes would rather complain about graffiti on city buildings than actually have a conversation, and he tells the woman if she has a problem with the way he's doing his job, maybe she should run instead. We love a Black woman in power, but WHY DO WE HAVE TO CLEAN UP ALL OF YOUR MESSES?! Ahem. Anyway.
When Ryan and Mary moved in together, this is exactly the scene I hoped we'd get. Two friends, bonding over sweet potato pancakes and having heart-to-hearts about leaning on each other when they needed it the most. Mary has had a Time since Kate's funeral, and Ryan has been there for her, no questions asked; except maybe when Mary will replace the ice cream she ate. They hear a knock at the door and it's Angelique, here to apologize? This definitely isn't the point, but homegirl didn't even wait for Mary to say "come in" before she just sauntered into the apartment, so if you weren't already on notice Ang, that would have done it. Mary gives Angelique a very cute yet threatening stare down before leaving the two alone because while she respects their privacy, she will absolutely cut a bitch if they mess with her girl. I just love Mary so much, y'all.
Angelique apologizes to Ryan and tells her that even though she couldn't fight to keep her in the past, she wants to do that now. Ryan holds her ground though; she's finally turning her life around and the only way the two of them work is if Angelique gives up dealing. Ang promises she's ready to do that while I give her my best side-eye.
And how's Alice handling the "death" of her sister, you ask? Not well, friends. She's back in the room where she was kept prisoner for all those years, reciting Humpty Dumpty: the I Thought My Sister Was Dead But Then Was Told She Wasn't So I Went to Coryana to Kill Her Myself and Then the Queen I Have Sexual Tension With Told Me My Sister Was Never There and Was Declared Dead *Remix*. Before long, Alice is joined by young Kate, who she's apparently invited there for tea.
Meanwhile, the Commissioner's budget meeting is finally over and I guess so is his life, because a gang drives up and murders him on the steps of City Hall. They're not alone though; the woman from earlier is in the process of tagging the building and sees the whole thing go down.
The next day, everyone's favorite reporter is interviewing Lorna Corbett's husband from Bomb Girls, aka businessman Roman Sionis, about the murder of the commissioner. Sionis has a makeup empire, which would explain his unsettling lack of pores. Like most white businessmen, Sionis thinks he's the solution to the city's problems, and offers his help to the Gotham police force against masked vigilantes.
Meagan Tandy had herself an EPISODE and y'all, Sophie is ON ONE right now. She storms into Crow Headquarters and demands all of the information they have on the murder. She had me scrambling for footage in my own apartment before I remembered none of this is real and also she works for The Man. Women in power. Whew. The Bat Team is watching the same footage as the Crows and they realize someone scrubbed five minutes from the tape. Ryan notices that someone was tagging the building as the murder happened and Mary found the artist faster than you could say "What's a finsta?"
Quick pause to appreciate the wardrobe department for this episode. Thank you for your service.
While Luke does some clicky clack computing to find the artist's identity, the team does a little gossiping about She Who Interrupts Roomie Breakfast. Mary does that loyal friend thing where she asks Ryan if "we" are taking Angelique back, and it's all so cute and their friendship is really important to me, okay?! Luke finds the tagger; a woman named Jordan Moore. Yup, that Moore.
Sophie, still high off power, is leaving Big Daddy Kane a voicemail and gets into her car without checking the backseat like some kind of amateur. Jordan's in the backseat. HER SISTER JORDAN is in her backseat and admits to seeing the Commissioner get gunned down. Sophie's ready to march Jordan upstairs to take her statement, but Jordan refuses. She knows it's over for her as soon as the Crows know her name. A guy in a mask breaks the car window and before Sophie can shoot him, Batwoman shows up to save them, much to Jordan's apparent awe.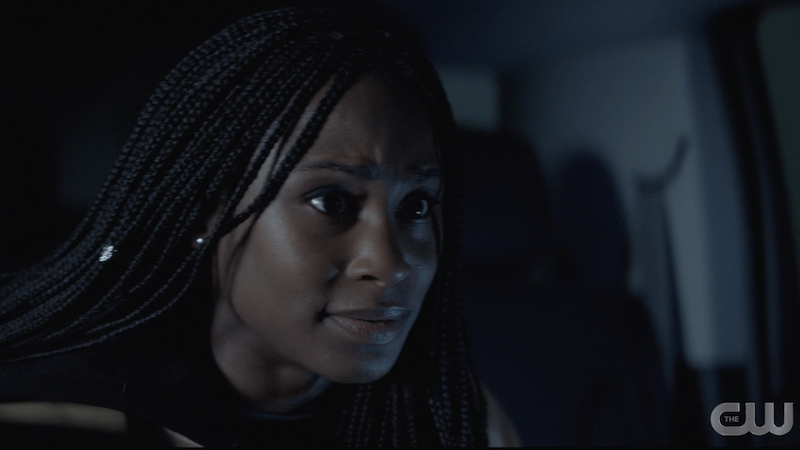 They realize the False Face Society is after Jordan, and Batwoman knew where she'd be because she knew she tagged City Hall the night before. Like a Big Sister does, Sophie immediately chastises Jordan. I don't have a sister, so this doesn't necessarily speak to my experience, but Jordan and Sophie's relationship feels so authentic. It reminds me of Jennifer and Anissa Pierce in season one of Black Lightning. There's an ease and a love with which both sets of sisters crack on each other that is so fun to watch. Jordan says, "Girl, so not the point right now" in a way that you KNOW she's said before. I promised myself I wouldn't spend this entire recap yelling, "BLACK WOMEN THOUGH!!" but in this scene (and another later), we get three Black women sharing screentime, and two of them are queer main characters on a network superhero drama. I didn't know I was allowed to want this when Black Lightning entered my life, and for it to be happening again? Teenage Nic is screaming right now.
Jordan tells Batwoman everything she saw that night, including that the driver of the getaway car was a woman wearing a babydoll mask (gross) and gold key bracelet. Angelique, you in danger, girl.
Back at Alice's tea party, she insists that nothing happening is real and Fake Kate confirms it because reality is the last thing Alice wants right now. Alice created this version of Kate because when they were little, Kate is the one who got them out of the trouble Alice caused. And right now, the trouble Alice needs getting out of, is her pain.
Meanwhile, Ryan pounds on Angelique's door and demands answers about who killed the commissioner. Rather than deny it, Angelique wants to know who else knows she's involved. She claims she asked to leave and they wanted her to do this last thing even though she wanted nothing to do with it. Ryan wants her to snitch on the real killers and promises to protect her because she… knows Batwoman. Y'all, the breath I held when I thought she was about to reveal her identity. Angelique says she'll think about it.
Luke is none too pleased that Ryan gave Ang time to think. If Angelique testifies though, Jordan doesn't have to, and she stays safe. Dear sweet Ryan is convinced Angelique is going to do the right thing, but even Mary is hesitant this time because she's been through this before with Kate who constantly justified Alice's actions. She knows that even though Angelique isn't Alice, "no one is ever Alice until they are because someone let them be." The writing in this episode is some of the best I've ever experienced. Whew.
Next page: Girls night out! 
Pages: 1 2See entire article on one page