5. Lindsay Lohan & Frenemies, Mean Girls (2004)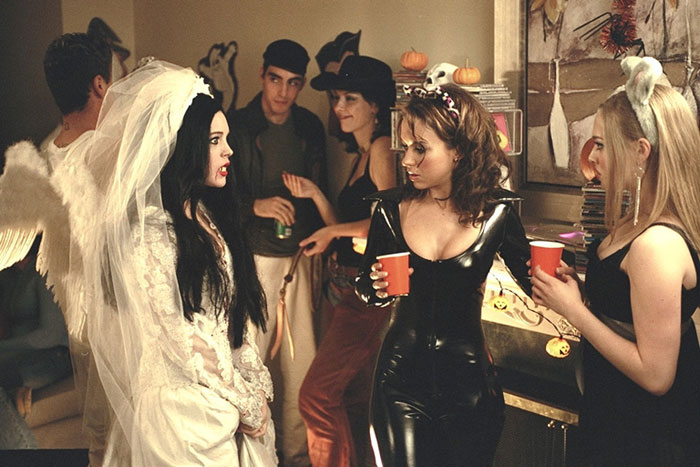 Speaking of Lindsay Lohan, one of her cutest moments was when her character was totally earnest about Halloween while her Mean Girl friends went for the more traditional option: really "slutty" versions of … whatever!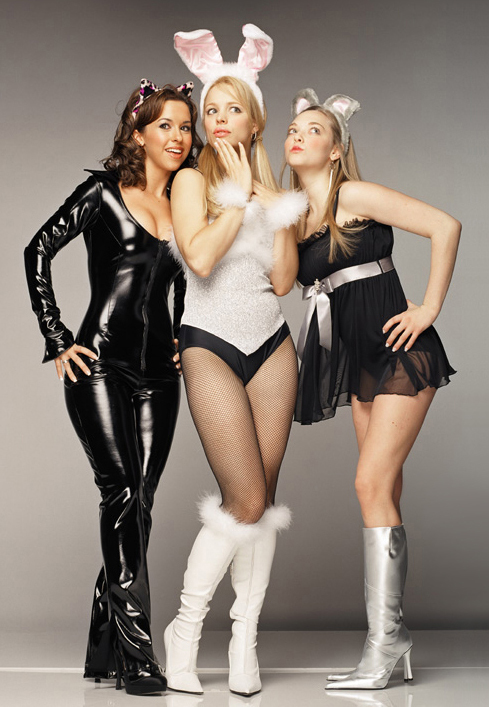 4. Special Award for Excellence in Costuming goes to Ellen DeGeneres.
(Forevs & Evs)

3. Adriana Lima in Ellen Von Unwerth's Wicked (1998)

Our second-favorite photographer Ellen Von Unwerth did a whole book called "WICKED" with superhawt Adriana Lima. Almost all the photos are redic NSFW but it includes a very awesome costume idea — fishnets, heels, a witch hat, long nails and no shirt! It takes "Sexy Witch" to a whole new level.

2. The Big Gay Sketch Show Does Halloween (2009)
Logo's Big Gay Sketch Show, starring our dear best friend Julie Goldman, has a special Halloween skit for you. Her costume is "Suburban Housewife," you can try this at home:

1.  Willow in Buffy The Vampire Slayer (1997-2003)

(Halloween, Fear Itself, All the Way)
B/c it's a show about um, vampires and stuff, it's obvi that Buffy would pull out all the stops for Halloween, including superhawt lesbian character Willow. B/c I've never seen Buffy, I had my interns fill me in.
Intern Daphne Duck, our Belgian Supergirl, offers the following synopsis of Halloween, an episode cited on Best Halloween Episodes Ever lists all over the world. I thought about fixing the spelling but I think it's funnier this way:
2×6- Halloween– So the episode is about Halloween. Buffy, Zander and Willow get assigned to supervise trick or treeding kids so they get costumes. Then there is this evil guy who dessided to turn everybody into the persons in which they are dressed up in. Willow becomes a ghost, buffy a duchess, Zander a soldier. Obv they are useless to fight of the blonde bad guy that way. But hey, the old british guy saves the day by destroying the spell and Buffy beats up the blonde bad guy in the end. And they all live happely ever after.
Intern Elizabeth, our Chicago Treat, has the rest for you:
4×4- Fear Itself– Everyone is trapped by a demon in a frat party haunted house. Willow is Joan of Arc and Oz is God (and they are ridiculously cute). Also, Willow's dorm neighbor boy is supposed to be either Prince or a weird drag queen.

6×6- All The Way– Willow is finally gay and with Tara! But this is a fairly dull Dawn-centric episode and Willow and Tara spend almost the whole episode fighting/not in costumes/covered from neck to toes in clothing. They do have a cute little blink-and-miss-it kiss [screencapped]. And a there is a GREAT LESBIAN JOKE at the beginning of the episode:
Anya to Dawn- Xander's gonna teach me a new game after work called Shiver Me Timbers… ever play?
[Tara swoops in and rescues Dawn/sends her off]
Anya to Tara– What about you? Ever play Shiver Me Timbers?
Tara- I'm not really one for the timber…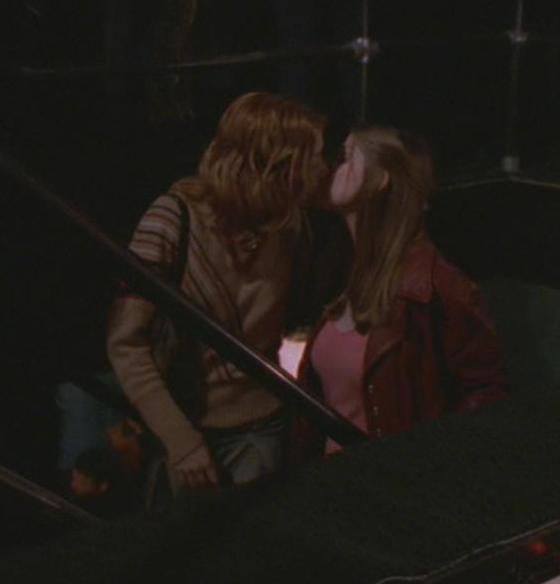 So what are you gonna be for Halloween?
Pages: 1 2 See entire article on one page