Did you watch the women's Final Four games over the weekend? Three games over two days decided by a grand total of just 11 points…which is just slightly closer than last year's epic Final Four which had been decided by a grand total of only 15 points? We got three amazing games, some epic performances — Sabrina! Kalani! Brianna! Arike! Chloe! — and more than our fair share of heartbreaking moments. The no call foul against Sabrina Ionescu in the waning moments of the Oregon-Baylor game. The knee injury for Lauren Cox of Baylor which allowed Notre Dame to storm back in the national championship game. Arike Ogunbowale missing the front end of a 1-and-1 that would've sent the national championship into overtime.
It was an amazing…but also? Agonizing. Oh, so very agonizing. I think my heart rate is just beginning to come back to normal. In short, it's everything that basketball fans have come to expect from the this time of year that we call March Madness.
Our version of March Madness hasn't been nearly as maddening — well, except maybe one decision in the GROWN region, but we'll talk about that later — but we've still had our share of excitement. Here's the updated look at the Best Coming Out Story bracket:
Now it's time to make your picks! You've got 48 hours to summon all the fandom to Autostraddle to vote for whom should represent the CLASSICS, Baby Gays, GROWN, and International regions. Feel free to revisit my earlier write-ups — Classics, Baby Gays, GROWN and International — and the video links (where available), if you need some help making up your mind.
We'll tabulate the votes after Thursday's deadline and announce the Final Four on Friday.
---
In the CLASSICS region, early on, it looked like our favorite soup chef, Lara Perkins, would capture some of the L Word reboot energy and pull the upset of the tournament, defeating the region's #1 seed, Ellen Morgan. After the first few hours of voting, Lara Perkins had built a fairly sizable lead. But, perhaps angered by the reverse puppy episode of Will & Grace, Ellen stormed out in front over the weekend and advanced to the Elite 8.
Likewise, early voting in the Santana Lopez vs. Naomi Campbell contest had me thinking that it'd be our closest match-up in the third round but that turned out not to be the case. The GLEE songstress' road to the Elite 8 has been as impressive as anyone in the field: beating Anna Taggaro, one of the first queer women of color on television, in the first round, overcoming the strength of a reawakened Pretty Little Liars fandom in round two, and now handily defeating Naomi's poignant coming out scene from the Skins finale (Yes, it's the finale. Skins Fire? I don't know her).
#1. Ellen Morgan – Ellen vs. #2. Santana Lopez – GLEE
---
Over in the Baby Gays region, Elena Alvarez may have pulled off the upset of the tournament by beating Buffy's Willow Rosenberg in the Sweet 16. Elena continues to be one of the top vote getters in the field — only edged out by Ellen — which I think is reflective of the enthusiasm that remains for One Day at at Time (#SaveODAAT) and how resonant her coming out story was to a lot of Autostraddle readers.
Two of March Madness' biggest surprises — Supergirl's Nia Nal and Atypical's Casey Gardner — met in the Sweet 16. It was interesting to see two of the regions most subtle coming out stories advance this far in the region and I'm curious how much it represents changing expectations for what coming out is. The lead in the Nia vs. Casey match-up volleyed back and forth between the two over the weekend but ultimately Nia won out.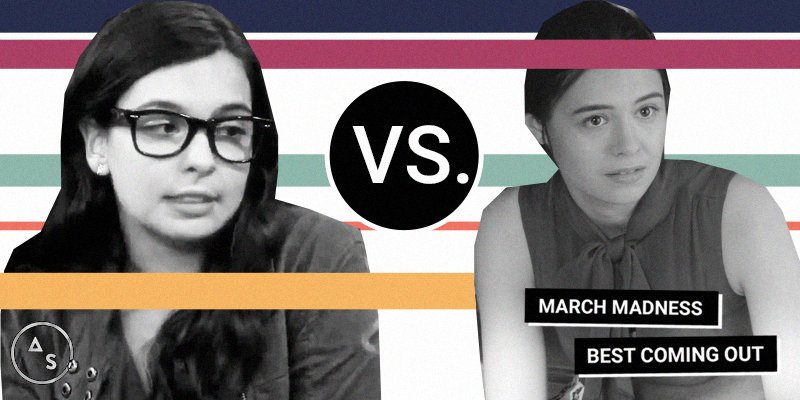 ---
It's also interesting to wonder if Nia Nal's success in the Baby Gays region is due, in part, to the success of Alex Danvers in the GROWN region. Both of Supergirl coming out stories have advanced to the Elite 8 Much to my dismay, the director of the DEO beat Denise's Emmy award winning coming out story on Master of None. Winning an Emmy should get you an automatic bid to the Final Four I'd think…but no such luck…and Alex Danvers will dance on.
One of the most interesting parts of March Madness is to listen to people bemoan how agonizing the match-ups are — like Waverly vs. Petra in the Sweet 16 — only to get lopsided results when the votes are tabulated. Waverly beat Petra by a comfortable margin…which I take both as a referendum of how vigilant the #FightForWynonna effort is and disappointment that Petra and JR split in the first episode of the new season of Jane the Virgin. A vote for Waverly as a rebuke for not-Michael's ogling of Petra? Totally valid.
#3. Waverly Earp – Wynonna Earp vs. #4. Alex Danvers – Supergirl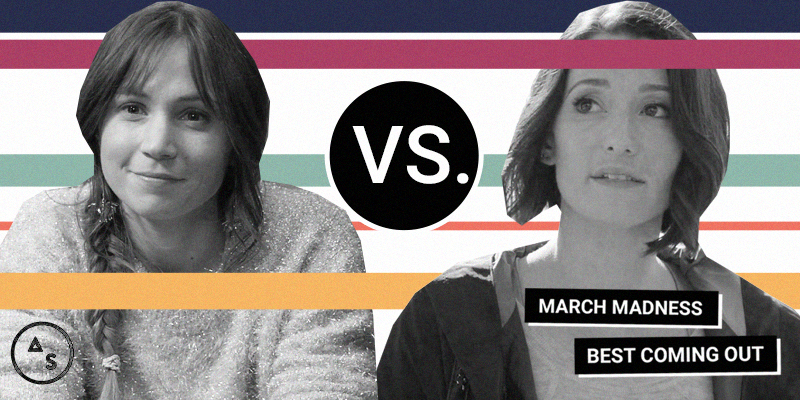 ---
The Elite 8 match-up in the International region seemed inevitable from the outset: both parts of a beloved couple, whose show only recently conclude, on opposite ends of the bracket…of course they'd end of meeting in the regional final. But, if I'm being honest, I was a bit surprised not to see Mercedes Möller not pull off the win. I know a lot of March Madness becomes about one fandom versus another and Perdona nuestros pecados' Barcedes fandom has had eight months to die down…but, still, I thought Mercedes coming out to her father was so awing that it might prevail.
But Juliantina was not going to be denied: not against Mercedes and not against Luisita Gómez from Amar es para siempre. Luisita put up a strong fight — actually garnering more votes than Mercedes did in the third round — but ultimately, she fell short as well. Both Valentina Carvajal and Juliana Valdés advanced to the Elite 8 and now Amar a Muerte fans will have to choose between their faves to find out which coming out story earns a place in the Final Four.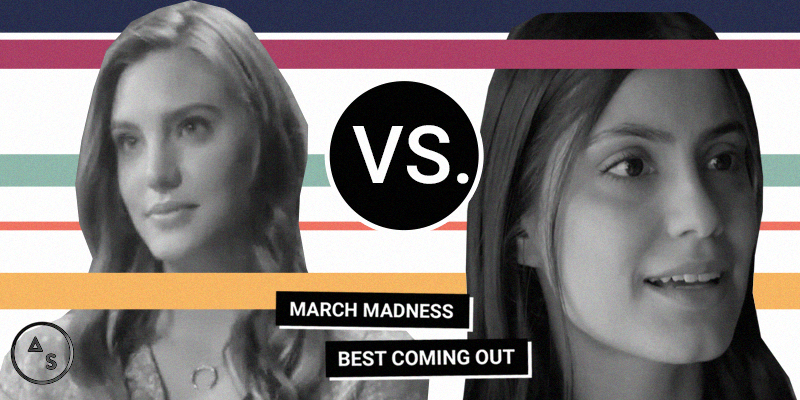 ---
Oops! We could not locate your form.