This week on The Real World: Ex-Plosion, Ari's presence is limited and everything goes to shit. Typical.
Although this week's episode featured Ari for about 50 seconds, things definitely still got gay.
As in, I spent the entire first ten minutes of this show ready to invest in a new gay subplot for the show.
I'm not fucking around.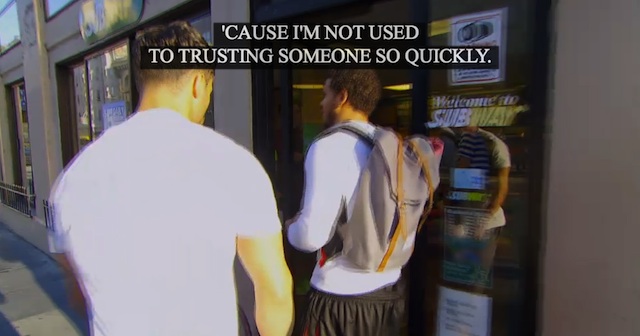 But Brian and Cory weren't alone in their pre-gateway-to-Hell elation. Turns out before watching their lives dissolve, everyone had time to do their own thing.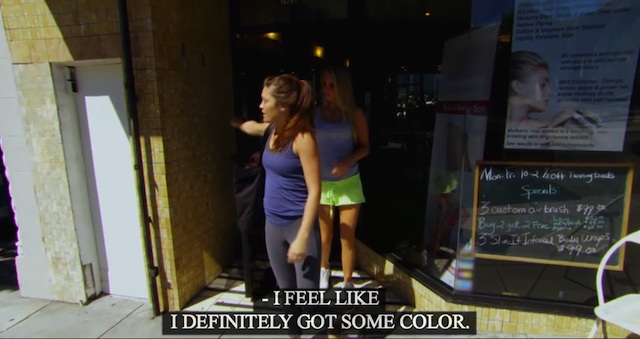 In Ari's case, she got a few got poses in.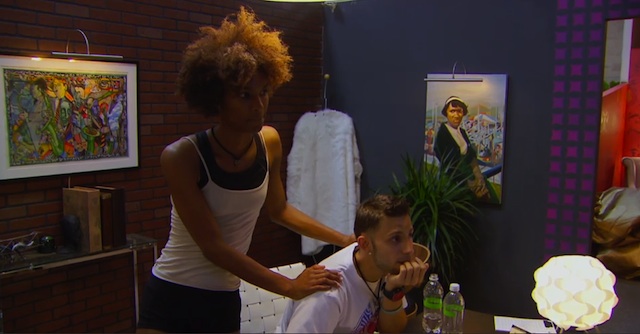 Later on, Jay and Jenna dive first into the nine circles of Hell, circle one being "the very public dissolution of everything they ever held dear," when Jenna sees video footage of her man kissing on another lady at the club. Turns out he also sends really not-sexy-at-all "sexy emails."
Ari also secretly plots with Tom to have him ask Hailey to leave the house, which lights fire to the bomb that will be the last thing their relationship ever saw. While Hailey plots her slow descent into envy-induced insanity, Ari and Ashley get their shit together.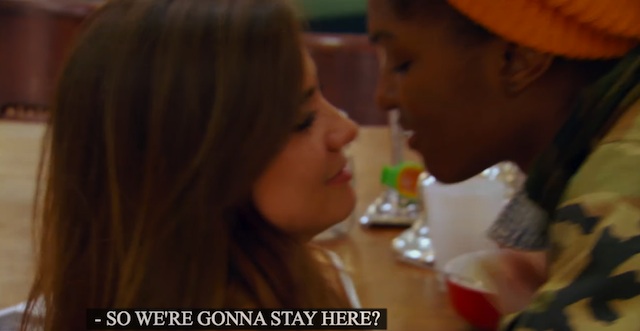 Don't think nobody notices, especially later on when Hailey is drunk and crying on the ground.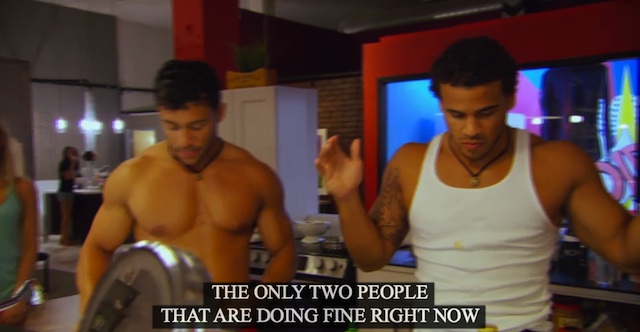 (Don't worry, Tom. It's a lesbian thing.)
The episode ends with Tom and Hailey engaging in a multiple-commercial-breaks long segment in which she paces back and forth cursing his existence and attempts to beat his ass. MTV decided that the situation called for a PSA, which closed out all the lessons learned in this week's episode of The Most Unreal Thing Ever Resembling Real Life.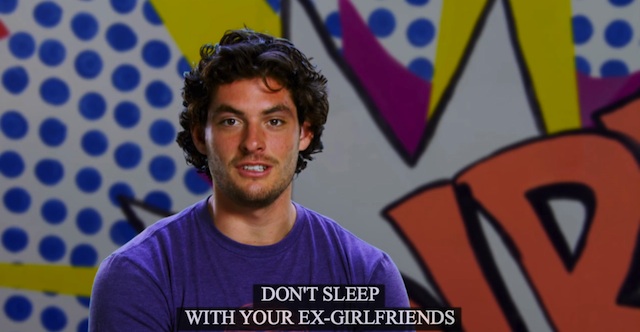 Amen.
Here's your weekly questions (with answers!) for Ari And Ashley Are Forever Perfect Fitz.
On Ari's Antics
@autostraddle #autoari I seen twerk n bropocalypse on the board. Wht else is on it? Lol.. #TheRealWorldExplosion

— Terra Chaney (@libraz83) March 13, 2014
LOL! Someone is incredibly observant. Let's see here… bropocalypse, twerk, ratchet, friendzoned and one more I seriously cannot remember.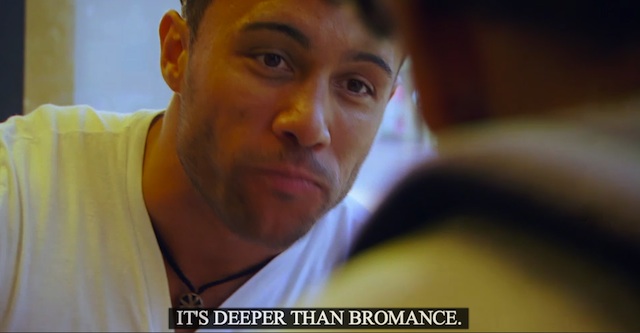 @itsarifitz #autoari not including "the grudge prank" & the "new rmmate Kyle" how many times have you pranked someone? poor @MTVCoryWharton

— Sasha (@Sashaw101) March 13, 2014
Honestly I forgot. I pranked the boys at least 4-5 times, one time pranking Brian with a tube of lube. I pranked Jenny once as well. What can I say… I get bored easily.
On The Startlingly Unreal World
@itsarifitz was their any heated arguements that was edited out of this episode ? #autoari

— Naim (@jaria1998) March 13, 2014
I think my conversation with Tom and Jamie on the bed was taken out of context, but you come to expect that kind of thing nowadays. They also didn't show a very unsettling comment that Hailey made when she was drunk, but outside of that it was pretty dead on.
https://twitter.com/KMQ17/status/443940132089905152
Haha… I always wanna say "or nah" to those questions. But yeah he def is. He's like one of those emotional indie rock lead singers or ya know, Drake.
https://twitter.com/BlondieBear21/status/443952606571139073
Whoa about your new hashtag (#CutaHo). Personally, dancing means nothing to me. I dance with girls all the time and I'm in a relationship. Ashley knows it means nothing to me. That said, it's Tom's job to say, "chill". And, of course Jamie went too far.
@itsarifitz What was The Funniest Moment In The Real World Explosion? #autoari

— Jazmin Jaime❤✨ (@jazminjaime) March 13, 2014
Hardest question to answer! There were SO MANY GOOD FUNNY MOMENTS, especially little inside jokes with all of us. I'd still say my fave funny moments were our pranks: scaring Cory or the fake roommate, Kyle.
Did it feel weird to be one of the only ones who knew about they city and the bay? @itsarifitz #autoari

— TV Talk With E (@TVTalkWithE) March 13, 2014
BRUH! Yes. I just felt hella responsible, like it was my job to make sure they all had a good time and saw important places in the city. That also added to me feeling like the mom of the house.
@itsarifitz #autoari would you have made Hailey's life at the RW house miserable if Thomas said?

— lia (@likehipsters23) March 13, 2014
Everyone knows I like to fuck with people. I play pranks on everyone and most of the time it's in jest. I'm good friends with Hailey today and I know she would've taken anything I did towards her as a joke.
Regardless, this was taken out of context. My point: if TOM didn't want Hailey to stay in a house and she refused to go, he could have made it easy for her to want to leave.
I didn't care at all either way.
So thy let u guys use ur cells in the clubs? Bc jays used it for all his #s lol #autoari #TheRealWorldExPlosion

— Terra Chaney (@libraz83) March 13, 2014
We got cell phones from production to film things, take photos, etc. They weren't our personal phones.
#AutoAri how crazy it was to see everybody acting crazy? @itsarifitz

— ☔️Black$mallville✈️ (@LouEFrancisco) March 13, 2014
https://twitter.com/lmh_so_rocks/status/443940739106369536
It's hilarious. I just sit and watch while eating hella popcorn waiting for people to explode on each other.
https://twitter.com/rachelisdtf/status/443932462729953280
Great question. Nope, not at all. Tom hasn't cheated on anyone neither did Jamie. Jenna never cheated on Jay. Ashley never cheated on me. Jenny technically never cheated as well.
@itsarifitz how did you feel about Hailey ? #AutoAri

— Naim (@jaria1998) March 13, 2014
Have no problems with Hailey at all. We're actually really cool now too. Only time I had a concern was when Tom and I chatted off camera and he made me raise some doubts about her intentions.
https://twitter.com/VealityScoop/status/443947487834157056
https://twitter.com/andryainfinity/status/443947369457917952
@itsarifitz where were you this episode?? #AutoAri

— Ottawa Senators fan (@Huge_Sensfan) March 13, 2014
@itsarifitz where tf were you @ during the show !!!! #AutoAri

— Naim (@jaria1998) March 13, 2014
https://twitter.com/britttany_kate/status/443944528446099457

Where was @itsarifitz this episode #missedher #autoari

— Katelynn Neuman (@KatelynnMarie5) March 13, 2014
@itsarifitz I'm starting to think that you was working on your films somewhere alone away from all the bs! Lol Am I right or nah? #AutoAri

— quese (@Rih_IsLIFE) March 13, 2014
Of course, my girl Rih_IsLife would know. I know it's hard to believe but I was…. WORKING.
Basically – especially at this moment in the season – if I'm not shown or I'm not around it's because I'm working on my next film. I'm either trying to get some sleep because I have a meeting in the butt-crack of dawn or I'm at a rehearsal, etc.
You'll see all of this come together in just a few episodes. justa
On Ari
https://twitter.com/rachelisdtf/status/443932947964366848
I try to, but most of the time I get looped in anyway. Sigh…
if we only see @itsarifitz when she's giving sound advice to her roommates then I'll just ask #AutoAri what do you want to be your legacy?

— 𝓙𝓮𝓶 (@eltonjohnii) March 13, 2014
That's a winning question. It's a difficult question to answer because legacy sounds so permanent. I'll just say this.
Everything is a story. My "character" on the show, the films I make, the conversations I have with other creators, the weird videos I put on YouTube. These are all stories I'm giving to the world. My medium will always evolve, but I'll always be a storyteller.
@itsarifitz are you & @missashc still together?? I hope do y'all are Seriously the cutest!! #autoari

— Emily LeBlanc (@emmylou0528) March 13, 2014

https://twitter.com/_excape_/status/443940202961072128
*Wink*
https://twitter.com/lef_tenant/status/443947797352824832
You're amazing and I love this question. My first thought was copy! Haha, but there's some truth in this. Find the work that you look up to, appreciate and try to emulate it. You'll start to find ways to improve those works, add your own style to it, etc. Soon you won't look around because you've cultivated something unique to you.
Outside of that… MAKE A LOT OF CREATIVE FRIENDS!
*raises hand*
Who do you have the most bro time with in the house? #autoari @itsarifitz

— PettyVille (@kaiboi25) March 13, 2014
At this moment in the season, honestly Ashley. Next on the list is prob a tie between Tom and Jamie.
https://twitter.com/JadeyCakesXO/status/443931373347147776
Not much, lol. But I dance. I used to teach hip hop in high school and now I house
https://www.youtube.com/watch?v=5gMxdCY-7y8
Best Qs of All Time
@itsarifitz why is stereotypical for a lesbian to be vega/vegetarian?

— Cait Kane (@CaitilinK) March 13, 2014
Haha! This question is hilarious and almost feels like a trap.
I phoned a friend for help on this one. She says people assume all lesbians are predisposed to be kind and gentle, so being vegetarian and stopping animal cruelty seems fitting.
But as a carnivore sitting here eating a pork banh mi, I have no freakin clue.
https://twitter.com/yunnglotus/status/443935264864759808
Been trying to figure that one out for years.
Our Winner
Every week, Ari will pick her fave question out of the bunch and we will reward them with lavish prizes. This week's winners, @jenacam and @lef_tenant, are getting STICKERS!
Get Into It!
Each week, you can tune in to new episodes of The Real World and tweet your questions for Ari Fitz, raging queer, using the hashtag #AutoAri. ( We can only guarantee that tweets sent during the initial screenings of each episode will be included (10PM EST/PST and 9PM CST) in each week's roundup.) Whether you're curious about her films, what she's eating in the fifth scene, the music that hot tub montage was set to, or how she gets her hair to look damn good, feel free to dig in and pop a question. Within 48 hours of the episode, Ari will answer every single one here on Autostraddle.
In the meantime, you can follow Ari and Autostraddle on Twitter. (And me!)