After years of threatening to fall behind on queer TV because there was just so dang much of it, I finally made good on my promise in 2019. I just could not keep up with everything! The first things to fall off my radar were shows that had hinted at queerness, but hadn't really come through yet. That list included Atypical, the first two seasons of which I actually really loved. I was both startled and overjoyed, in fact, at the end of season two when Casey and Izzie almost smooched right on the lips. Turns out that near-smooch wasn't just a tease. Over the holidays, I caught up with season three and Casey and Izzie's storyline blossomed in sweet and angsty and triumphant splendor.
It's a tale as old as time: Casey, the younger brother of Atypical's protagonist, Sam, moves to a new school and tries to make friends with a girl named Izzie. It seems promising, but then Izzie starts acting like a real jerk. But only because she likes Casey. Likes her, likes her. In a gay way. Season three picks up after their surprise kiss. Casey actually has a boyfriend named Evan, but also she is very clearly into Izzie. They dance around their feelings for each other until Izzie picks one of her trademark fights with Casey and then shows up at her house to apologize for "stirring up shit." Casey asks her why she did it, in such a breathless, hopeful way. Izzie doesn't back down from the challenge. She says, "You know why."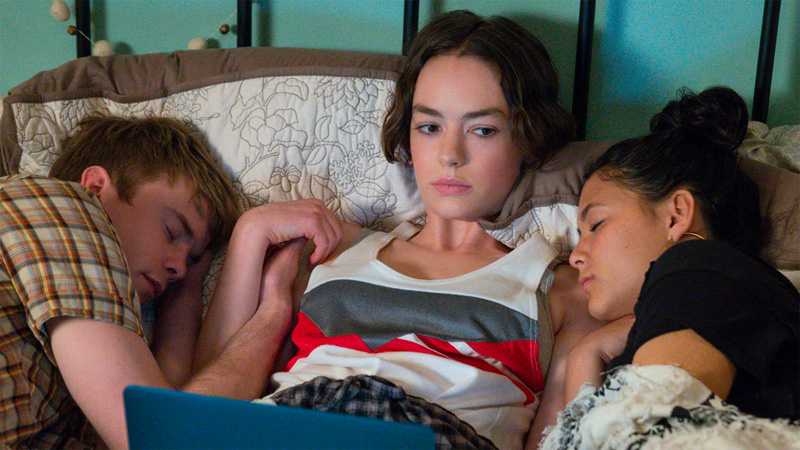 It seems like maybe this freaks out Casey a little bit so she has some feelings about it while sprinting around the track (she's a star runner) in the middle of the night. Izzie pops out of the shadows when Casey crosses the finish line, promises she's not a stalker, and then babbles a good long minute about how she'd never have confessed her feelings to Casey if she'd known she was going to get so weird about it. There are shades of and Emily Fields/Paige McCullers here, but more than that, it reminds me of Once and Again, the early aughts series that saw Evan Rachel Wood and Mischa Barton playing queer for the first time — which is just about the highest praise I can give a teenage love story!
But this isn't 2002 and this show isn't in broadcast network TV, and so Casey stops Izzie's monologue by grabbing her and kissing her for almost a full minute. The scene pans out, cuts away, comes back, and they're still kissing.
I won't spoil what happens over the rest of the season, but I will say it's one of the rarest and most wonderful things: Both characters grow as individuals and face the challenges of being a couple together. It's lovely and just so real.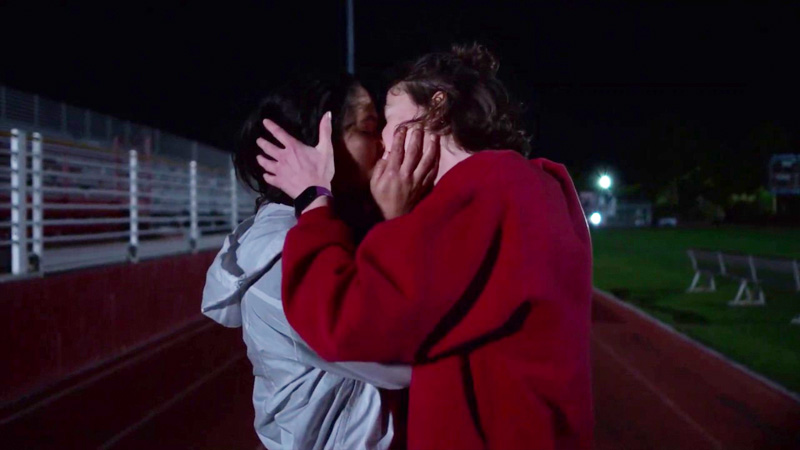 Which may be due, in part, to the fact that Brigette Lundy-Paine, who plays Casey, is a queer non-binary person in real life. They came out as queer in a 2018 interview with The Advocate and then came out as non-binary on Instagram just a few weeks ago, writing: "I'm non-binary, always felt a lil bit boy, lil bit girl, lil bit neither. using they/them as of late n it feels right. scary af to come out n been rly putting this off. But I feel I owe it to myself and to all of us who struggle w gender. If you're NB comment and celebrate yourself! u r beautiful and u r whole. thank u guys ily 👽🔆."
If you're looking for a feel-good way to kick off 2020, Atypical is definitely worth your time. It's everything all of us have always loved about coming-of-age queer love stories on teevee, and the juxtaposition of what this is and what's come before it highlights how much our stories have grown over the last two decades.