With one elfin exception*, I have a hard rule when it comes to video games: I won't play an RPG unless I can play as a woman. And if there are romantic options within the game, I'll only romance other women. That was my main problem with Assassin's Creed Syndicate, which was otherwise my favorite video game of 2015 — it gave the very first playable woman assassin, kickass tenderheart murder maven Evie, a built-in romantic storyline with a dude, while her twin brother's storyline was just assembling his own gang and refining his swashbuckling. But last year's Assassin's Creed Odyssey promised to change all that. With an emphasis on choice and a guarantee that players could spend an entire playthrough as a woman or a man who could romance women or men, it seemed like the Ubisoft had finally heard the cries of the legion of queer fans who wanted to put their money where their protest tweets were and just see themselves reflected in one of the most popular video game franchises of all time.
(*Link of Breath of the Wild, of course, who never even opens his mouth to speak and is easy enough to imagine as a soft butch ninja dreamboat.)
In 2014, Assassin's Creed Unity creative director Alex Amancio infuriated fans when he revealed that Unity was meant to have women assassins but they were cut because "it was really a lot of extra production work." Four years later, Odyssey's creative director Jonathan Dumont was singing a whole new tune. Not only was a playable woman a given, but: "Since the story is choice-driven, we never force players in romantic situations they might not be comfortable with. Players decide if they want to engage with characters romantically. I think this allows everybody to build the relationships they want, which I feel respects everybody's roleplay style and desires."
The main game paid off Ubisoft's pledge, and thirty minutes after meeting Kassandra, my Greek mercenary just trying to survive and make a dime during the chaos of the Peloponnesian War, I had imprinted all over her. A tragic childhood (dropped from a cliff by her own father!), a magical pet eagle (Ikaros!), an option to play as an archer (my favorite style of combat!), and an empathetic disposition despite the trauma she endured as a youth (😭). Plus, she looks and fights and sasses so much like Xena that the first time I started Googling her name to figure out how to upgrade her gear, Google's first autocomplete suggestion included our favorite queer Warrior Princess. Within two hours of gameplay, I already had the option to flirt unabashedly with another woman.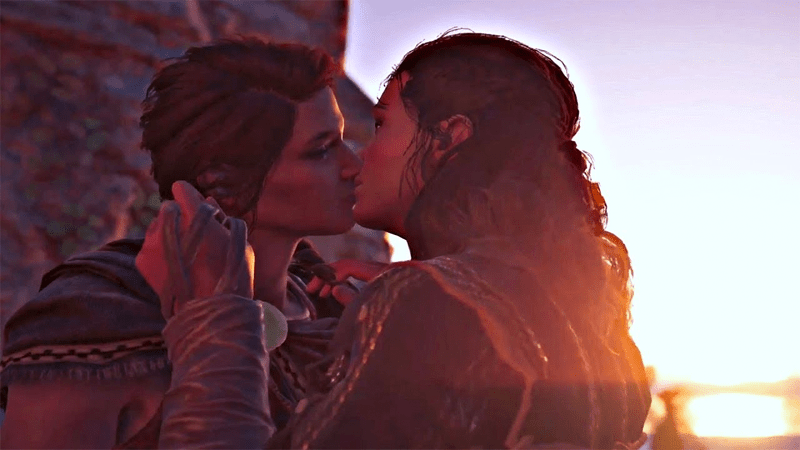 There are eight entire ladies Kassandra can romance between sowing discord among the Spartans and Athenians, tracking down and assassinating mercenaries who are trying to do the same thing to her, recruiting lieutenants for her ship, waging war on the open sea, and running errands for hungry villagers. All eight of Kassandra's potential babes are well-written, and sex is even on the table with some of them. I played the entire game as a chaotic good misandrist lesbian do-goody stabber, and by the time I was done, I was a legend in Greece for my skills in battle and my women-wooing abilities. A very satisfying $60 well spent!
And then the second episode of Assassin's Creed Odyssey's DLC, Legacy of the First Blade, landed and ruined everything in one of the most egregious video game storylines I've ever seen. Episode two is called Shadow Heritage; it continues Kassandra's exploration of her feelings about life as a mercenary and allows her to go adventuring with Darius, the first assassin, and his son, Natakas. Unlike the main game, Kassandra can't ignore romantic storylines completely in Shadow Herritage but she can rebuff every single one of Natakas' romantic overtures — which I did, of course, because my Kassandra is a lesbian. Despite turning him down repeatedly over the course of the DLC, once we defeated our final enemy, a scenario played in which I was sent to the market to buy groceries and then returned to a formerly abandoned home in the game that had been completely refurbished by Natakas' so we could comfortably live there together with our son, Elpidios.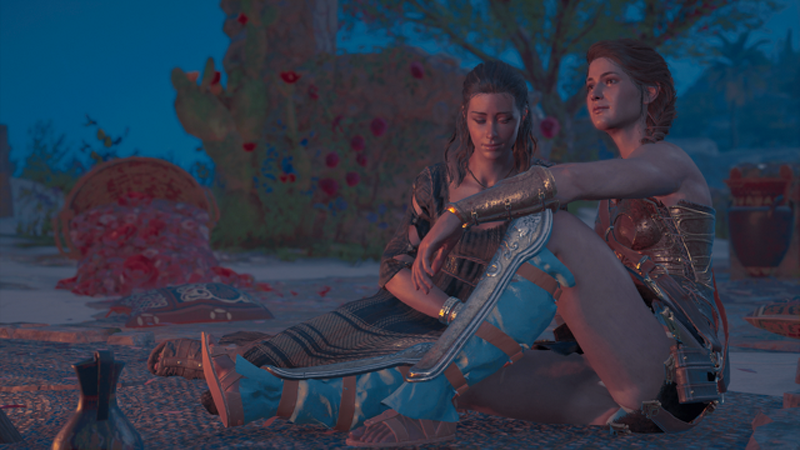 I played an entire game as a woman romancing other women, played an entire DLC saying no to the man who was trying to have sex with me — but the game still forced me to have sex with him, have his child, and settle down to be his wife! I cannot overemphasize how jarring it was, what a sucker punch it felt like, to spend 60 hours playing a game as a lesbian, only to have her decision-making ability and lesbianism stripped from her, despite the promises of the game makers and the gameplay up until that point!
The message this sends to the millions of men — especially young men, so many of whom experience the majority of their socialization in gamer culture — is, frankly, shocking. Choice, choice, choice, choice was Ubisoft's main selling point of Odyssey, aside from the fact that it was an RPG first (and an Assassin's Creed game second).  So either it never occurred to the developers that a woman character wouldn't want to end up with a man, or it did occur to them but the player's (and therefore Kassandra's) choice didn't matter. Either "no" wasn't an option, or "no" didn't mean no. I honestly almost couldn't even believe what I was seeing when the ending of Shadow Heritage played out. Presumably not a single lesbian was consulted in any capacity about this highly touted potential lesbian character.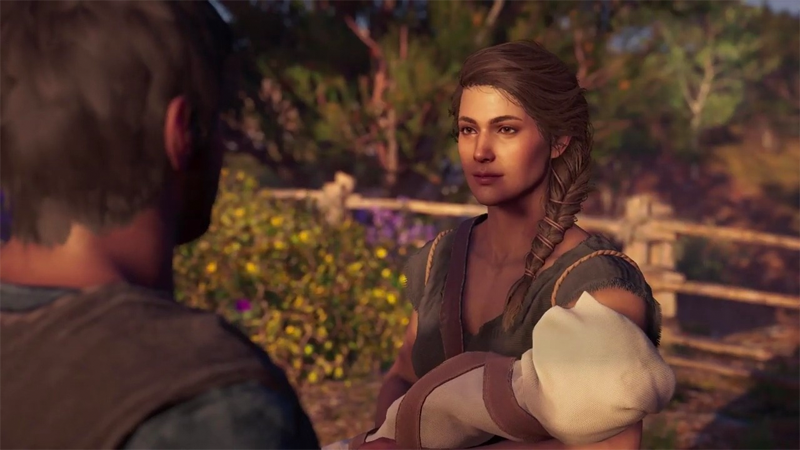 Odyssey's creative designer ultimately issued an apology that made me even angrier. He told EW, essentially, that Kassandra didn't have to love Natakas to have sex with him. Choosing to rebuff his romantic advances was actually choosing a "utilitarian view" of "ensuring [the assassin bloodline] lived on." I'll hand it to him: That's a way to say "forcing a lesbian to have sex with a man" that I've never heard before.
I've watched almost every show featuring a lesbian or bisexual women in TV history. I've been playing video games my entire life. I have scarcely come across a story that felt like a slap in the face. The best Dumont could offer, in terms of future story, is that Kassandra won't have to stay with Natakas in the next Legacy of the First Blade episode. That doesn't matter to me; for the first time ever, I won't finish a video game I started.