Back in high school, when I was being counseled on where to put my energy as I transitioned into college, many adults scoffed at the art degree I wanted. My grades were weighted with APs and I loved school, so my GPA was actually more than a 4.0. Adults argued that I could certainly find something more practical and lucrative with my grades; they treated art as something expendable, a last resort. That's not what art is at all. Now, more than a decade later, I am so glad that I got two degrees in art. Because as automation and Artificial Intelligence can do more and more of a person's job, I joke (half-joke?) that my writing career is one of those robot-proof careers. Writing, and the arts in general, can't be automated. Can they?
I'm sitting, as I type this, in The Hungarian Pastry Shop. It's famed in these parts of New York City for a lot of reasons, but one is relevant at the moment: New York City's Go players gather here every Tuesday night. Despite my love of games, I have not yet played this one: an Ancient Chinese board game that seems, to me at least, to be equal parts strategy and art. This month, DeepMind's AlphaGo Master, a neural network trained to play this deceptively simple yet extraordinarily difficult game, beat Ke Jie, the world's best Go player, 3-0. It did this after actually learning from the mistakes that lead it to lose one of five games against Lee Se-Dol last year.
Everyone is treating this like the end of humanity. I must admit, the sheer power of AI sometimes freaks me out. You've seen me express total skepticism about Amazon's delivery drones and even Google's driverless car (in this last case, I'm revisiting my skepticism after driving 20 hours this week while moving). But ultimately, I think our collective fear (mine included) of AI comes from the real possibility that we will program our own cruelty into it. We shit on anything that's not practical, yet spend most of our free time lapping up all the art and media we can. Our simultaneous dismissal of and seeking out of art is confusing, but points to the idea that any perfect machine we make should be all logic, perhaps to the point of destruction that we attempt to wreak upon ourselves.
Thank goodness this doesn't seem to be true. While we've known for years that AI likes a good cat video, the examples of AI entities showing us their artistic side have reached a critical mass. Perhaps it's only a matter of time before an AI entity writes Queer Your Tech? Perhaps I should be happy that it's got the capacity for creativity? Does that mean we are letting computers in on the secret, best parts of ourselves?
---
These Paint Colors
Janelle Shane makes her neural networks do awesome stuff, like naming death metal bands and '80s-style action figures. But the funniest (and coolest) thing her neural network has done thus far is definitely creating and naming these paint colors.
Since the initial post, Shane has retrained her network a bit:
Dead. I am dead. Follow that Tumblr, just do it.
---
These Digital Paintings
Google Deep Dream started from the ground—it learned to identify objects by painstakingly scanning millions of photos, pixel by individual pixel. Then it learned to distinguish those objects from each other. Then it learned to group objects and output them into these trippy digital paintings, teaching us more about what neural networks "see" when they look at an image. The results are so idiosyncratic that Deep Dream has had its own art show. You, too, can upload an image to the Deep Dream Generator and see what a neural network sees when it looks at your photo. If that's too creepy for you, you can take a look at the greatest hits gallery. Here, I did it with one of my photos from Joshua Tree. It thinks Joshua Trees are peacocks.
Since Deep Dream happened in 2015, they've also released Deep Style, which does the same sort of thing but applies an image style to the dream. It's smarter, so the results are less weird. Here's the same image, painted in the style of Starry Night.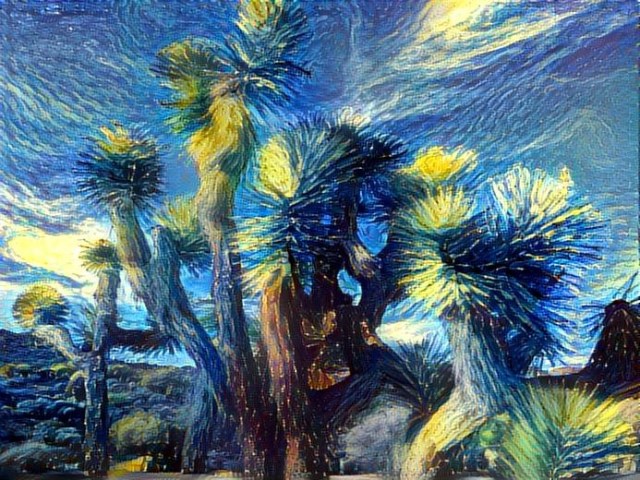 ---
These Classical Symphonies
There's a new classical composer on the scene, and that composer's name is Aiva (which stands for Artificial Intelligence Virtual Artist). And Aiva's symphonies and piano solos are being used in film, ads and games. With the release of Aiva's first album, Genesis, it's the first AI to be internationally recognized as a composer. Aiva retains the copyright to all the songs…under its own name. The album is MUCH MUCH better than that weird AI Christmas song. Listen here:
Aiva does still need a bit of human help in post production, but onto an AI who had actual humans perform its work—
---
These Short Films
You may have heard of Sunspring, a film written by an AI who named himself Benjamin. Directed by Oscar Sharp, that shit GOT MADE. Here it is:
The same folks have released a follow up, which is a collaboration between human and artificial intelligence. It definitely wrestles with what it means to be an artist in the age of AI:
---
Want to play with some AI yourself? Here you go. And if you know anyone who can help me train a neural network to write a Queer Your Tech, EMAIL ME because I am so so curious.