Monday, as you all probably know, was the International Day Against Homophobia and Transphobia. Here in Liverpool, the day comes on the heels of a pair of horrifying anti-gay attacks in the gay quarter of the city centre.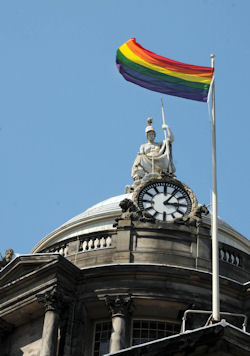 Two drag performers have been attacked in the span of about a month: drag queen and DJ Lady Shaun was 'knocked unconscious and suffered a broken jaw,' according to PinkNews, and police chased, but were unable to catch, a suspect. Three weeks before, Calvin Fox, a choreographer and performer, was attacked by two suspects and left with cuts and bruises on his face.
"After last year's Liverpool Pride, an amazing event that had no trouble reported, we thought Liverpool had woken up and accepted the term 'gay'," Fox told the Liverpool Echo.
Despite the recent history of high-profile brutal anti-gay attacks in Liverpool, the one measly bit of good news in all this is that the Merseyside Police have expressed their support for the LGBTQ population and expressed their commitment to fighting hate crimes of all types during the observance of IDAHO. "Hate crimes and offences against people will be investigated and will be dealt with by the courts and punished," Tracey O'Hara, Detective Constable of Merseyside Police told PinkPaper: "Hate crimes and offences against people will be investigated and will be dealt with by the courts and punished. We're Merseyside Police and we won't accept transphobia, we won't accept homophobia or discrimination of any kind, and for us it's what we do as part of our core business."At an event held at police headquarters yesterday, 40 senior officers raised a rainbow flag, which will be flown atop the building throughout the week.
Obviously, there's still a pretty big gap between a prepared statement and a rainbow flag above a government building and the effort which goes into preventing said horrible attacks from happening, but an expression of support and expressing a commitment to the safety of a threatened population does give us some hope, especially considering that there are plenty of other places where the cops still raid gay bars instead of protecting the clientele. And, because all gestures of solidarity should include action behind them, if you have any information about the attacks or need to report another incident to the authorities, the contact for reporting a hate crime to the Merseyside Police is here.
But what I found especially interesting is the comment thread under the PinkNews item I linked to earlier in this piece, in which — and granted, a good-size chunk of this was probably for the sake of reaction, but it's still worth mentioning because I think there's a real point in all this — people used the attack as a forum to reinforce 'thick, violent Scouser' stereotypes and bring up horrific local tragedies like the Hillsborough disaster as a benchmark for how the people of Liverpool treat one another. As naïve as it sounds, I didn't want to believe people in a city I've come to love were capable of such disgusting behavior, and it was upsetting to see other people draw that association between the city and its general populace and the actions of the people committing them.
And I know defending a city I haven't lived in for very long (or spent much time in clearly-defined LGBTQ spaces, save for one really boss progressive bookstore), so I am well aware that I can't, nor do I claim to, speak for everyone, nor do I deny that homophobia, biphobia and transphobia exist, sometimes in the worst way, everywhere, including the places we love. But the reaction got me thinking about Scousers, about Southerners in the U.S., about stereotypes, about us.
And I wanted to open it up to the group — is this a normal thing, having #feelings about loving a place but having serious cognitive dissonance when certain ugly aspects of human behavior rear their heads? What do you do when the actions of a few reinforce the worst stereotypes about a place or a people you love?