Over the last few years, sex toy companies and stores have asked us to review their toys in exchange for, you know, their toys. Today we're reviewing Fun Factory's Limba Flex!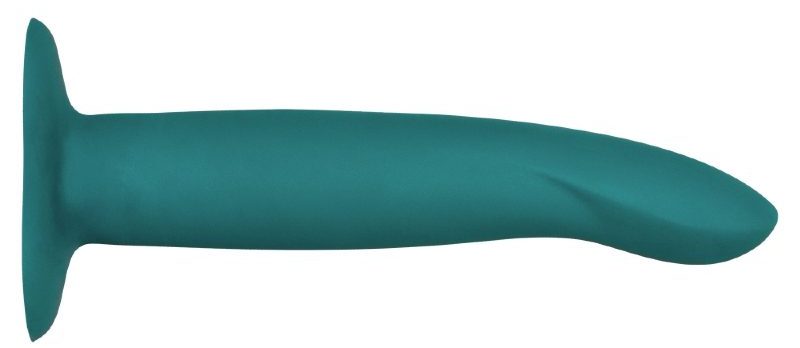 Color: Teal
Material: Silicone
Length: 6.8 inches / 4.7 inches
Width: 1.2 inches / 1.1 inches
Reader, I'll be honest: I have tried a lot of dicks, both as a dick provider and dick receiver, and I haven't used something like the Limba Flex before. The Limba is described as a "customizable" dildo, which in this context means it has flexible (but very firm!) wire through the core that you can pose into any shape you want every time you use it. I'll allow this frankly adorable product video to explain:
As you can see, it comes in two sizes, Medium and Small, which are 6.8 inches and 4.7 inches respectively. They're both also pretty slim, at 1.2 and 1.1 inches wide, and I don't know how to quantify this, but somehow they feel on the small end of that – maybe because they're pretty dense, firm toys, they don't give the feeling of fullness you might get from squishier penetrative toys. The firmness of the shaft is really nicely offset by the Fun Factory base, which I always love; it's thinner and more flexible than the rigid, circular base of most dildos, making it easier and more comfortable in a harness as well as providing fairly serviceable suction to flat, smooth surfaces if that's your jam.
I had two major questions about the Limba before it even arrived. First: how useful would the flexible wire really be? The unfortunate truth is that some toys' main claim to fame as far as what it purports to be able to do inside someone's body works great in videos or in the store — you know, when you can control it with your hands and there's no pressure or constraint or weird angles — and then falls flat in applied practice. Mainly, I wondered whether the shape the Limba was bent into would hold firm if it was being used to fuck someone — and to my surprise, it does! Through some magic of sex toy product design that I don't claim to understand, it's easy to bend & shape but also firm enough that it doesn't get reshaped by moving around inside someone.
As far as what it can be shaped into, the truth is that even though this is as "customizable" as I think it's possible for a dildo to be without, I don't know, Lego pieces that snap in and out, there are also only so many shapes you're realistically going to want to bend it into, both because the length of the shaft kind of limits how many twists and turns you can fit in there and because there's only so many shapes that really feel good – you don't need an Aunt Annie's pretzel in there. In practice, the way this worked out for me was this was mostly a toy where I could truly madly deeply fine-tune the exact angle and curve that felt best to me for G-spot stimulation. This sounds limiting, but really, don't discount it – although it's not being marketed as such, per se, this has quickly become one of my favorite g-spot toys ever. The tip of the toy's natural angle is just… a real winner! At least for me, personally. If you like the sensation of the classic 'come hither' motion of someone's hand inside you, this may also be a favorite; the tip of the toy is really firm and tapered in a way that dildos generally aren't, and provides pointed pressure in that same way.
Another suggested use for the Limba's flexibility is to adjust shape & angle if you change positions while having penetrative sex — for instance, from missionary to from behind — and want to change the angle of the toy to continue hitting your partner's g-spot. This is not an impossible project, I don't think, and the idea of avoiding the sort of awkward rotation-inside-the-harness move to reposition the dildo is a nice one. However, I think the natural shape of the aforementioned tip of the dildo is such a big draw of the toy that I'd honestly rather just rotate it around — since the wire doesn't extend all the way to the very tip of the toy (otherwise you'd really run the risk of eventually poking someone in the cervix), the tip remains in the same position no matter what. Lastly, I would be remiss not to point out that Fun Factory also recommends the Limba for packing – its slim shape and flexibility makes it easy to fold inside of your clothes if you'd like to wear it out, although if you're looking for a realistic-looking dick to pack-n-play with, you may want to look elsewhere, as Fun Factory's products come mostly in jewel tones.
Speaking of fucking, we arrive at my second big curiosity about the Limba line: what do we make of the small size! It is very small; if I had seen it without the context of the medium Limba, I would maybe have guessed first that it was a plug rather than a dildo. The Fun Factory site suggests using it for 'grinding' rather than 'thrusting,' which, sure, I could see that, although I'm not sure it's an application I'd actually use a toy for. One target audience for the Limba is definitely also folks trying anal penetration maybe for the first time, and I can see this being a really good introduction for folks who want to try out penetration or explore p-spot sensation in ways that a plug doesn't necessarily work for without being fully fucked by a full-size dick. The wide base of Fun Factory toys makes this a fun and safe anal toy! I have a hard time seeing this size being a super satisfying toy for anyone when used with a harness, but am also ready to be proven wrong.
I will say that while I was initially unclear on what role, if any, the small but stalwart mini Limba would play in my life, my activity partner pointed out that its size is a great fit for muffing, and when we tried it out were able to confirm it. Although, again, I'm not sure it would have worked out worn in a harness, it was a really fun and different handheld way to try muffing, and would recommend it to anyone who enjoys it already and would like to see how it feels with a dildo.
Although I don't think the Limba will be a go-to dildo to use with partners, it surprised me by being one of the most powerful G-spot toys I've ever used – and I've used a lot!