---
Anna Kendrick has it all: she's cute, she's funny, she's talented, she's good at twitter, she has nice teeth, she has shiny hair and she can sing songs with paper cups! Furthermore, she gave PrideSource a very very queer interview in advance of her upcoming film, A Simple Favor, which looks so gay it has probably already made out with one of my ex-girlfriends.
After asking Anna about the queerness of a long list of previously played characters, eventually noting "So much of what you do is just a bit gay," PrideSource went straight for the homosexy jugular:
You've been open about your girl crushes over the years. Have you ever had a girl crush that was or could have been romantic?
Let me think about that. I definitely – there's somebody I'm still friends with, and when we met we kissed. This was after high school, and it was the first time I had kissed a girl where it wasn't just like, we're at a party and boys are watching! That horrible performance silliness. But I think I haven't had that emotional love for a lady, which isn't saying it could never happen to me, but I think I'm more of an Emily than a Stephanie.
Previously in the interview, Kendrick described Blake Lively's character in A Simple Favor, Emily, as "more comfortable with the fluid aspects of her sexuality."
Kendrick also spoke to PrideSource about whether or not we'll ever get the Becca and Chloe Love Story we deserve in Pitch Perfect (a franchise many of us unfortunately had to abandon after its ridiculously racist second installment) and how she and Brittany Snow tricked everybody into shooting an unaired "Bechloe ending."
Rumors around Kendrick's sexuality have existed in the past, including questions regarding what seems to be her participation in a 2015 seemingly all-lesbian Thanksgiving celebration attended exclusively by hot queer women, only a few of whom I can safely identify but I think we all know what's going on here.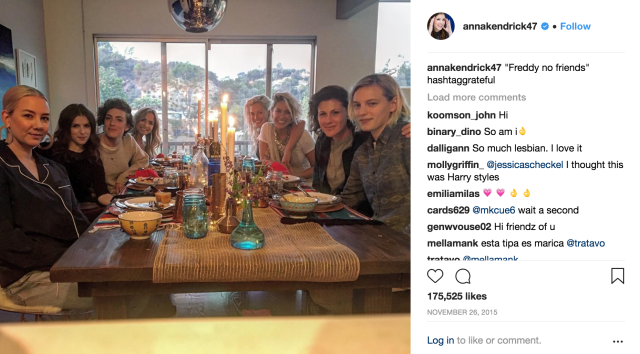 That being said, 2015 was literally ten million years ago. I was engaged in 2015! That being said, it is worth noting that Kendrick has been dating cinematographer Ben Richardson since February 2014, and they reportedly enjoyed a fun day together as recently as July 2018.
In 2016, Anna told The Advocate, after they called her a "gay icon,":
"I'm such a straight, cis, Boringface McGee over here, so I love that that could be even a little true. The idea that I'm resonating with other people who have ever felt like outsiders is the coolest."
Earlier this year, Blake Lively "trolled" her husband Ryan Reynolds by referring to Kendrick as "the hotter female(r) version of my husband," asking, "so would it reaaaaly count as cheating?" What The Daily Mail left out of their gripping piece on that social media event is the fact that Anna Kendrick was also trolling us, the LGBT community, who are irrationally invested in the potential sexual fluidity of celebrities.
In conclusion, most of this information is pretty inconsequential in the grand scheme of things, but I wrote this entire post anyhow because I really like Anna Kendrick and I imagine this post will probably get good traffic. Also by the way, we published an incredible personal essay today about addiction and sexuality and bad influences AND last week we published a wonderful longform piece about gay Russian asylum seekers. 
Also, just another FRIENDLY reminder that yes, everyone is gay.