This And Just Like That review was written during the 2023 WGA and SAG-AFTRA strikes. Without the labor of the writers and actors who are currently on strike, tv series like this one would not be possible, and Autostraddle is grateful for the artists who do this work. This And Just Like That recap contains spoilers for season two, episode six, "Bomb Cyclone." 
---
As Dr. Seuss once philosophized: "How did it get so late so soon?wp_postsBy which I mean: It's now the middle of winter in New York City. Last week it was autumn, the week before that it was summer, and next week who even knows? I mean we have a hint of what's coming next week, and it's Aiden Shaw, which, in my opinion, means it's the apocalypse — but I'm getting ahead of myself. Manhattan is covered in snow. And Brooklyn is covered in snow. And Miranda continues to zip-zap-zoop back and forth between those boroughs, sleeping in Dr. Nya's spare room, tip-toeing around Steve to parent Brady, and trying to pull Che out of the depression they've spiraled into since their pilot crashed and burned. There is truly only so long a person can keep this up. The real world is not like Gossip Girl, okay? New York City isn't big, square miles-wise, but it takes hours to get two miles in any direction. Miranda is tired.
She gets even more exhausted when Carrie finally tells her about the chat she and Steve had last season, about "til death do us part" and how Steve said Miranda can do whatever gay stuff she wants, but he's never, ever, ever taking off his wedding ring. Carrie's not trying to guilt-trip Miranda as much as she's trying to nudge her toward doing something. Steve said he'd get a new place, but that's not going to happen. He's going to haunt the halls of their brownstone until Brooklyn is completely underwater, just a shredded middle-age ghost, wap-wap-wapping on that speed bag for all eternity. So Miranda takes Carrie's advice to speed up this languishing divorce and it results in Steve blowing up at her like we've never seen, even accusing Miranda of never even wanting to move to Brooklyn, never even wanting him, and never even wanting Brady. She says her name is the only one on the mortgage! He says the place was a shithole before he fixed it up! It's HIS house, he says. HIS HOUSE.
She ends up spooning with him to comfort herself and coax him into letting go — but it turns out he's kind of already let go. She finds an empty condom wrapper on the nightstand! Which pisses her off! Not because Steve's having sex with someone else, but because he's still moping around in his wedding ring despite having sex with someone else!
It's a real mess, but at least they're finally moving forward toward an actual end.
Next stop on the heartbreak train: Che's apartment, where they are holed up with chips and sweatpants, refusing to go outside and engage with other human beings. I call this: regular life. But Miranda calls it: failure. Or at least she strongly implies it. She wants Che to get up and do something, go somewhere, book a stand-up gig at the very least. Che loves stand-up! It's their whole thing! Che's stand-up reached through the crumbling walls of Miranda's own heteronormativity and pulled her into a whole new world! But Che doesn't feel like making jokes right now. They don't even feel like doing one little "curry-lingus" bit, not even a small "I took an Uber to the bathroom."
They are still doing Cameos, though, to keep the cash flowing. Although, Miranda doesn't want them doing the Cameos in bed? And then Che calls Miranda "mommy," and not in a fun way? Next thing you know, Miranda's in her second break-up spoon of the episode.
If you're worried that Che's going to go the way of all the other newly added POC characters on this show, well, that sure is fair. Their non-Miranda storyline this episode is being Carrie's pep-talker at this Widows' Storytelling Event where Carrie's supposed to read from her new book. They're going forward with this thing, despite the snow cyclone, but that only gives Carrie an excuse to traipse out into the blizzard wearing one of the most seriously unhinged outfits of her entire life. How do I describe this dress? Okay. Imagine Julie Andrews does that thing from A Sound of Music where she sews clothes out of curtains, only this time she sews them out of sleeping bags; and instead of little sundresses and lederhosen, she's tasked with making a ball gown for Anastasia. That's what this dress is like. Despite bombing her opening joke, Carrie's book is a hit at "Widow Con" and it does give Che some perspective on their current life setbacks.
I'll never forgive this series for wasting Sara Ramirez's talents like this. JUST SO YOU KNOW AND JUST LIKE THAT. I can hold a grudge for decades. Ask Ryan Murphy.
Charlotte and Lisa Todd Wexley, once again, steal the episode. Lily, who is quickly becoming a Julie Taylor, has decided to have sex with her boyfriend, but he's too scared to buy his own condoms. So Charlotte agrees to go get some, in the raging snowstorm, because she wants to be a sex-positive parent and also because she absolutely does not want Lily to get pregnant or STI-ed. Not since Bea Arthur screamed CONDOMS, ROSE! CONDOMS! CONDOMS! CONDOMS! on Golden Girls has an actor delivered such an iconic prophylactic performance. "Please!," Charlotte yells at a man behind a frost-covered window. "My daughter needs condoms!" I really did spit out the coffee I was drinking when she yelled it. I don't remember Kristin Davis being so funny in the original series? Maybe she always was, but this bleakness from Miranda and Carrie is just making her seem extra hilarious.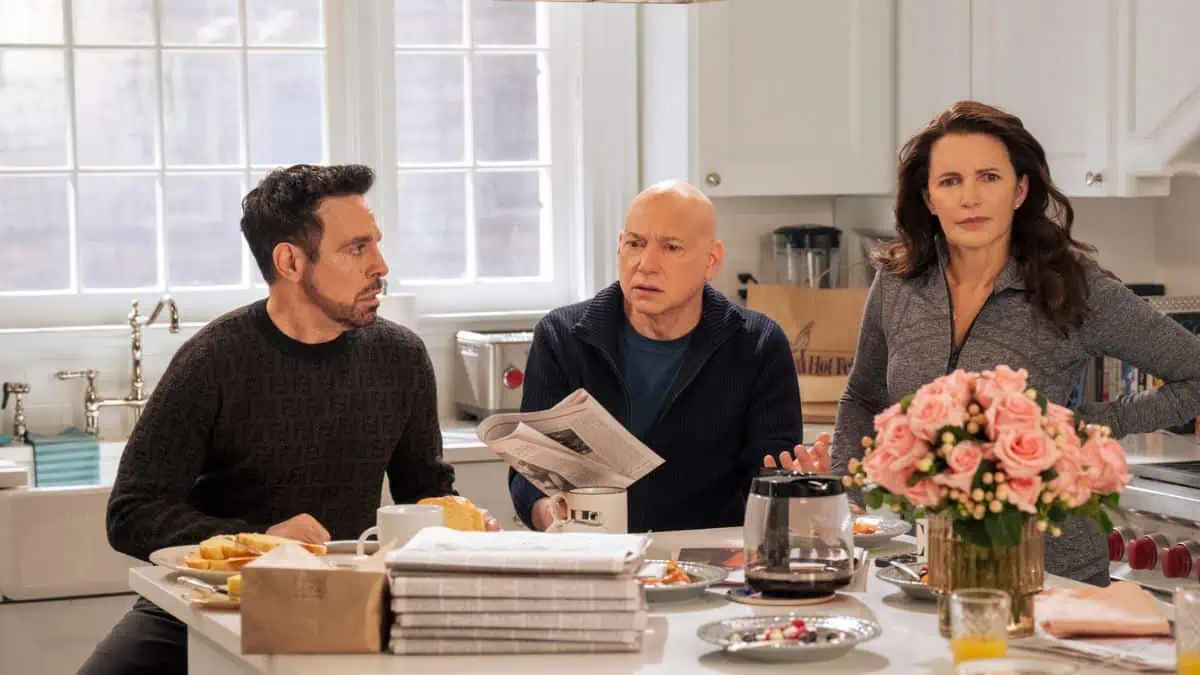 LTW is being honored as a Black woman breaking barriers in film. Again, it is snowing like the end of the world out there, and so LTW puts her wig in a box and carries it to the venue, where she pops into the bathroom to finish getting ready. There's another Black filmmaker getting ready too, and when LTW puts her wig on, she says, "We're not gonna let a little snow stop us, now are we?" Man, she's so badass. Between this and the stopping traffic in her red dress for the Met Gala, she's become the real fashion icon on this show. In fact, what if this show was actually just about Lisa and Charlotte? I'd kinda love that.
For some absolutely bonkers reason, Carrie decides she'd like to reconnect with Aiden Shaw, who has been divorced for five years now, which makes sense because being married to that guy would be the most insufferable scenario imaginable. Anyway, she emails him, all, "Remember me?" We know that he does because we've seen the promo photos.
The way straight people feel about Che Diaz is the way me, The Lesbian People, feel about Aiden Shaw, so I hope you're ready for some real catty chattin' going forward.