The first time the Hillary campaign asked me to come canvass in Nevada, I lied and said I was busy. It came up like a reflex: I'm really sorry, I have something going on this weekend. Good luck, though! Even as I said it I knew it wasn't true. My impulse to stay home had nothing to do with my social calendar; it was anxiety cutting to the front of the line, making me say no without considering yes. Everyone hates canvassers, right? Does interrupting somebody's day really do any good? What if someone threatened me? Asked a question I didn't know how to answer? Or — worst of all — was mean?
I'm an outgoing introvert. I can crank up the friendliness in the right situation, but would be just as happy not seeing or speaking to another person for weeks. It's really set in with age, though my sister still talks about the time we went to the movies and I ran away to avoid talking to another kid from school there. I'm more graceful about it now, thankfully. But I'm also a Nice Person who doesn't like getting yelled at or caught with my hand in the cookie jar — not even for Hillary Clinton.
Maybe I'm not the best candidate to talk politics with strangers. But I couldn't shake the feeling — the knowledge, really — that I'd copped out. Bailing on our first female President, of all people, because you're scared? Nah, girl. I called the guy back, told him I could make it after all, held myself accountable on social media, and freaked out for ten minutes. But it was on. I was going.
---
First stop: waking up at 3:30 in the morning to drive across town and get on a bus for four hours. Hooray!
The brutally early wakeup had two advantages: one, if you want to see how the Los Angeles freeway system is supposed to work, drive it before dawn on a Saturday. What traffic? Magical. And two, no one has the energy for small talk before 6:00 AM. So a room packed with new people — which I can typically handle for about an hour — lost its usual draining effect.
It helped that the campaign office gives you a lot to look at. The walls are covered in lawn signs, countdown calendars, strategy diagrams, photos, and enough inspirational stories to keep you motivated through 2024. It feels alive in there, very Dumbledore's Army. You can't help but look around and think oh my god, she's really gonna do it.

Tearing up over Hillary ephemera is a great way to keep people from trying to chat with you. But the bus ride would be a different story. We've all been there, right? Just trying to get from Point A to Point B undisturbed — only to end up with a talkative seatmate and hours of conversation you'd rather avoid. Not even headphones can deter extroverts on the hunt. Fortunately, I came prepared.
I was ready to keep that hood up for the duration as a signal of polite indifference. But then a miracle occurred: I got a WHOLE ROW TO MYSELF. I didn't believe it for the first few minutes. Surely someone would switch and wind up next to me — especially when another bus broke down and we welcomed their huddled masses aboard. But somehow, defying all logic, I got four hours of uninterrupted reading, snoozing, and podcasting. Hillary herself must have been looking out for me that day.
Dread crept back in once we crossed the state line. Why the hell did I say yes? I replayed the counterarguments: I should just donate instead, maybe I can stay back and phone bank, I'm the wrong person for this job. I can comfortably blame my cerebral palsy (sorry, can't stand up for that long) and back out. I don't have to go after all.
Then, as if on cue:
Right — that's why I said yes.
---
Upon arrival, a well-coordinated staffer team hustled us off the bus, gave a crash course in voter registration (our goal for the day), pushed clipboards into our hands, and released us into the big bad world. It's odd to be that person with the clipboard instead of avoiding them on the way to your car. How well could this really work? Who actually stops for canvassers?
Answer: not a lot of people! You get more "no, thank you"s than anything. But you know what? Once I put the first ask out, I forgot to be terrified. Hearing "no" and being repeatedly ignored didn't wear me down like I'd expected — it helped me bounce back faster and care less about stuff that doesn't matter. Someone doesn't want to talk to me? Great! I don't want to talk to most people either! On to the next. Also, getting escorted from the premises is a lot less scary when it's already happened to you four times that day. (Walmart wouldn't even let us park.)
Living in my head all the time has advantages: I listen well, give good advice, and create work I can be proud of. But I also have a hard time not being good at things. I'll rarely try anything I'm not sure I can do. It makes sense; control is hard to come by in the body I have, so I grab it where I can. But that kind of perfectionism will also choke you if you're not careful. You lose options once you're used to never messing up. Good news, though — spend six hours getting largely rebuffed by strangers in a neighboring state, and you'll start to give less of a shit what anyone thinks. Plus you'll interact with over a hundred people, so you can refuse to speak to anyone else for weeks afterward and be completely justified.
I helped two people register to vote, talked to an eight-year-old who thinks Donald Trump is "so stupid" (same), and came home exhausted but less fragile than before.
---
Fellow deep thinkers who need quiet nights at home: this is your election too. Did you know Hillary Clinton loves Antiques Roadshow? She is clearly one of us. So get out there before November 8. Make sure your voice is heard (politely and after much consideration). Remind everybody about important details. You can nap on the bus.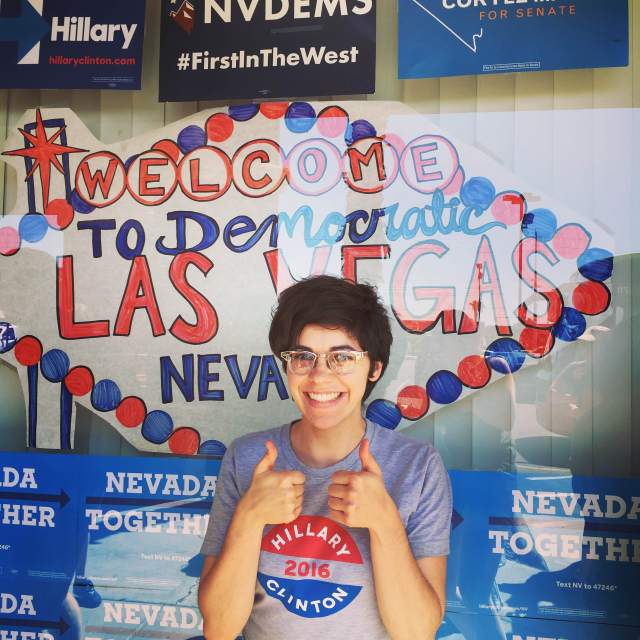 (And be sure to bring snacks; it's a long day.)