Welcome to AM/PM, where Autostraddle team members share our morning and evening rituals.
---
My morning routine as of late has been less consistent than usual, because my girlfriend and I are in that awkward position where we're always together but still technically have our own apartments, so I'm floating between the two. But enough about my relationship: let's talk morning rituals. Mine is simple, and I like to think it screams "I'M A WRITER" but it probably mostly screams "I DON'T TAKE GOOD ENOUGH CARE OF MY BODY."
After waking up, I drift into the kitchen to start the electric kettle. Most often, I make coffee (in a Bodum french press when I'm at my girlfriend's and in a Chemex when I'm at my own place). But sometimes I prefer to start my day with tea, especially if I'm on my period. On days when I'm feeling extravagant, I actually pop into the cafe around the corner to get a cappuccino or mocha. Throughout all of this, I'm on my phone — usually on Twitter.
Fun fact: caffeination is also the first step of my nighttime ritual. Before bed, I always drink coffee and/or tea. And I'm not talking decaf or sleepytime nonsense. I drink the hard stuff. Caffeine doesn't really keep me up at night. In fact, I swear it helps me sleep. Is there science that supports this? Probably not! But my parents have always had a cup of regular coffee after dinner, so it never seemed weird to me.
In the words of Chelsea Peretti, once I got that coffee crankin' through my sys, I brush my teeth. At the moment, I'm a Kiss My Face toothpaste gal, but I'm not really loyal to any toothpaste brands. I try to use ones that claim to whiten teeth because of all that aforementioned tea and coffee.
Now, dear reader, here is where I reveal that brushing my teeth is… pretty much my own morning-time hygiene/beauty ritual. I don't have a skincare routine. Sometimes I splash cold water on my face? Y'all, I know this sounds very bad. But I've been blessed with acne-free skin, and it has made me very lazy. I usually don't put makeup on in the morning either, because I work from home.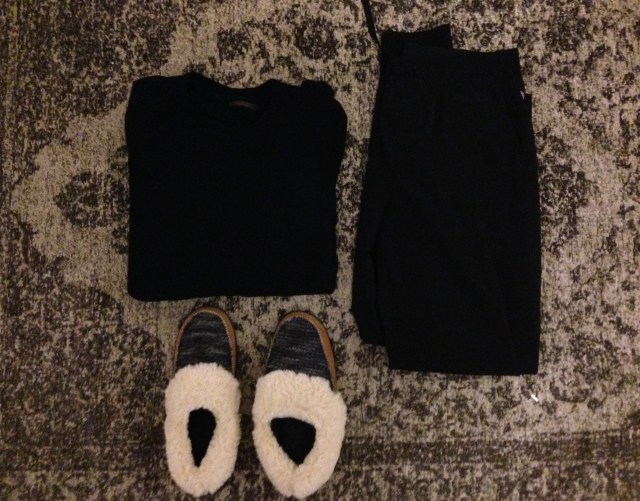 So when I change into my "work clothes," that means I just put sweatpants on and change out of my sleep shirt into some sort of sweater or sweatshirt. The above photo is a pretty standard "work outfit" for me (Zara Man Basic Sweatshirt in black / Lounge Pants /  Sorel Women's Slippers). Changing into real person clothes and putting makeup on comes much later in the day. Listen, I love my lifestyle.
Now, here's my favorite part of my morning ritual: I get back into bed. I don't go back to sleep, but I do sneak back under the covers with more coffee/tea in hand. My girlfriend works late at night, so she sleeps through the first few hours of my morning, which always tempts me to crawl back into bed. So while she gets a little more sleep, I read next to her. The book changes every two-to-four days, because I'm trying to read 150 books this year. (The one depicted above is called Of Fire And Stars, and it's about queer princesses, so you should check it out!) I also read the news, check Twitter, catch up on television, or do some simple work tasks like sending invoices, answering emails, or making a to-do list for the day. Then, I coax my girlfriend out of bed, we shower, and she lectures me on why I should really start washing my face.