Welcome to the tenth episode of American Horror Story, the show that got Stevie Fucking Nicks to appear in a move that was clearly a work of powerful magic! Ryan Murphy has a coven of witches working full-time to make his life miraculous.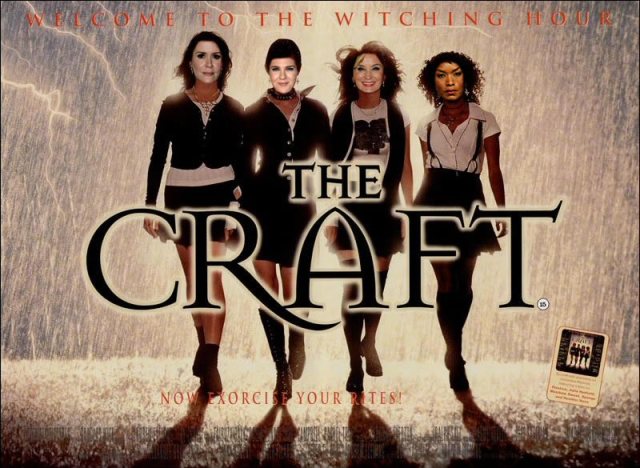 Let's dive right into the first AHS of 2014, shall we? This week's vocab word is: vom-com. From the words "vomit" and "comedy," a vom-com is like a rom-com, only instead of romantic comedy, it's an abbreviation for wanting to vomit and laugh at the same time. It's times like these make me feel like my Creative Writing minor in Poetry is really paying off.
We start at Miss Robichaux's Asylum for Endangered Witches, where Fiona offers a shaken Marie some spiked tea and a goodnight spell.
This seems unnecessary, as there is already a mainstream magic spell for insomnia called Lunesta, but okay.
Marie is embarrassed to ask for help, but Fiona assures her that she's safe with the coven. Marie has a major change of heart regarding Fiona, and the feeling is mutual. These two will do great/terrible things together and I can't wait to watch.
As Marie tries to get to sleep, a creepy shadow passes through her room and a pick-up artist reject magically appears. This is Papa Legba, who in Haitian voodoo acts as an intermediary between the living and the dead. On AHS, he's a cokehead. Fair enough.
Hmm… Papa Legba looks awfully familiar… where have I seen him before?
If Dr. Facilier turns Angela Bassett into a frog I will throw my television out the window.
It turns out that Papa Legba doesn't give a shit about Marie's near death experience. He wants his payment for the bargain she made with him years ago. This is a stone cold bummer, as I was hoping that Marie was the one witch on the show not beholden to a man, albeit a man that looks like the love child of Slash and Lenny Kravitz and a powdered doughnut.
---
We head to to the Shittiest Hospital in New Orleans, where Marie uses some magical coke to knock out a nurse and steal a baby from the nursery ward.
As she goes to leave the hospital, the alarm is set off and police draw their guns and demand she give up the baby. Marie tells them she needs the baby, and the cops are like, "well okay, but only if you really need it".
JK, her eyes go white and she ululates which causes the cops to shoot each other and me to laugh my ass off.
---
The next morning, Marie, Fiona and Cordelia are watching coverage of the beauty shop shooting on TV. Cordelia blames herself for spurning Hank, as if that would have made him less of a psycho.
Marie tells the white witches that Hank was a witch hunter and she hired him to wipe out their coven. Cordelia is obviously distraught, and Fiona gives her motherly hug and tells her it wasn't her fault NOPE! She smacks Cordelia so hard she knocks her out of her chair.
Poor Cordelia can't catch a break, you guys. I swear, the next scene is gonna be her pratfalling on some forks and ruining her brand new eyeballs.
Fiona knows all about the witch hunters/patriarchy and tells them that they need to find the hive and wipe them all out.
Upstairs, Misty is stretching and singing and just bein' Misty when Fiona shows up. Misty is naturally dubious, as Fiona has murdered her way through several potential Supremes, but Fiona just wants to be friends.
Fiona tells Misty that being the Supreme means entering a world of power, influence, and all the Free People clothes you could ever want. She wants to introduce Misty to a visiting white witch who is dying to meet her.
Who is this mysterious visiting white witch? Is it Glinda the Good? Is it Nicole Kidman from that shitty Bewitched remake? Is it Ghost Spalding in a dress?
IT'S STEVIE FUCKING NICKS, Y'ALL!!!
Misty responds appropriately by passing the fuck out.
Zoe, Nan and Madison arrive home from the crime scene, and they still don't know if Queenie is alive or dead. Madison thinks she might be at Souplantation, which is a pretty good guess, except most people want to shoot themselves in the head after a Souplantation meal, not before one.
They talk about swinging by the morgue, but agree that if they visit the morgue any more times they'll be the mayors of it on Foursquare. The twitches walk into the parlor to see Stevie Fucking Nicks singing "Rhiannon" at the piano and it's lovely and amazing.
Misty is in Heaven and Fiona is enjoying the show as well, but of course Madison has to douche all over it. She wants to know why Fiona didn't book Eminem, but Fiona tells her that only Supremes get private concerts and Madison isn't a Supreme, so step off bitch?
Misty gets her twirl on, and Stevie Fucking Nicks joins her for a twirl! IT'S A TWIRL-OFF!
Stevie Fucking Nicks gives Misty THE SHAWL OFF HER OWN BACK, and it's magical and wonderful and the twitches don't give a shit because their generation is made of garbage (just kidding I have no idea how old these girls are supposed to be, their generation is the future blahblahblah)
Madison is all pissy because she's not getting any attention and no one thinks she'll be the Supreme. Nan tells her that since she's developed mind control powers (um, when? During hiatus?) she has a shot at becoming the next Supreme. Nan then proves her powers by making Madison put out her cigarette and then put it in vagina.
One thing I really love about this show is that it's realistic (bear with me here) in that teenage girls with magic powers would absolutely use said powers to torture each other. Like if Regina George was a witch on this show, there would be cigarettes in all the vaginas.
Since Madison was revived, her heart murmur has disappeared, which means she is still in the running towards becoming America's Next Top Supreme. Madison wants to take on Misty in a Seven Wonders Challenge to see who gets all the power/a Cover Girl contract/a brand new Fiat convertible/a feature in Food and Wine magazine/$100,000 from Glad trash bags/a record deal with Clive Davis/a date with Tad Hamilton/a vaginaload of HP tablets.
Downstairs, the grown witches are looking at the Delphi Trust website, where Cordelia has used the power of Google image search to find out that her husband comes from a family of witch hunters since she obviously never Googled him ever!
Marie is ready to hop on a broomstick and fly to Atlanta to lay the smack down, but Fiona tells her they need to play it smart. They set an elaborate maze filled with rat traps and dollar bills and let loose some white mice into the maze.
They are performing a spell to bankrupt Delphi Trust, which is pretty badass. Cordelia wants to help, but Fiona tells her she's tainted and useless. She also screams NOOO! really loudly in her ear, just to get the point across. Mother of the Year material.
As Marie and Fiona pray to Hecate, we see FBI agents descending on Delphi Trust and arresting people, which is nicely intercut with the mice getting trapped. Trapped like rats! The mice are white! White men are getting handcuffed! Metaphor metaphor metaphor!
Fiona is overwhelmed by the magic/cancer and passes out.
Pages: 1 2See entire article on one page