Who's got two thumbs and just bought a big-ass split-leaf philodendron for her living room??! THIS GAL. Hey on a related note, if you have tips for keeping a philodendron alive longer than a couple of weeks, please feel free to share. So far she seems to really like sitting next to the sofa and watching HGTV with me?
---
You Should Go or Do or Give
HELLO ARTISTS here's an announcement just for you: MIDOMA Gallery in Midtown Manhattan is currently accepting submissions from LGBTQ artists in the New York area. Chosen artists will showcase their work September 17 to October 21st as the backdrop for a very important fundraiser "Upstate Meets Downstate — Take 2", helping raise awareness and funds for The Q Center located in Syracuse, NY.
The Q Center is a safe space for LGBTQ youth ages 8-26, their parents and allies. They provide support groups, healthcare, housing help, GED support, college scholarships, food and crisis help.
This will be an open submission process and those interested should email at least three samples of their current work to Drea Saenz at andreasaenz529@gmail.com.
Go get 'em!
Queer as in F*ck You
+ Queer Artist trey anthony's Groundbreaking Play, da Kink in my Hair, to Open in Atlanta.
+ French Singer Songer Soko On Moving Past Your Wild Misconceptions
+ Radio Menea is the Queer Latina Feminist Podcast All Music Lovers Need.
+ I Need the Help of White LGBT People to Protect My Black Body.
+ Defying Doctrine, Methodists Elect Lesbian Bishop.
+ Pride in a Small Town: Emerging Signs of LGBT Equality.
+ Coeur de Pirate Talks About Coming Out as Queer.
+ 50 Questions Doctors Ask Instead of Just Asking If I'm Gay.
+ At Stonewall, Public Land Conservation Meets LGBT Liberation.
+ Celebs On What They Bought Online. In which: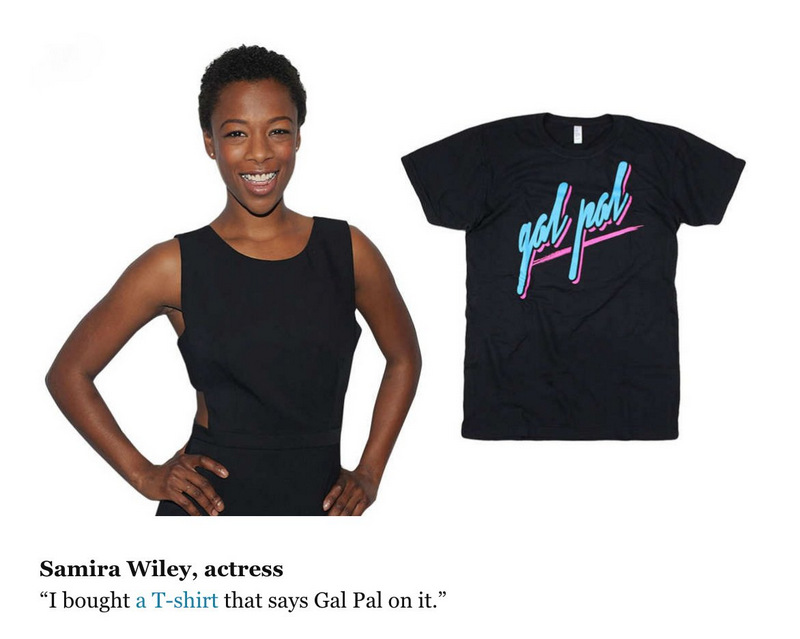 Get your matching Gal Pal T-Shirt ASAP!
---
Doll Parts
+ What Mass Killers Really Have in Common.
+ Five Feminist History Reasons to Visit Cleveland — whether you're protesting, attending, or working the Republican National Convention.
+ All-Woman Exhibition Explores Art as Activism.
+ If You Want Less Police Violence, Hire More Female Cops.
+ Free From the Haze of Nostalgia, the New Ghosbuters Soars.
+ In case you somehow missed this last week: Inside the World's Chicest Cult. Be blessed.
---
Saw This, Thought of You
+ Meet the 18 Year-Old Black Lives Matter Protester Who Closed Oxford Street.
+ The Wellness Movement Has a Race Problem.
+ Goth at 40: The Enduring Appeal of Bleakness and Black Lipstick.
+ Who Was the Baby on Aaliyah's "Are You That Somebody?"
+ Inside the Playlist Factory: The Unsung Heroes of the Music Streaming Boom.
+ The Two Biases That Keep People From Saving Money.
+ Why 30 is the Decade Friends Disappear — and What to do About It.
---
And Finally