Hello, friends and lovers! This week I got a bonus so things are really looking up. Can I spend a bonus on denim shirts? While I ponder the answer to this question, let's go over the stories we missed this week.
Common Sense
63 percent of Americans think LGBT discrimination is a problem. Surprise! It is. You know who knew that all along because they know so much? Probably the super-rich queer folk who understand "the fiscal cliff." I wish I was a super-rich person period.
The good news is that gay people are incredibly financially responsible and by all accounts, are ready to face the cruel greedy world!  And it's because we're never going to get a break ever on this ugly and cruel planet of ours! JK.
"The LGBT community has unique concerns, so when you're planning you've got to be more cautious about where you're putting your money and how much you're saving," Meyer-Shipp said.

According to the survey, LGBT people build up significantly more equity in their homes — a median of $77,000 compared to the national median of $62,000. And, among LGBT pre-retirees ages 55 to 68, about 65% are currently saving for retirement in employer-sponsored retirement accounts, compared to 53% of the overall population.
Bill de Blasio's Wife Likes Girls, NY Post Hates Journalism and Dignity
Did I stutter?
Bill de Blasio, Mayoral candidate in New York City, has a wife named Chirlane McCray who was an outspoken queer woman in her past – in fact she once wrote a piece called "I Am A Lesbian" for Essence.
 "I am a Lesbian.wp_postsThe Wellesley graduate, who was 24 years old at the time of writing, revealed she had at least three long-term, romantic relationships with women.

"I survived the tears, the isolation and the feeling that something was terribly wrong with me for loving another womanwp_postsshe wrote. "Coming to terms with my life as a lesbian has been easier for me than it has been for many. Since I don't look or dress like the typical bulldagger, I have a choice as to whether my sexual preference is known."

McCray added, "I have also been fortunate because I discovered my preference for women early, before getting locked into a traditional marriage and having children."

More than a decade later, McCray and de Blasio met while working at New York City Hall for Mayor David Dinkins. […]

"In the 1970s, I identified as a lesbian, and wrote about it,wp_postsshe said. "In 1991, I met the love of my life, married him, and together we've raised two amazing kids. I'm reminded every day how lucky I am to have met my soulmate."
Everyone fails to realize is that queer women can be with dudes, too and the world doesn't end, for them or for anyone else. Anyway. The rest of the world is having a lot of trouble understanding how a woman who once dated women managed to marry a dude now attempting to have a normal, successful life as a public figure. This was represented accurately when The New York Post obviously responded with a complete, total, shitwaste of a political cartoon.
Also, why do people call this woman a "former lesbian?" Are we serious? Is it 2012? Is that a real phrase? I hate everyone. Everyone.
Obligatory Portion of This Post Dedicated to the IKEA Monkey in Margot Tenenbaum's Fashionable Coat
I don't have a lot to say. A monkey in a coat was walking around IKEA, and I thought nothing of it. Except…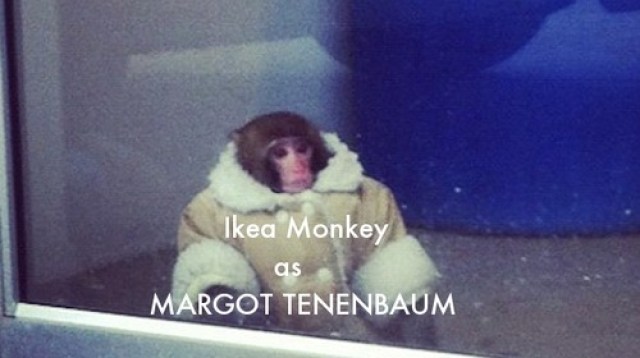 They Like Us, They Really Like Us
+ American Apparel has promised to defend gay marriage in France, although how handing out free tshirts will help accomplish this isn't entirely clear.
+ The Merck Foundation is done with the Boy Scouts because homophobia is for lame-o's.
+ Tammika Brents, a mixed martial artist, is here and queer. And get used to it, because she could probably take you.
"I just wanted to show people that I'm out, I'm proud about it, I don't care,wp_poststhe outgoing 24-year-old Springfield, Ill., native said with a laugh. "Basically, just, 'Yeah, I'm gay. You got a problem with it?' I'll punch you in the face, too (laughs)."
+ Marvel comics will make a gay duo the main romantic focus of "Young Avengers," an Avengers spin-off comic.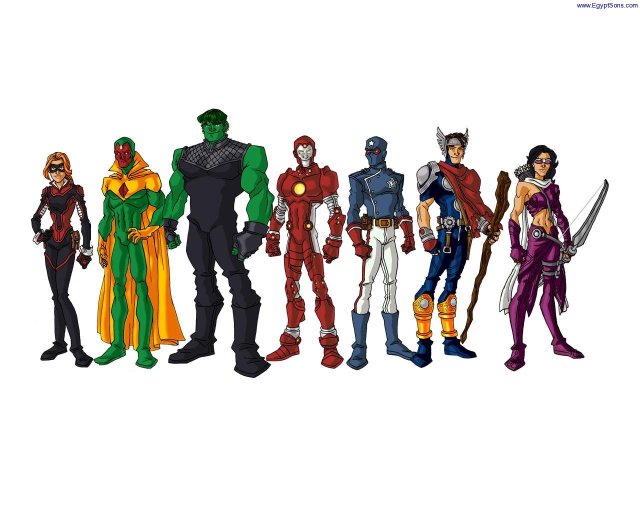 + Also, Glenn Beck like, defended gay marriage or something recently and everyone's brain exploded until they stopped and realized hahahah, that damn Republican party is just falling apart at the seams! I'm doing the sign of the cross about it, to be honest.
Gay People Doing Gay Shit
The UFC signed its first lesbian! A lesbian fighter, you guys. A former marine lesbian fighter. Sounds hot.
"I thought, of all things, a male-dominated sport and a sport where you're engaging in this physical combat, that I was definitely going to come across that,wp_posts[Liz "Girlrillawp_postsCarmouche] told MMAFighting.com in July. "I thought I'd come into contact with some stereotypical person who's anti-homosexuality, whether it be men or women. But I found the opposite. All they care about is a good, quality person who's a good training partner."

In the meantime, gay people are getting married and kissing in the streets and stuff in Washington. I wish the world was run by peace-loving women who wanted to make out.
Eloise Klein Healy was named Poet Laureate of Los Angeles because she's an amazing poet, but then again, aren't all lesbians?
Look At This Fucking Trans* Bikini Model
While Brazil warms up to gay rights, the modeling industry there is beginning to realize a new trend – a rising number of trans* models. All I really have to say is "damn," both to how attractive Tavares is and how backwards and cissexist the language in the original article is.
The 6-foot-tall Tavares is among Brazil's small but growing ranks of transgender models — leggy, high-cheekboned sirens who were born men and are causing a splash here as well as in Paris and other international fashion capitals. […]

The trans-models' newfound prominence also points to a seismic shift in Brazilian society, which has seen macho, homophobic attitudes soften in recent years as gays win more legal rights.


'We are in the 21st century and there is just more tolerance in the air. Here in Brazil we now have gay mayors, gay lawmakers,' said Sergio Mattos, director of the Rio-based modeling agency 40 Graus Models.


'So why not trans-models? The world has evolved and now discrimination is, thankfully, becoming a thing of the past.'
Closing Time: Zodiac Cats
I'm a Leo. Nothing else matters. At all.