People chose to suck at previously unrecorded rates this week, so before you read this I recommend you grab a Stella and put on Magna Carta… Holy Grail (or Yeezus) to remind yourself of your own inner power. You are a god, damn it.

Privilege-Checking Advice
"The Straight, White Dudes' Guide to Discussing Diversity." Plz RT.
Anytime you find yourself about to say the phrase "You know what you should do…", stop, drop your trousers, and punch yourself in the nuts. Because, seriously, if I had a dollar for every time a guy offered me a solution without understanding what I had already been doing, I'd have a closet full of Louboutins by now. It's damned offensive to start dictating suggestions without a strong knowledge of the history of the people you are engaging. When you start the interaction that way, you're going to earn an eye roll.

So rather than "You know what you should do…", start with "Can you tell me more about this? What have you been doing?" Unless you're one of those guys who has a thing for punching himself in the nuts.
Harshing My Mellow
Ugh.
+ Introducing: d00d with a radio broadcasting platform to share his lowly opinion who also happens to feel victimized by a lesbian putting her arm around her wife on the Food Network.
+ Toronto's gay pride planners are doing all they can to take the T out of #LGBTPRIDE!, and trans* people are fucking tired of it.
It should astonish everyone (except trans people, who are used to this kind of thing) that the Trans March receives zero financial support from Pride Toronto Inc. No money, no media support, no logistical support, no water for marchers. Nothing.

The fact that one of the wealthiest members of InterPride / WorldPride contributes absolutely nothing to this community event is disgraceful. However, not only have they failed to contribute, they have actively set up barriers (literal and figurative) to prevent marches from happening.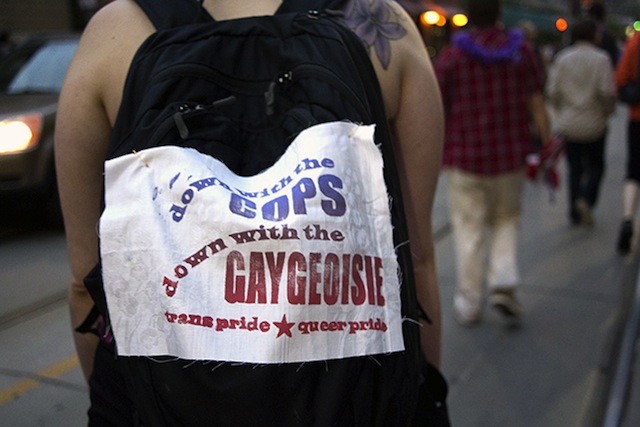 + Introducing: the shitheads committing anti-gay hate crimes on the subway. On video.
+ A Ugandan tabloid is releasing images and names of gay "recruiters," AKA plain old jane gays who happen to exist in a place where that mere act is illegal.
+ In Australia, private schools are gonna fight! for their right! to party expel gay students. This party got weird all of a sudden.
+ Introducing: the Louisiana legislator trying to ban the pride flag from being displayed in public and his inspiration: a man who insists it isn't about "the gays."
+ In Africa, "corrective rape" is apparently a laughing matter. For police. The quote you're headed for is upsetting:
"I was walking home from the shop when they grabbed me. They undressed me and said that if I screamed they would kill me.

"They bragged about it and said I would be 'right after this'. I immediately reported it to our local police, but they just laughed at me. They didn't open a case, saying I was crazy.

"They said that if I were a 'real' woman, they would have treated me differently."
Give A Little, Then Leave Yr House
+ Liberty's Secret is one of the only America-themed musical theater performances (and, let's be real, musical theater performances in general) I'd ever consider endorsing, seeing, or expressing interest in. It needs your help.
http://vimeo.com/68892566
+ Gabrielle Rivera called out this week to me, her patronus (I kill bugs well), in the name of her fellow Bronx queers and their goddess-given right to love themselves. WE NEED TO SAVE BRONX PRIDE! Sounds like a good cause, y'know?
The organizers of the newly established Bronx LGBTQ Community Services Center are determined to hold a gay and lesbian "pride" event, but they have less than three weeks to raise more than $2,000 to pay for the permit.

"We're reaching out to everyone," said Peter Frank, the Bronx LGBTQ Center secretary, who said the group is dependant on sponsors and registration fees to foot the bill for the Bronx LGBTQ Pride and Health Fair, which is planned for July 20 in Crotona Park.

The realization that funds were short came weeks after Frank applied to the city Parks Department for an events permit.

When he paid the $25 application fee, he said, he saw a list of related fees on the Parks Department website but didn't understand until weeks later that the whole shebang could cost up to $2,500.
You should donate, become a member of the center, and attend the Pride celebration. (If you're from a local nonprofit, SIGN THE FUCK UP FOR A TABLE!) Notice I said "and" and not "or." Do it all. The Bronx needs you!
Worship-Worthy Folks
Ellen Page is fierce and feminist. You already knew, but it bears repeating because she went out and said it again, and also if we discuss Ellen Page more we get to look at pictures of her more.
I don't know why people are so reluctant to say they're feminists. Maybe some women just don't care. But how could it be any more obvious that we still live in a patriarchal world when feminism is a bad word?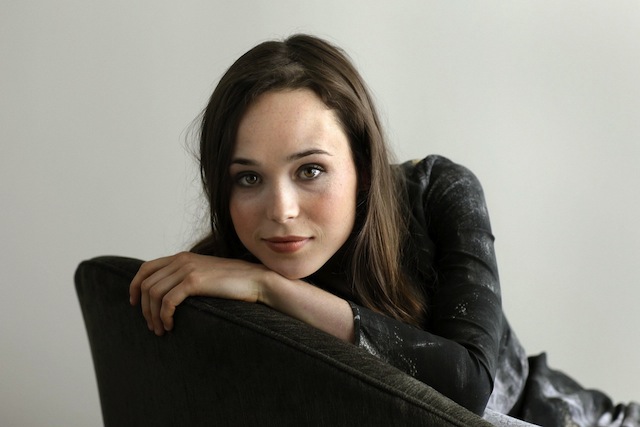 Sharnee Zoll-Norman's married to a woman but never said out loud in an interview that she was gay. 'Til now.
"It's never been printed," she said.

Zoll-Norman continued saying that she never felt that her sexuality had any connection with her basketball career.

"I never felt whether I'm gay, straight, bi, [or] whatever that my sexuality had anything to do with me as a basketball player, and I don't think it necessarily has anything to do with me as a person," she said. "If I was straight, I wouldn't have to come out and say that I was straight."
The Miss South Carolina contest just got gayer. Meet Analouisa Valencia, the bilingual multi-racial queer some are calling "the new face of the South."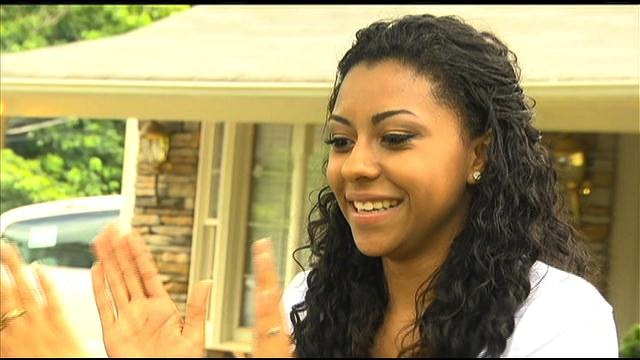 "Last year, I did compete at state, but I wasn't as comfortable because of the fact I was hiding who I was," said Valencia. "This is my first year coming out and saying, 'This is me, girls. Sorry, I'm going to be changing in the same dressing room as you. This is what's going to happen.'"

Valencia's appearance in the pageant is not just history-making in South Carolina.

"I'm the first openly lesbian contestant in the Miss America system, the first bilingual contestant we've had, so that's good," said Valencia.

With three titles already under her belt, Valencia's family says her success helps represent the changing face of the south.
Queering immigration isn't just about giving out green cards. Sowjanya Kudva explains in the following video:
Marry Me!
+ How many gay people are married? Turns out it's complicated, like most things related to lesbianism.
+ Costa Rica's Legislative Assembly Monday passed a bill without contemplating the fact that it legalized gay marriage. Oops.
A Series of Questions Nobody Had to Ask, But Then Did, and Then They Made It Worse and Answered Them
Guys, marriage is like so hard when you and your partner are both women because like, who does man things, you know? Like, what is a relationship without gender? Clearly relationships between two people of the same sex mean relationships in which two people with identical gender presentations and identities are partnered forever and ever and conceive on the same day until they die on the same day, same breath, right? Let's just rest easy on all of these hard questions, because it could be worse: it could be a gay divorce. I mean, who gets the money when there's no WIFE? Is divorce even possible when there isn't a homemaker? Is monogamy real? Will queers destroy the standing definition of partnership by like, living together and stuff and expecting it to be simple to leave one another just like it was for Britney Spears and that dude she married for a couple minutes? Did we decide what a relationship without gender even was yet, by the way? Did you buy eggs at the store like I asked or were you too busy avoiding taking out the trash again?
Sigh. Equality is hard. I just wanted to U-Haul, y'know? Whatever. I'm gonna go put on a dress and catch a WNBA game.