Happy Wednesday! This week someone outed me as having interacted personally with the Facebook Pages of Burger King, Wendy's, and a restaurant called The Aladdin Sizzler. Let's see what stories we missed this week while I was in line at the Drive-Thru.
William Shatner Horrified By Reddit
"I am appalled by some of the immature, horrifically racist, sexist, homophobic … posts that are just ignored here."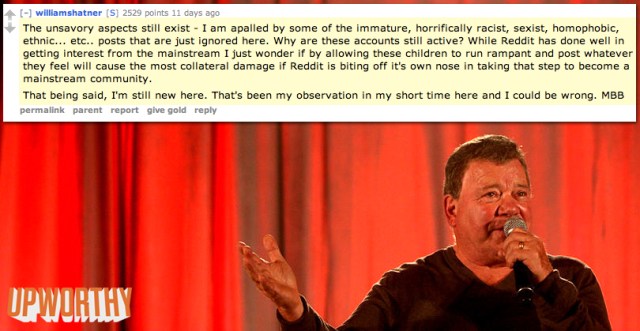 Karl Lagerfeld Sees Lesbians
Karl Lagerfeld thinks Germany and France are such good friends that they might as well get married.
To celebrate the 50th anniversary of the Elysée Treaty, or Treaty of Friendship, which signified the end of a centuries-long rivalry between France and Germany, Lagerfeld lent his famous sketching skills to German magazine Frankfurter Allgemeine Magazin's fashion issue.

And naturally, he incorporated a political statement about same-sex marriage, as he is wont to do these days. The sketch, WWD has deduced, features a lesbian couple with two children: One child is François Hollande, the French president and the other Angela Merkel, the German chancellor.
Ben Affleck Made A Movie Once Before, Too…
Ben Affleck's directorial debut was I Killed My Lesbian Wife, Hung Her On A Meathook And Now I Have A Three-Picture Deal At Disney. Matt Damon wasn't in it.
Stay Golden: On Overcoming Bullying
Surprise! Bullying is really fucking terrible. And a new study out from Duke shows that it has huge ramifications for our adult lives:
A significant study from Duke, out today, provides the best evidence we've had thus far that bullying in childhood is linked to a higher risk of psychological disorders in adulthood. The results came as a surprise to the research team. "I was a skeptic going into this,wp_postslead author and Duke psychiatry professor William E. Copeland told me over the phone, about the claim that bullying does measurable long-term psychological harm. "To be honest, I was completely surprised by the strength of the findings. It has certainly given me pause. This is something that stays with people.wp_posts[…]

Based on the findings, Copeland and his team divided their subjects into three groups: People who were victims as children, people who were bullies, and people who were both. The third group is known as bully-victims. These are the people who tend to have the most serious psychological problems as kids, and in the Duke study, they also showed up with higher levels of anxiety, depressive disorders, and suicidal thinking as adults. The people who had only experienced being victims were also at heightened risk for depression and anxiety. And the bullies were more likely to have an antisocial personality disorder.
If you're looking for a happy ending, take this:
F*ck Homophobes
+ The Indiana teacher who wanted an LGBTQ-free prom instead gave her district the gift of a homophobe-free classroom. She's been suspended.
+  A Subway franchiser in France lost his Subway franchise and hopefully a lot of his friends after he promoted a heterosexual-couples-only Valentine's Day offer.
+ The Laurel Leader-Call is getting a lot of shit for covering the wedding of Crystal Craven and Jessica Powell. It's the first wedding of its kind to happen in the region, where same-sex unions aren't even legally recognized. The two Mississippi women got married not only because they're in love, but because Crystal has a brain tumor – and the time to make a move re: the future is now. Jim Cegielski, owner of the paper, told the haters to step back and shut the fuck up.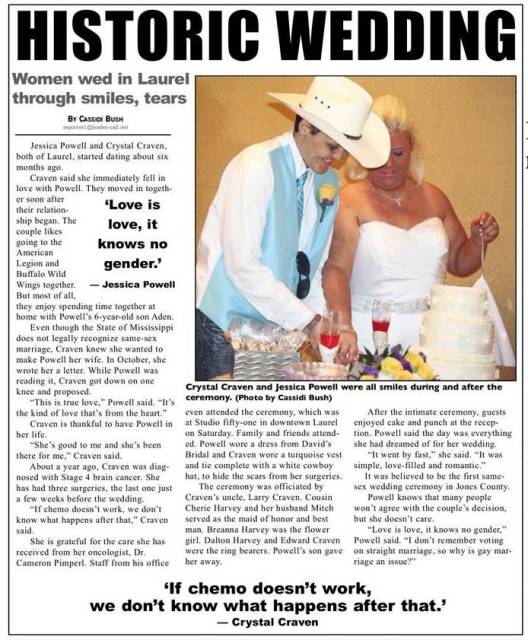 We shouldn't have to defend every decision we make here at the Leader-Call… However, the intense reaction to our gay wedding front page story, which led to a deluge of hate calls, letters, e-mails, Facebook posts, soundoffs and random cross stares thrown in my direction, warrants some sort of response. So here it is. […]

I took the bulk of the irate phone calls from people who called the paper to complain. Most of the complaints seem to revolve around the headline, "Historic Wedding,wp_postsand the fact that we chose to put the story on the front page. My answer to the "Historic Weddingwp_postsheadline is pretty simple. You don't have like something for it to be historic.

The holocaust, bombing of Pearl Harbor and the Black Sox scandal are all historic. I'm in no way comparing the downtown wedding of two females to any of those events (even though some of you made it quite clear that you think gay marriage is much worse). […]

We have stories about child molesters, murders and all kinds of vicious, barbaric acts of evil committed by heinous criminals on our front page and yet we never receive a call from anyone saying 'I don't need my children reading this.' Never. Ever. However, a story about two women exchanging marriage vows and we get swamped with people worried about their children.
Bros B4 Hos
Bros B4 Ho's is South Africa's first-ever Drag King Troupe. Now, they're taking their challenges to gender norms to the matte screen with a YouTube documentary of the same name.
My Daughter is a Vegetarian
Because I love you so fucking much and I want you to keep this in your heart.
Acceptance

There was this one time in college when I tried going meatless for a while. One of those idiot freshman boys had given me some unprepared meat and I was sick for what seemed like days. I lost ten pounds, I missed a week of classes and I thought I would need to pack my bags and go home. I said to myself, I will never eat meat again. So I tried it and I will admit, only in these recycled pages, that it was glorious. I felt so alive, so energized! I felt lighter than ever. Meat weighs you down sometimes, the way it insists on just sitting in your stomach, filling you up until you want to go to sleep. With veggies, I can eat to my heart's content and it's not the kind of eating that ends with a long slumber. I can take a quick nap and then eat some more. But Christmas changed all that. I went home convinced that my new lifestyle would be accepted by all who loved me. I knew it would take some adjusting, but I didn't think it would be so offensive. My mother would hardly let me sit at the table. She even suggested that I spend Christmas with one of my "veggiewp_postsfriends, as she called them, who would cook what I wanted to eat. All I wanted was a seat at the table; I wasn't trying to recruit my family members to my lifestyle. My mother acted as if I would be taking my little cousins aside, whispering to them the many benefits of carrots. Ain't nobody got time for that! I remember that Christmas, silently picking the pork out of the collard greens (the only pseudo-vegetable) , trying to ignore my mother's insistent "Come on. Have some meat!wp_postsas my thoughts strayed to all the delicious vegetables and fruits I'd eaten just weeks before.

The following spring, I met my husband. When he offered me his meat, I imagined my mother's face and I ate it…

I don't want to be my mother. After our breakfast of waffles, soy sausage and fruit salad, I plan to go home and have a talk with my child, who is still my child no matter what she prefers.
I Can't Tell If Amazon Loves or Hates Me
GetGayFunded.com, a crowdfunding website for the LGBT community, was effectively and unexpectedly shut down by Amazon Payments on Wednesday, said Adam Kotkin, chief executive officer of Apps Genius Corp. […] According to Kotkin, when he approached Amazon Payments for an explanation, the responses he received from Amazon Payments representatives were confusing, contradictory and simply not true.

"In one email, Amazon Payments said the GetGayFunded application had been denied.  But that's not true as our application was approved in December 2012 and the site had been fully functional with projects receiving their funding through Amazon Payments," Kotkin said.  "Another rationalization said we were rejected because we claimed 501c3 status, but nowhere in any of our documentation had we claimed that because it's simply not true and their phone rep agreed.

"Yet another email from Amazon Payments said they aren't currently accepting crowdfunding projects.  Again, we were accepted last December and my other crowdfunding site with Amazon Payments, GetFunded.com, is still up and functioning perfectly as are several other crowdfunding sites processed through Amazon Payments.  The only difference between the two sites is that one is focused on the LGBT community and the other on animal welfare."

Kotkin is currently looking for a new partner to process funds donated on GetGayFunded.com and has started a fundraising project of his own on IndieGoGo at http://igg.me/at/getgayfunded to expedite the re-launch. He is mostly concerned, however, with the almost $7,000 that's been raised for 20 LGBT-oriented projects.  Amazon Payments has ignored Kotkin's multiple appeals to release those funds.
First Comes Love, Then Comes Marriage, Then Comes Divorce and Adoption Loopholes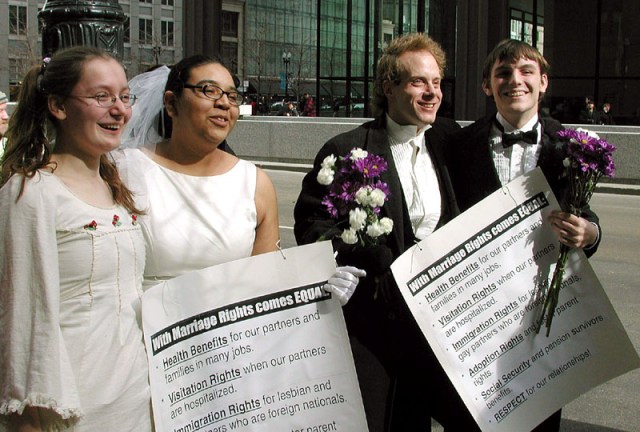 + NY Magazine says gays are at the beginning of a "divorce boom" because of this new-fangled right we sometimes have called "getting married."
+ You may not be legally married, but if you adopt your partner's children you are legally eligible for some tax breaks opposite-sex couples don't get when they do the same thing because they're MARRIED! So there's always that to console you while you cry softly into your hands.
+ Also, did you guys know it isn't even legal to have gay sex in Montana yet?
Brokeback Bollywood
Rohit Bal wants to make a Hindi film about homos.
Where My Nerds At
"This is a Rosie the Riveter moment." In other words: lady nerds, we need you. Bad.
State Department Lookin' Out for LGBT Travelers
The State Department held its first-ever roundtable on LGBT travel, and also they want you to know they love you and put a brownie in your lunch today just for funsies.
For U.S. LGBT travelers going abroad, the State Department wants you to know that it has your back. That was the message given Wednesday during the agency's first ever roundtable concerning LGBT gobal travel.

"It is important for our LGBT citizens to travel safe and smart," said Janice L. Jacobs, assistant secretary of state for consular affairs, who provided welcoming remarks to the roundtable panelists and participants. […]

The non-government panelists included John Tanzella, president and CEO of the International Gay and Lesbian Travel Association (IGLTA), and Charlie Rounds, president of Forward Motion Travel and managing director of Brand g Vacations.
A Story About Good People In A Fraternity
The most unexpected story of the day. Or maybe the year?
Brothers in Emerson's Alpha Chapter of Phi Alpha Tau have come together to raise funds for a new brother's FTM top surgery. […]

Earlier this year, Visual & Media Arts sophomore Donnie Collins pledged as a prospective brother to Phi Alpha Tau, the nation's oldest professional communicative arts fraternity. An Alexandria, Virginia native, Collins didn't come out as transgender until age 17 while attending a boarding school in Windsor, Conn. Of his time in an all-girls dorm, he says in a recent interview, "They were really nice, but it was all horrible."

Thus far, Collins has been taking his gender transition one step at a time. Barred from using his mother's insurance to cover any physical transitions, he has singlehandedly covered the bulk of his hormone therapy since December 2011. […]

In a time when his options were running out, Collins's brothers in Phi Alpha Tau have rallied together to cover some of the surgery's cost. … The brothers' fund has already surpassed the $2,000 they initially hoped to donate, but now they're looking to cover even more of the procedure's $8,100 cost.

Collins has been completely overwhelmed by the wave of support, admitting to have cried out of gratitude when he heard what his brothers were doing.
You can donate here – but they made it to $14,000 by the time I wrote this. Here's Collins' reaction video to the extreme outpouring of support: