Hello, firecrackers! This week my friends and I went to the Lincoln Memorial to see the Capitol Fourth fireworks and it was so pretty! Here's the news we missed while I was drowning in a sea of DC tourists.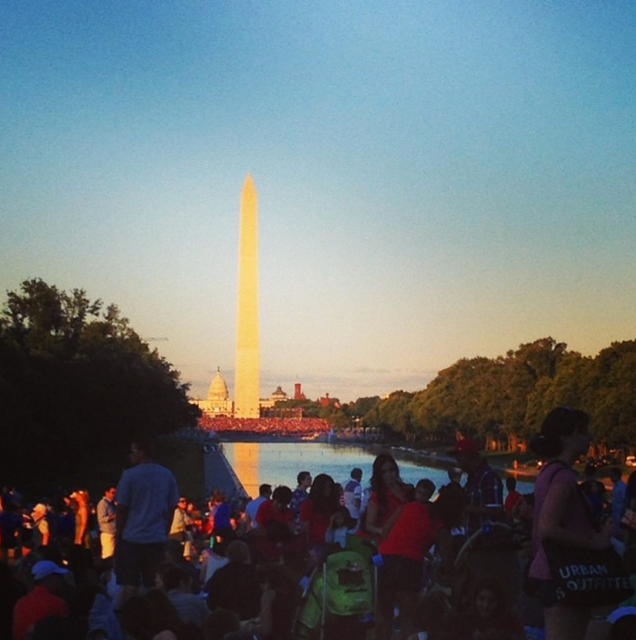 ---
 We Still Need to Care About Hobby Lobby
+ There are few things I love more than puns and feminism, and Cyndi Lauper's article "Girls Just Want to Have Birth Control" covers both. Well, it's not so much a pun as an allusion to her song but still, she has important things to say.
The decision handed down this week makes clear that this isn't an argument about religious liberties. Rather, it is a rejection of women's rights across the board, hidden within an argument that our most basic health care is "controversial." The subject of birth control should be far from controversial. To many women, the only thing controversial about it is that we are still fighting this battle.
+ I love Rachel Maddow just as much as I love puns and feminism and this takedown of the Hobby Lobby decision does not disappoint.
+ In this week's news that will surprise no one, the Hobby Lobby ruling is even more harmful to people of color. 
At this point it's no longer news that those in our communities who are the most vulnerable suffer the most when increased restrictions and barriers are put into place — and pregnancy and reproduction has been a hotbed of these kinds of restrictions over the last few years. As the Obama administration figures out how they might fill the gap left by this ruling (even the majority opinion, written by Justice Alito, offers this as a solution), we have to keep in mind that women of color are once again going to be relying on a safety net to get basic needs met. And that's a safety net with more and more holes.
---
Let's Talk About LGBT Families!
+ According to a study by the University of Melbourne, the kids of same-sex parents are just as happy as those of heterosexual parents, if not happier!
The study surveyed 315 same-sex parents (80% female and 18% male) with a total of 500 children across Australia. It looked at a spectrum of family contexts "from previous heterosexual relationships, to assisted reproductive technologies and same-sex co-parenting arrangements." (LGBT joint adoption is only available in four of the eight states in Australia, while individual LGBT adoption is fully legal in six.) The parents reported on various aspects of their children's health and mental wellbeing.
+ The Asian Pride Project is making it easier for families to embrace LGBT identities.
The ultimate goal: Helping immigrant Asian Americans to feel publicly comfortable as the parents and family members of out queer children.

"Usually LGBT advocacy groups are focused on the individual," says Leslie Kuo, who curated the exhibition on behalf of MOCA and APP — think of the "It Gets Better" project, which is designed to help gay youth address challenges of isolation, shaming and bullying. "But the Project is really about using the family as the building block of a wide, grassroots movement. It's such an Asian cultural idea."
+ Hollywood has done a less-than-stellar job of representing LGBT people, parents, and families. Clearly, queer experiences exist far beyond those of white gay men and the film industry needs to start reflecting that.
These characters have shown people that gay parents are just like any other parents, that gay men are just like any other men, and that gay people are just as imperfect as their straight counterparts. But if your knowledge about gay life and the gay rights movement came solely from television and movies, you might think that the only people fighting the good fight are good-looking, affluent gay white men and their good-looking, affluent white boyfriends and husbands.
---
Representation Matters
+ Ruth Hunt, the Chief Executive of Stonewall UK, speaks about the challenges of being a lesbian leading the organization. 
She said: "What I was really struck by, was – this is somebody who was on Twitter, highlighting that experience [of women being marginalised in the LGB movement] – was [the criticism] 'how can a lesbian represent gay people?'
"And I was really struck by that, as an idea. Not, 'how can a lesbian represent gay men?', but 'gay people'. And I think that's certainly something which is still a re-occurring theme."
---
With Executive Orders, the Limit DOES Exist
+ "Gay President" Obama's anti-discrimination executive order isn't actually stopping discrimination all that much.
South Dakota is one of 29 states where you can be fired for your sexual orientation, and one of 34 states where you can be fired for your gender identity and expression. President Obama recently issued an executive order barring federal contractors from such firings, but executive orders can only go so far. Repeated attempts to add sexual orientation and gender identity to anti-discrimination laws have fallen apart before making it to the signing desk.
+ Even with marriage protections on the books, LGBT discrimination in the workplace is still a tremendous problem.
The fight for nationwide gay marriage will turn out to be a hollow joke if gay couples in red states are too afraid of discrimination to actually get married and enjoy the dignity of true, state-prescribed equality. Because the Republican House refuses to consider gay rights measures—and because states like Tennessee and Alabama seem unlikely to act on their own to protect sexual minorities—the best solution is probably the one gays have relied on for decades: the courts. Thanks to federal lawsuits, judges are already considering the idea that existing law outlaws anti-gay discrimination in every state and that the Constitution guarantees same-sex adoption rights. The same logic that shoehorns anti-gay discrimination into sex discrimination could be used to turn the Fair Housing Act's sex discrimination clause into a protection for LGBT people.
---
 You Should Give!
+ The Highlander Research and Education Center is a wonderful, historic retreat and education space with friendly staff and plenty of rocking chairs. It's where organizers like Martin Luther King were trained and where the song We Shall Overcome was written. Its programs foster youth and community empowerment and grassroots activism. It's totally awesome. And it needs your help!  Highlander currently has an Indiegogo campaign going to purchase new supplies for its kitchen, which produces delicious, healthy, wholesome food for the people staying there. I can tell you this personally because I participated in a retreat there which was one of the best experiences of my whole entire life. And the food was delicious. And everything was wonderful. So please, donate!