Hello good emperors! I'm muddling through finals right now and learning so many things! Some ancient emperors lived scandalous lives that would've put our NSFW Sundays to shame. Anyway, here's the news we missed while I was studying for my Roman History exam.
---
 234 Nigerian Girls Still Missing
+ Though the girls were abducted over two weeks ago, their story is just now making the news. Social media campaigns everywhere are bringing attention to this international issue.
Nigerians are using the hashtags #bringbackourgirls or #bringbackourdaughters on Twitter to attract attention to the story. There is also a whitehouse.gov petition asking the Obama administration to "work with the UN and the Nigerian government to bring home the girls kidnapped by Boko Haram.
+ People all over the world are demanding an end to women and girls being persecuted for their gender and for pursuing their studies.
Meanwhile, women, students, concerned people across Nigeria are organizing, mobilizing, and demanding. They're demanding stronger and more effective action on the part of the government, and they're demanding more consultation and more respect. The mothers of the stolen girls, in particular, understand that this is about women's and girls' dignity, respect, autonomy. Those girls were stolen partly because they are girls pursuing studies, mostly because they are girls. Reports say they are to be sold into slavery.
---
Things are Looking up for Gay Athletes!
+ Notre Dame University recently released a video supporting theYou Can Play Project with the hopes of making the university a more inclusive and LGBT-friendly space.
+ Two LGBT athletes are being featured on MTV's True Life as they come out to their teams and share their stories.
The preview video shows some compelling footage of cheerleader Desiree talking with what appears to be family members about being gay – and the reaction isn't 100% positive. The footage we see of rower Steven is driven by fear and concern. Let's hope he decided to come out to his team – the chances they would be overwhelmingly supportive are about 99.99%.
+ Reflecting on the prominence of LGBT athletes, ThinkProgress asks, "What's Next in the Fight for LGBT Equality in Sports?
---
And Now for Some More Feelings About Gay People…
+ Country music legend Dolly Parton recently released some of her thoughts on marriage equality.
"I didn't know any gay people in my childhood. I do have a lot of gays in my family now, but some will never come out," the singer, who was one of 12 children in a Pentecostal family living in Locust Ridge, Tenn., told Britain's Event magazine, per an article featured on the Daily Mail's website.

"I think everyone should be with who they love," Parton, 68, continued. "I don't want to be controversial or stir up a bunch of trouble but people are going to love who they are going to love. I think gay couples should be allowed to marry. They should suffer just like us heterosexuals. Ha ha ha!"
+ Cincinnati is becoming increasingly friendly toward members of the LGBTQ community, and NPR views this trend as an indication that LGBTQ folks are becoming "fully accepted."
---
 More Women are Going to Prison, but Prison Isn't any Safer
+ The Growth of Incarceration in the United States: Exploring Causes and Consequences is a new report that confirms old suspicions.
For four decades, women have been the fastest growing prison population. The United States has one third of the world's female prison population. The majority of women in prison are mothers. Women's prisons are historically `under resourced' and it's only getting worse. Women prisoners face particularly high rates of sexual violence from prison staff. Women prisoners have exceptionally high rates of PTSD, mental illness, and alcohol and drug dependence. Women prisoners have astronomically, shockingly high rates of abnormal pap smears.
+ In Tennessee, women could face jail time for their pregnancy outcomes. Almost everyone is opposed to this new, terrible law.
"We are very sorry to see that Governor Haslam let an opportunity to do the right thing slip through his fingers," Rebecca Terrell, Chair of Healthy & Free Tennessee, said in a statement. "The experts could not have been clearer: this law is bad for babies and bad for Tennessee."
---
Coming Soon to a Computer Near You!
+ Exciting news, from the creators of web series Easy Abby!
The award-winning lesbian web series, Easy Abby, is releasing the Season 1 Finale FREE on YouTube on Wednesday, May 14th. The Finale entitled "Chicago Free Fall" includes both Episodes 13 and 14 and will roll out on the Juicy Planet YouTube Channel and on the show's official website.

The first 12 (of 14 total) episodes of Easy Abby have already received over 15 Million views, with a fan base that includes North America, Europe, Australia, Saudi Arabia, and Brazil. Releasing Season 1 on YouTube offers accessibility in a dozen languages including Spanish, Portuguese, French, Arabic, Italian, and more!
---
The Feminist Majority Foundation and SPARK Summit Want YOU to Take a Stand!
+ The Feminist Majority Foundation is protesting the Sultan of Brunei, whose rule includes harsh punishments like stoning LGBT people. You can take action by signing the FMF's petition right now!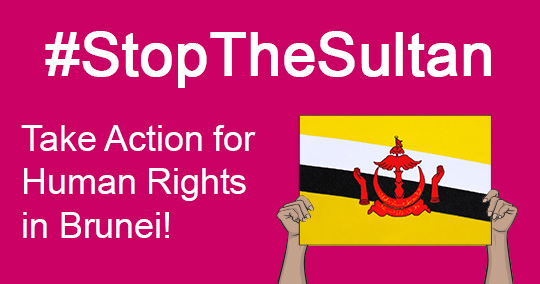 + Are you an online activist? Do you want to become one? The SPARKteam is taking applications for new members and you should definitely apply!
The SPARKteam is a core group of girls and young women ages 13-22 armed with fierce writing and creative arts skills, powerful ideas, bold strategies for change, and the creative prowess and leadership skills to be a voice for SPARK Movement. SPARKteam activists are passionate about challenging the sexualization and objectification of women and girls and promoting girls' sexual rights and healthy sexuality.
If that sounds like you, then apply by the end of the day today, May 7th!
---
You Should Give!
+ Out in Alabama is "a feature-length documentary about the incredible communities in Alabama where LGBT rights are embraced, despite the history of obstacles." And they are looking for funding!
Out in Alabama will provide an intimate view of the people who courageously defy prejudice, allowing intolerance to dissipate into understanding. It will serve as an example of how easy it can be to simply love a perceived enemy, and to rise above bigotry—like a butterfly—transcending preconceived notions. Plus, it will highlight how we all survive with the simple kind help of friends, family, and sometimes even strangers.
Produced by a stellar team of filmmakers and activists, this documentary looks really promising.