I'm always banging the drum about women and queers in STEM. But what about STEAM? That "a" stands for Art and actually, some of the most hardcore STEM lady-types and otherwise-identified folks I know are also artists. When you put those altogether, I'd say STEAM best describes those movers and shakers I'd call Makers: veritable Doc Browns with visions of slickly-crafted flying Deloreans, subversive stitchers with an interest in wearable technology, those who never stopped playing with Lego (and get their fellow engineers to inspect their creations for structural stability). Almost everywhere I look, the creative meets the scientific. Here's to you, STEAMers. Happy Holigays.
---
Physical Computing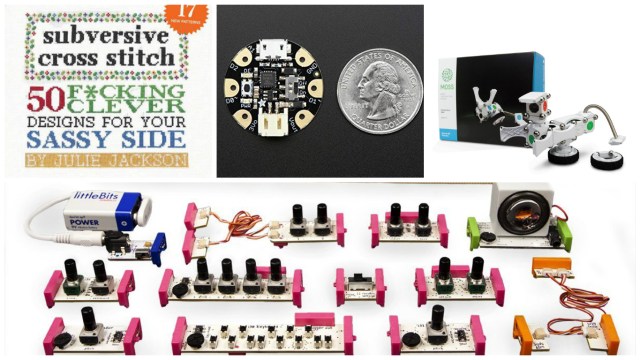 If this gift is for a young STEAMer or someone just getting started with physical computing, a LittleBits Synth Kit ($159) might be an excellent choice. Inspired by building blocks, LittleBits brings the complexity and innovation of physical computing with the ease of magnetized, snap-together modules. Plus, ya know, music. It's science and music all in one (and yeah, we all know music is math, but still). In the same vein of creating new things, the MOSS Zombonitron 1600 kit ($193) brings robotics and design together with a modular construction.
If you want to get a little more fused with art, why not combine a wearable Adafruit Gemma board ($14 and programmable with the Arduino IDE), some LED sequins ($8), some CR2032 Lithium Coin Cell Batteries ($6), a coin cell battery holder ($3) and conductive thread ($12) to make your clothes and other sewing projects blink with the power of code and disco. What sewing projects, you ask? I think a blinking Subversive Cross Stitch ($13) would be pretty badass.
---
The Art of Food Science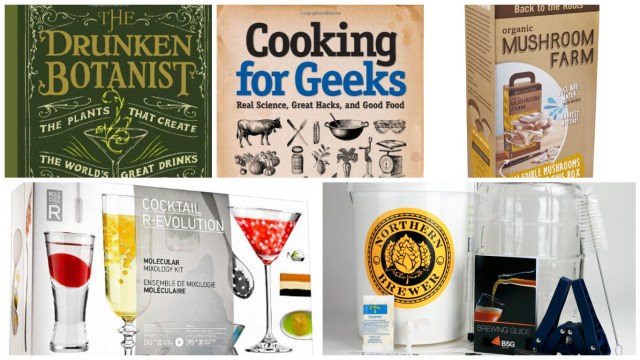 Is there anything quite as artsy as food? I say no! Food is such an expression of who a person is, how their past and their culture arrive on their body and in their mouths. And it's biology, ecology, and probably several other -ologies that I'm not even thinking of right now.
Organic Mushroom Farm, $22. Grow a couple pounds of mushrooms for your stir-fry. After it's all said and done, the whole kit is compostable. For a great combo gift, get your grower a copy of The Mushroom Book for Beginners.
Speaking of books, there are approximately one million books on the science of cooking. Try out Cooking for Geeks ($23), The Science of Good Cooking ($21), and Culinary Reactions ($12). Oh hey, you know what's almost all chemistry? Brewing beer! It's also hella creative and super fun. A basic kit runs about $85, and there are so many books out there to help you out; try Designing Great Beers ($16).
Speaking of alcohol, a molecular mixology kit ($50) is a great thing for a creative geek to nerd out on. Partner it up with The Drunken Botanist ($15) to learn all things drink-plant.
---
Engineering Objects
When someone says STEMmers aren't creative, pointing to an architect or an engineer is all it takes. Creating sound objects is the result of mathematics, problem solving and imagination.
I recommended it last year, but the 3Doodler Pen ($100) is still a thing that exists. Most reviews around the web say its difficult to use, so the engineers in your life should have a rip-roaring good time. Does your maker want something a little more traditional to use with software? There are consumer 3D Printers out there, like this entry-level XYZ Printing DaVinci Junior ($339) or the ever-popular MakerBot line which is, well, a hell of a lot more expensive.
Did you know Lego makes a whole set of "grown-up toys?" Well they do, and this Lego Architecture Studio set ($160) is designed to help the builder learn the basics of architecture. If your giftee wants a more toe-dip into architecture, you can always go single building. The Lincoln Memorial ($28), for example.
Have a younger engineer? Nerd them early with an Our Amazing Bridges model set ($19), a Leonardo Da Vinci Catapult Kit ($25) or a K'Nex set ($20). Hell, I don't know any STEAMer adults who wouldn't enjoy the shit out of a K'Nex set.
So what about you, STEAMers and those who love them? What's on your Holigay list this year?