As the TV Team closes out our summer coverage and starts preparing for the new fall television season, we realized a trend that we absolutely couldn't wait to tell you about!
This summer, for the first time in television history (!!), there were a record breaking nine women of color couples on TV!!!  That's just counting between May and August! It's been a summer of love for women of color (if you include interracial relationships with white women, there have been 15 relationships total), which is already a rarity – but women of color are almost never allowed to love one another on television. This is groundbreaking. Women of color finally being given space to find beauty and strength and comfort in each other for once… well, those are the kind of love stories we can't wait to hear more of.
😍 😍 😍
---
Kat Edison and Tia Clayton, The Bold Type
Where to Watch: Freeform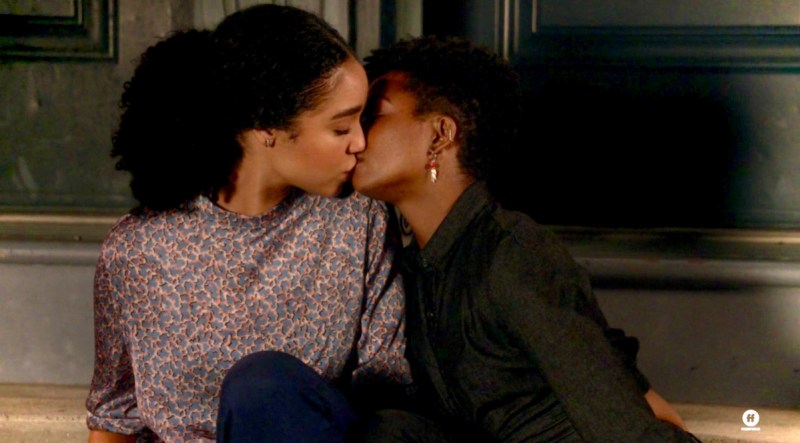 When The Bold Type returned for its third season, I was really worried about Kat Edison. She was going through a very rough break up with her first-ever girlfriend, Adena, and it was taking a toll on her. She was also having to figure out what it meant to be queer for the first time on her own two feet and without a partner beside her. In that process Kat discovered parts of herself that she never knew before (including political aspirations!), but most importantly she discovered new confidence in the parts of life that are messy and not Social Media perfect. That confidence became infectious for Tia, her campaign manager, who'd previously had a hard and isolating time dealing with her own queerness.
Tia looks at Kat like she is a ray of sun brought to earth. In Tia, Kat finds a grounding and patient presence instead of her go-to impulsiveness. They are in many ways opposites, but that makes them an even stronger team, together. Kat and Tia have conversations about negotiating the one-two punch of systematic racism and homophobia that I never would've believed The Bold Type could pull off – and they do it with relatability and grace. Also, excuse me but I just have to say this, when they have sex, it's really hot.    – Carmen
---
Kat Edison and Adena El-Amin, The Bold Type
Where to Watch: Freeform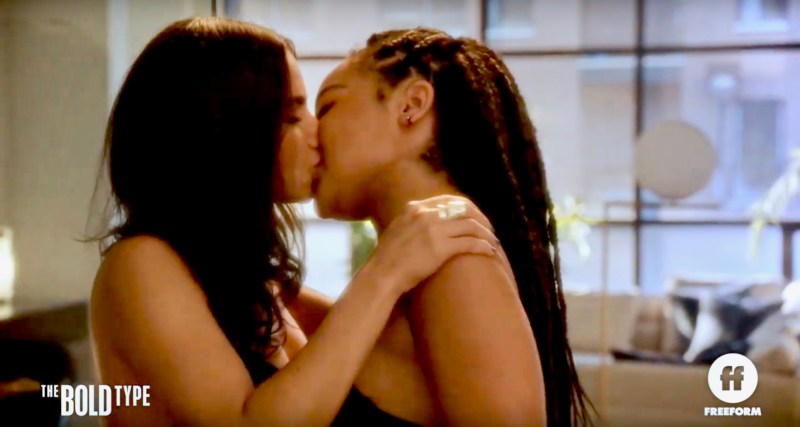 I have to tell the truth, when Kat and Adena broke up last summer – I was mad at Adena El-Amin. In fact, I was so mad that when Adena returned to New York at the end of The Bold Type's third season, I was not ready to forgive her. I was happy for Kat's new relationship with Tia, I enjoyed the woman Kat was growing up to become, and as far as I was concerned Adena had missed the boat. It was her loss. Oh man, how wrong I was.
One minute in the hallway at Scarlet in front of the elevators, and Kat knows it right away. She tries to hold it together. She wills herself not to cry. But the second she's alone with her friends, she can't hold it in any longer. She still loves Adena and it hasn't gone away. Adena's learned more about herself in their time apart as well. She realizes now that she was blaming Kat for her own insecurities. Ultimately they don't quite stay together this time either, but The Bold Type has sold me on this: Kadena is in it for the long haul, and that is one slow burn I cannot wait to watch unfold.   – Carmen
---
Arlene Branch and Annalisa "Quiet Ann" Zayas, Claws
Where to Watch: TNT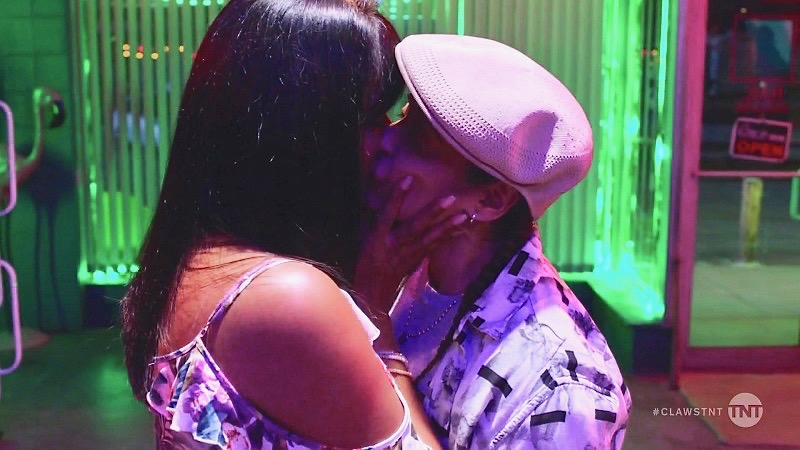 During the first season of Claws, Arlene Branch steps out of her unmarked police cruiser and spots Ann Zayas setting up her perch outside the nail salon. She saunters over, in her leather jacket and aviators, and flirts by way of historic trivia. It's a rarity for Ann to be seen — everyone around her is so ostentatious, it's easy for them to eclipse her light — but Arlene really sees her and, I think, Ann starts to fall in love with her right at that moment.
Somewhere between having her baby snatched from her teenage arms and her time in prison, Ann had stopped believing that love was possible but when Arlene offers it, she holds on for dear life, even when she shouldn't. Dating a cop when you and your friends are laundering money for a pill mill is probably not the best idea but the heart wants what the heart wants. They plan a life together, they plan a family together and then it all falls apart. They betray each other — Ann first, then Arlene — but their attraction is undeniable and they find their way back to each other.
This season on Claws, Arlene and Ann built the family that they always wanted. They marry quietly, in a small courthouse ceremony, they listen to the heartbeat of their unborn child and then, perhaps in the greatest display of love there is, Arlene sacrifices her career life to keep their family safe. – Natalie
---
Delle Seyah Kendry and Aneela, Killjoys
Where to Watch: SyFy
Delle Seyah Kendry, played by Mayko Nguyen, made her mark the moment she appeared on screen, with her snarky attitude and sultry glares, and of course our love for her was only helped by her tendency to relentlessly flirt with Dutch (Hannah John-Kamen). Of course, this set shipper hearts ablaze, even though Dutch had eyes for someone else. But, in a move not unlike Jane the Virgin's, it seemed the Powers that Be heard the pleas for a Delle Seyah/Dutch team-up and gave Kendry the next best thing: Aneela. Also played by Hannah John-Kamen, Aneela is identical in looks to Dutch, though she's different in just about every other way.
Race isn't really discussed in this life-or-death space race of a universe (well, alien races are I guess…), so it doesn't really matter to them, but it's pretty cool for us that this dream team is comprised of two women of color. Both complex and ruthless, Aneela and Kendry were dubbed the Green Queens and could be seen as villains if you weren't paying enough attention, but upon a closer look, you can tell their love for each other is true and their intentions are good, even when their methods leave something to be desired, or when their past comes back to haunt them. In this final season, Aneela and Delle Seyah have a child (a child that is a few weeks old but also a teenager, because sci-fi) and have a few more adventures to go on together before this final season comes to a close in a few weeks. – Valerie
---
Nova Bordelon and Chantal Williams, Queen Sugar
Where to Watch: OWN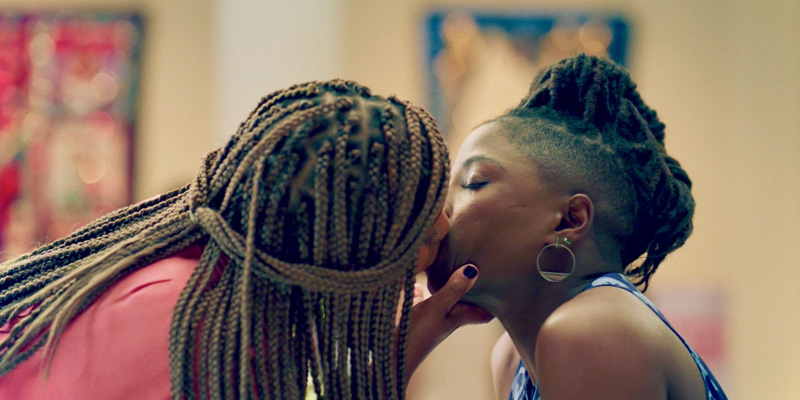 When Queen Sugar announced that they were finally going to give Nova Bordelon another woman love interest, I was fully prepared for Octavia Laurent (more on her below). Not in a million years did I think we would see the return of Chantal, her girlfriend from the beginning of the series.
Anytime Chantal and Nova kiss, my heart lights on fire like clockwork. I will always love them. The thing about Chantal Williams is that she is one of the few people in Nova's life who does not fall for her bullshit. She knows her worth, and whether it's about community politics or matters of the heart – she is always willing to point out the ways Nova can grow to get on her level. I want Nova to be the best possible version of herself, and Chantal wants that too. She wants a relationship she can grow in, which I think is the whole point of relationships at all. But until Nova is ready to make those choices on her own, I fear they will continue to be ships passing in the night. As long as that means we still get to drop in on Chantal every once and a while… well, I'm learning to be OK with that.   – Carmen
---
Nova Bordelon and Octavia Laurent, Queen Sugar
Where to Watch: OWN
There's everything wrong with Octavia Laurent's past affair with her then-student, Nova Bordelon, or her current affair with the graduate student who looks like Nova's doppelganger. Professors who sleep with students are unfairly taking advantage of uneven power dynamics. It's wrong, it's wrong, it's wrong. But, still…there's something tantalizing about how easily Nova and Octavia slide back into the romance that they once shared.
It begins, as I imagine it used to when Nova was a student, with an intellectual sparing match, but once they're alone, emotions come to the fore. Like her family, Octavia's hurt by her portrayal — or lack thereof — in Nova's book, but unlike Nova's family, Octavia offers her former student a way to make amends… on her lips, in her arms, between her sheets. This will end badly, we know it from the moment they debate who made the other scream louder, but for the moment, it gives Nova hope: someone who loved her once, hurt by her writing, could love her again. – Natalie
---
Yolanda (Yoli) Renna and Marisa, Grand Hotel
Where to Watch: ABC
I started Grand Hotel on a lark. I don't know why, but I love cheesy soapy television in the summer. I think it's all the rosé. Anyway, I fell for this show right away, but there was something about Yoli. The ugly duckling to her twin sister's supposedly more "beautiful" swan, my heart broke for her. She was the afterthought in her own family! That's no way to live!
Then came Marisa, who saw Yoli in a way no one else in her life could. To Marisa, Yoli was the most beautiful woman in the room every time, even when she was mopping the floors. When her family lets her down, it's Marisa who is there to pick her up. It's Marisa who strokes her thumb against her cheek and reminds her that she's gorgeous, brave, and not deserving of life's scraps. It's Marisa who gives her the strength to come out to her family and finally forge a new relationship – as equals – with her sister.
And when Marisa needs Yoli most, because she's terrified of what it means to be undocumented in our country right now, Yoli doesn't think twice of being there for her, too. "We're family now," Yoli tells Marisa while she wipes away her tears. Sometimes there is romance (and trust me, this has a lot of romance), but sometimes there is an intimacy of shared community that can't be found anywhere else. Yoli and Marisa have found both.   – Carmen
---
Arthie Premkumar and Yolanda Rivas, GLOW
Where to Watch: Netflix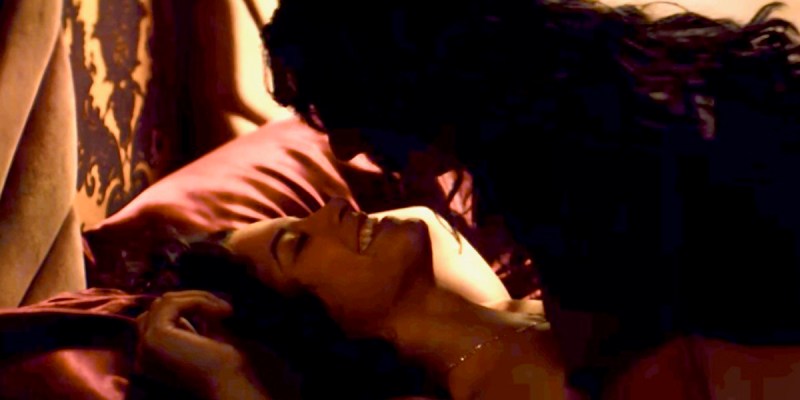 In Season Three, Arthie and Yolanda on Netflix's GLOW are in a full-on relationship, which has its ups and downs as the wrestling team settles into their new home in Vegas. Arthie is still figuring out her sexuality, and there are lots of adorable baby gay moments (some that will maybe make you cry a little bit!). But they also get some hot sex scenes, including one where they literally turn wrestling moves into foreplay!!!!!!! FINALLY this implicitly VERY gay show is explicitly gay. Sometimes these characters are a little too boxed-in, but their relationship and the drama within it is one of the season's ongoing subplots, and things end on a promising note for the lovebirds. – Kayla
---
Kelsey Phillips and Brooke Morgan, Dear White People
Where to Watch: Netflix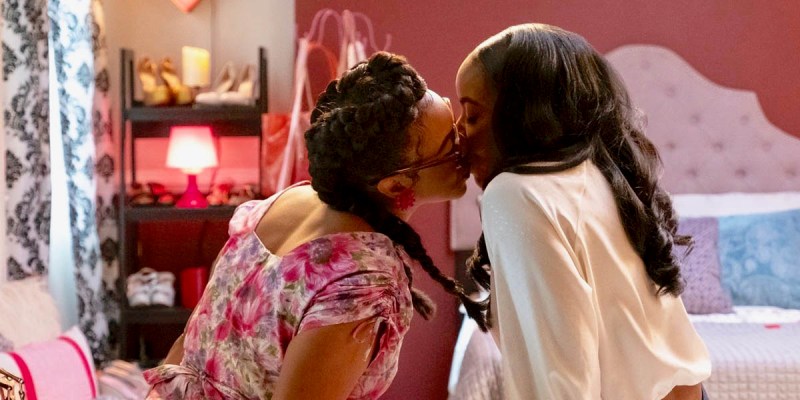 Ahh, the joy of young awkward nerds in love. Brooke and Kelsey have one thing in common – they both annoy everyone else in their friend group. Brooke, a journalism major at Dear White People's fictional Ivy League setting, chases career ambitions above everything else. It makes her kind of hard to get along with. Kelsey, also a student at the school, has been sheltered by her class privilege, so much so that people find it difficult to relate to her. Both of them are the kind of black girls you don't often get to see on TV – outsiders who have friends in their black peer group, but more often than not feel alone. That is, until they find each other.
Kelsey's slow courtship of Brooke is hands down the most swoon-worthy story I watched this summer. Wait! "Swoon-worthy" is wrong. These girls are far too awkward for that. What is the word for "made me shove my face into a pillow and scream out of delight and then draw little imaginary hearts around their cute little faces with my finger tips"? Dear White People may have a checkered past when it comes to black lesbian and queer representation, but finally in Season Three – they got something right.  – Carmen