Ahh, long-distance love. The kind we always swear is too much, too hard, too complicated, right up until we discover that profile is attached to a real, live, beautiful body, and a fascinating brain besides. Or maybe you met the person first, and fell in love just in time to go to college or start a new job far away. Regardless, distance changes the way you navigate a relationship. Every single bit of communication takes an extra step, a measure of intent to make you feel like you aren't so very far away. And when it comes to gift-giving, distance can serve as extra pressure to make your presents count.
Enter DIY bloggers. In the context of a long-distance relationship, homemade crafty gifts are just about perfect: personalized, made with care, sent to your partner's home so they have a real, concrete thing they can enjoy that is also a symbol of your love and affection. They're a way to take care of your person when you're not there to manage the details. And as a bonus, they're often very budget friendly! (I suggest using the difference to cover express shipping and/or festive bubble wrap.)
I've broken these ideas into categories, but feel free to mix and match. Before my girl and I shacked up, I used to spend the pre-holiday season scouring DIY blogs for crafts I could personalize to our relationship — inside jokes, personal milestones, her love of pugs, my love of babies. You get the idea. Now go forth and craft.
---
Things That Smell Nice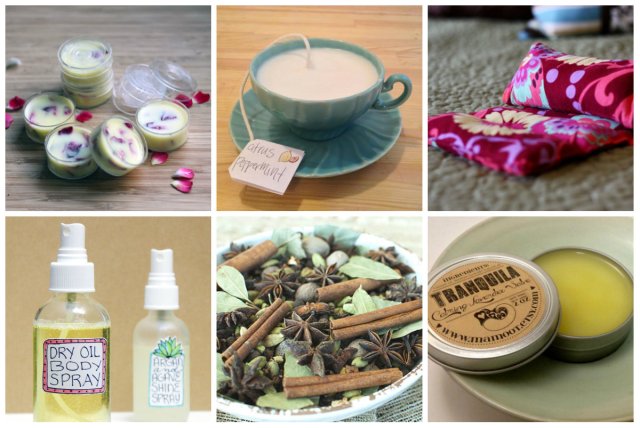 Clockwise from top left: Coconut rose lip balm, teacup candle, lavender scented heating pad, scented body oil spray, essential oil potpourri, lavender salve,
This is super gross and cheesy, but when we lived apart I used to send my girlfriend scented things that I also owned so that whenever I was lonely, I could take mine out and feel a little closer to her. I actually made some less-pretty versions of the scented heating pads and put them inside mini pillows I sewed for us to help ease the transition back to sleeping alone after visits. Now that we're in the same place all the time, the matching pillows live on our bed! It's about as adorable as you're imagining. Here are some other pleasantly perfumed things you can make at home to send to your love.
---
Things They Can Eat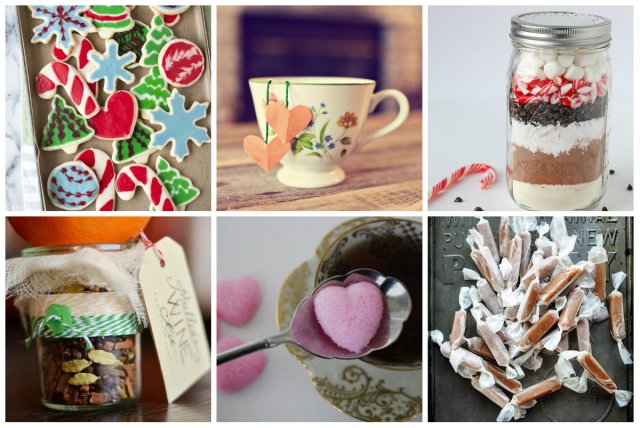 Clockwise from top left:  Simple iced sugar cookies, tea bags and tags, hot chocolate mix in a jar, mulled wine kit, heart-shaped sugar cubes, soft caramel candies
Maybe you can't cook your person dinner or take them out for drinks, but you can make sure they have the tools to produce a tasty snack whenever they want. Pretty much any baked good can be put into mix form and mailed in a jar, but so can things like hot chocolate and mulled wine. If your person is a tea drinker or has a sweet tooth, you're especially in luck, as candies and dry tea mail exceptionally well. But don't limit yourself — if it doesn't involve raw meat or fresh produce, you can probably find a way to package it up!
---
Things for Their Space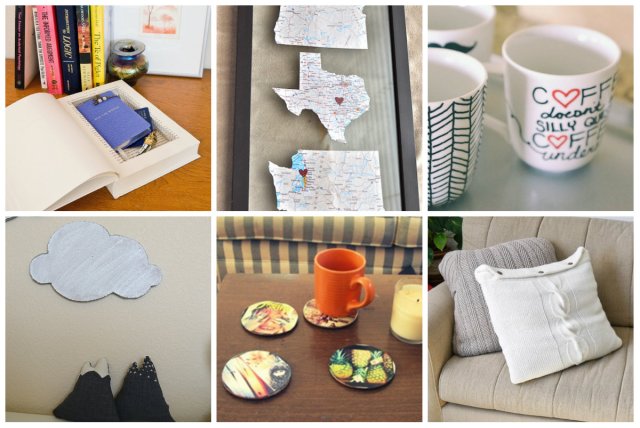 Clockwise from top left: secret book safe, cutout map pictures, decorated mug, mountain pillow, photo coasters, no-sew sweater pillow
Sometimes it's just nice to look around a room and see reminders of your loved ones. Give your sweetie that comfort by making things they can use during the day or just to decorate their space. Things like sweater pillows can be personalized with your own clothes, so they have something to hug when you're not there. A secret book safe is a good place for them to store the love letters and the kinds of photos you probably don't want to turn into coasters.
---
Things for the Bath
Clockwise from top left: Bath bomb, body butter bar, honey vanilla bubble bath, coffee body scrub, lime mint foot soak, solid perfume lotion bar
There's little as comforting as a warm bath, but you don't need to fill up the tub to help your partner get that calming, soothing feeling. Send them a scrub or a homemade bath bomb, or create a solid perfume or massage bar so they can cover themselves in their favorite scents. Mmmmmm.
---
Things to Use Together
Clockwise from top left: date jar, "open when" letters, puzzle piece necklaces, recipe book, pom-pom and tassel bookmarks, "I love you" pillow cases
At the end of the day, what you really want is to spend time with your person, right? Gifts like date jars (filled with things like "Skype date" and "order the same pizza") and personalized journals you can mail back and forth help you interact and take your mind off the distance. So fill a custom cookbook with your favorite recipes, which you make while you talk over Skype. Craft an adorable bookmark that you send with a copy of that novel you've been meaning to read together. Write them a series of letters, individually sealed, that they can open on any occasion. These are the really cutesy things, the ones you probably won't tell your friends about for fear of being teased. But for you and your partner, they may just be the most rewarding.