Back at the Mountain…
Kip Reinsmith, Video Editor Alum & A-Camp Barber (3rd A-Camp): The day/night before camp Rory and I had a slumber party and road trip! I don't know if I've ever met someone so energetic after like 17  hours on a plane / in an airport. Also, his airline lost his luggage.
Rory Midhani, Illustrator and Rodeo Disco Counselor (2nd A-Camp): Most of Thurs morning was spent with Kip phoning airlines pretending to be me and tryin to track down my missing luggage because I'm a big baby and hate talking on the phone but Kip has really cool skills and he managed to get past the phone robots and talk to real people. COOL. Kip gave me clean pajamas and stuff but I was really missing my crab on a chain and I guess Kip could see that was important to me so he put in extra effort. He so cool.
Kip: Rory seemed pretty unfazed, was solely concerned with his crab/necklace understandably. Since we were driving up ourselves, we had some time in the AM to chill. And that mostly meant Rory lounging while I fretted for longer than I would like to admit about what to wear at camp.
Riese: As I'd hoped and dreamed, we were the first to arrive on the mountain, and upon arrival I immediately did the thing I've immediately done at every camp since 2.0: changed the awful Alpine Meadow sheets on our bed into my own wonderful sheets I'd brought from home. Then Kip and Rory showed up which was marvelous!
Kip: We rolled up a little early cuz I'm not a fan of driving up that mountain in the dark. Staff buses still hadn't arrived from LAX and it was pretty chill.
Rory: We played fussball on a raggedly ol table and he kept winning and I think he was probably cheating because he is a sneaky fox.
Bren Christolear, Editorial Assistant and Fried Green Tomatoes Counselor (5th A-Camp): My feelings on arriving at Alpine Meadows this time were 1) Mac and 2) Arrow. Not necessarily in that order. I thought I was prepared for camp, that I had thought of everything. And then Robin and Carly pull up in a U-haul packed with things and I realized, I'm not prepared. Not even a little bit.
Robin: It's always weird to get to camp before everyone. Its very peaceful, but a little lonely without all of your energy and excitement.
Marni: Driving up that mountain, it was hard to believe it had already been a whole year since last time – when I see those trees it always feels like we only just left. It feels like home now.
---
Back at the Airport….
Morgan McCormick, Contributor and Sea Otters Counselor (2nd A-Camp): I land in LAX and immediately get a call from an understandably weary Carmen who's like "everyone is here but you we want to leave please find us" and I was like oh no, I'm letting everyone down already!
Gabby: I love when Carmen's in charge of something because you know she's gonna make sure everything goes perfect but there's also this little tiny bit of worry that makes it all exciting.
Morgan: I get to Terminal 6 and people legit stand in line to hug me fiercely until Stef, my heart, plows through said line in a low tackle that I assume wouldn't be out of place in football if I understood sports at all. It was nice to be home.
Gabby: Will Carmen just hijack a bus and take us all to In N Out burger and then to Canada so that we can pick up her boo thing instead? Like what is really gonna happen??? Then we end up in a shuttle up the mountain, cracking jokes, and photographing villages made of pebbles until the end of time.
Trent: I wiped my tears and thought happy thoughts because I didn't want anyone asking, "Are you okay? Have you been crying?", although I wasn't okay and I had been crying. By the time I got back, our shuttle was on it's way, so there was no time for sitting still and getting sad again.
Stef: The gathering of the staff and subsequent Trader Joe's booze run is a time-honoured tradition that becomes more magical with each passing camp.
Lizz Rubin, Fashion Editor Alum & Witchblades Counselor (5th A-Camp): Because of med school and other such nonsense I had to drive up to camp after everyone else in a rental car on Friday. The fact that I missed going to Trader Joes alongside my people is a small tragedy.
---
At Last The Magic Bus Begins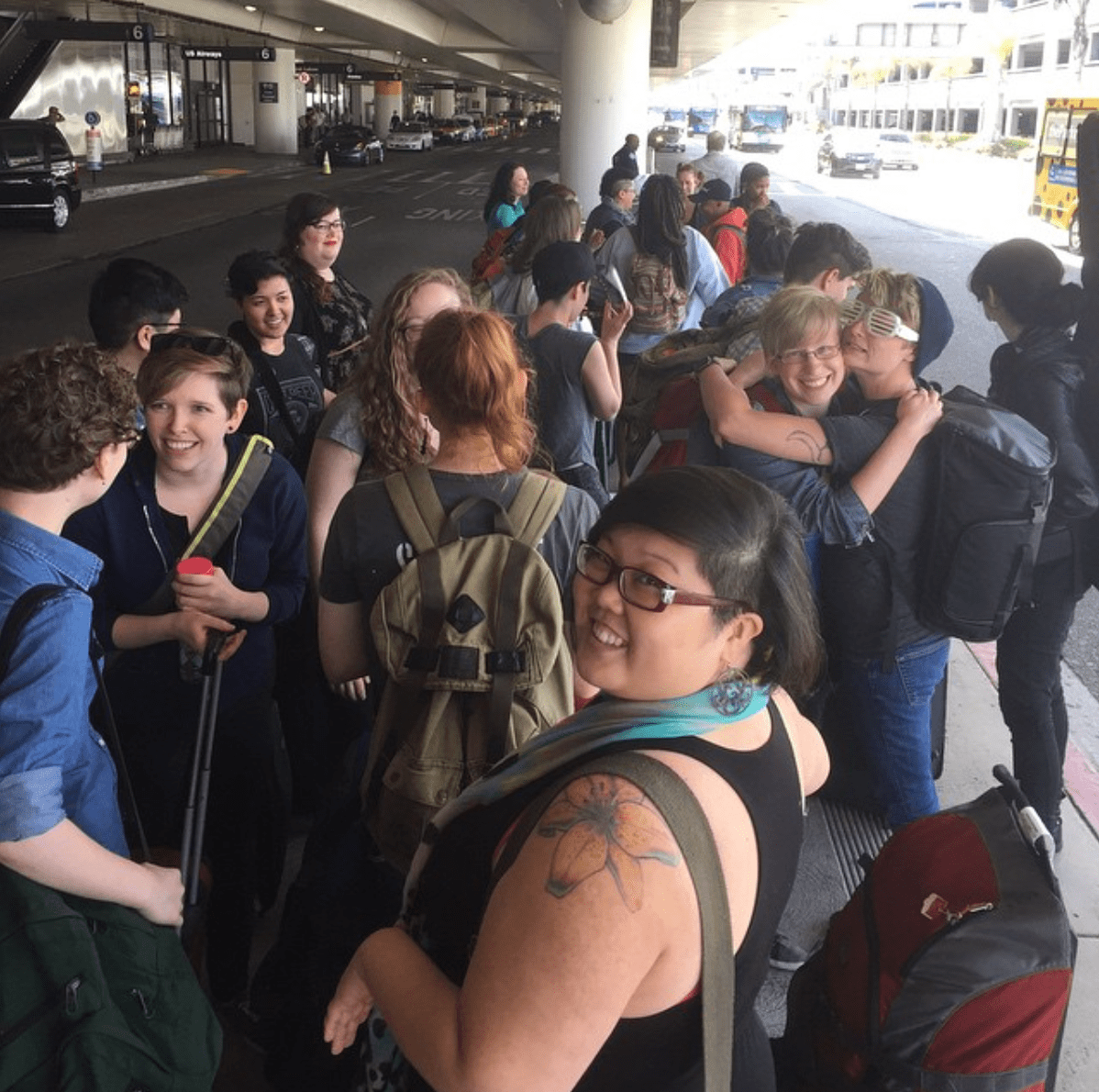 Trent: I debated on whether or not I should try to sit wherever Kai, Kaylah and Carolyn would be sitting because this was apparently the extent of the Cool Black Girls Club on the bus. I'm a Cool Black Girl, so duh. The Cool Black Girls club is like an unspoken rule/bond between cool black girls who are familiar to situations in which they are surrounded by white people… we generally stick together and we have to be cool because, well, it's just who we are. I chose to just sit wherever I felt and it turned out, Kai and Kaylah sat right behind me and Carolyn, right across from me — see, it's like the law of attraction of The Cool Black Girls Club.
Carolyn W: I was already having all the feels because I lived in Los Angeles until 2013 and I miss it so much. The shuttle ride lightweight became The Carolyn Tour. I should NOT have sat next to Gabby and Kaylah because they have no sense, I wish I could recall all the jokes that were made.
Kai:  At one point Kaylah and Carolyn ganged up on me to test my musical knowledge. (Don't worry, aced it.) I then had 90s R&B songs stuck in my head for the rest of camp.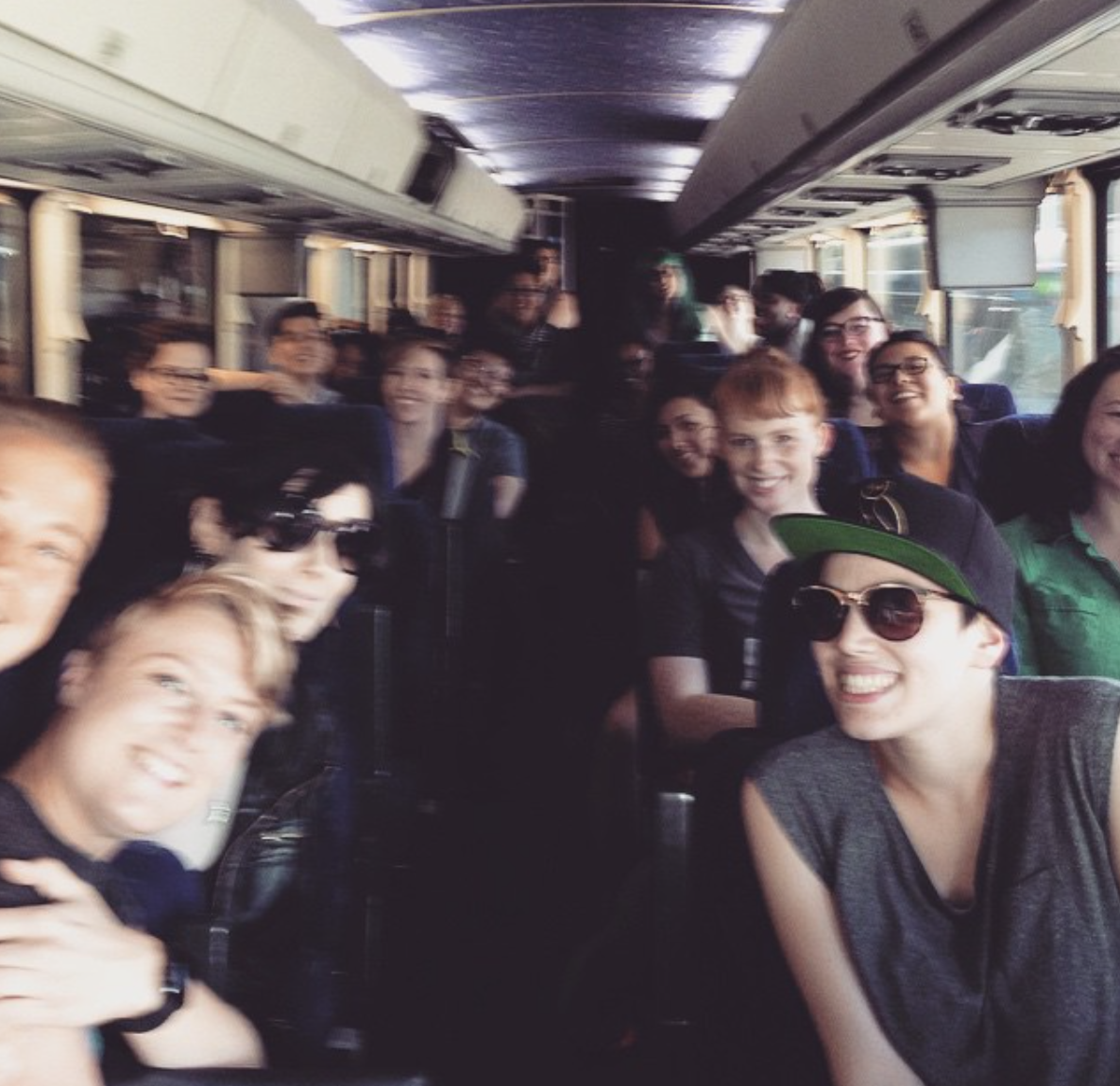 Trent: First we were on our way to stand-still, LA traffic, but once we got through that, we were on our way up to the mountain! I mostly listened to music and enjoyed the scenery. The sadness hadn't gone away. As a matter of fact, I had to hold back tears even while we were on the bus. I just couldn't seem to pull myself together, no matter how much I tried to focus on the present!
Elicia: On the trip up the mountain, I realized I have waaaay too many Michael Bolton songs on my iPod. J/K. NOT ENOUGH.
Rachel: I sat near Heather and KaeLyn, both first-time camp staff. I did my best to warn them about how they probably wouldn't be able to fix EVERY emotion their campers felt and also that any bags of potato chips they bought would inflate aggressively because of the altitude. Were my warnings heeded? Only time would tell.
Carolyn W: We made it to our pitstop at VON's and here is the thing: lots of staff are from out of town. But I'm a Cali boi and I'm a professional grocery shopper so I spend lots of time in Safeway (which owns and is identical to VON's) so I had two objectives: #1 Camp provisions!! Got that. #2: Von's has the best fried chicken!! So I went to get some chicken. The deli guy hooks me up because I'm cute (sorry sir.)
Elicia: For some reason I bought hot soup at the grocery store and only TWO bottles of wine and TWO packs of cigarettes like some sort of novice to the life I know I lead!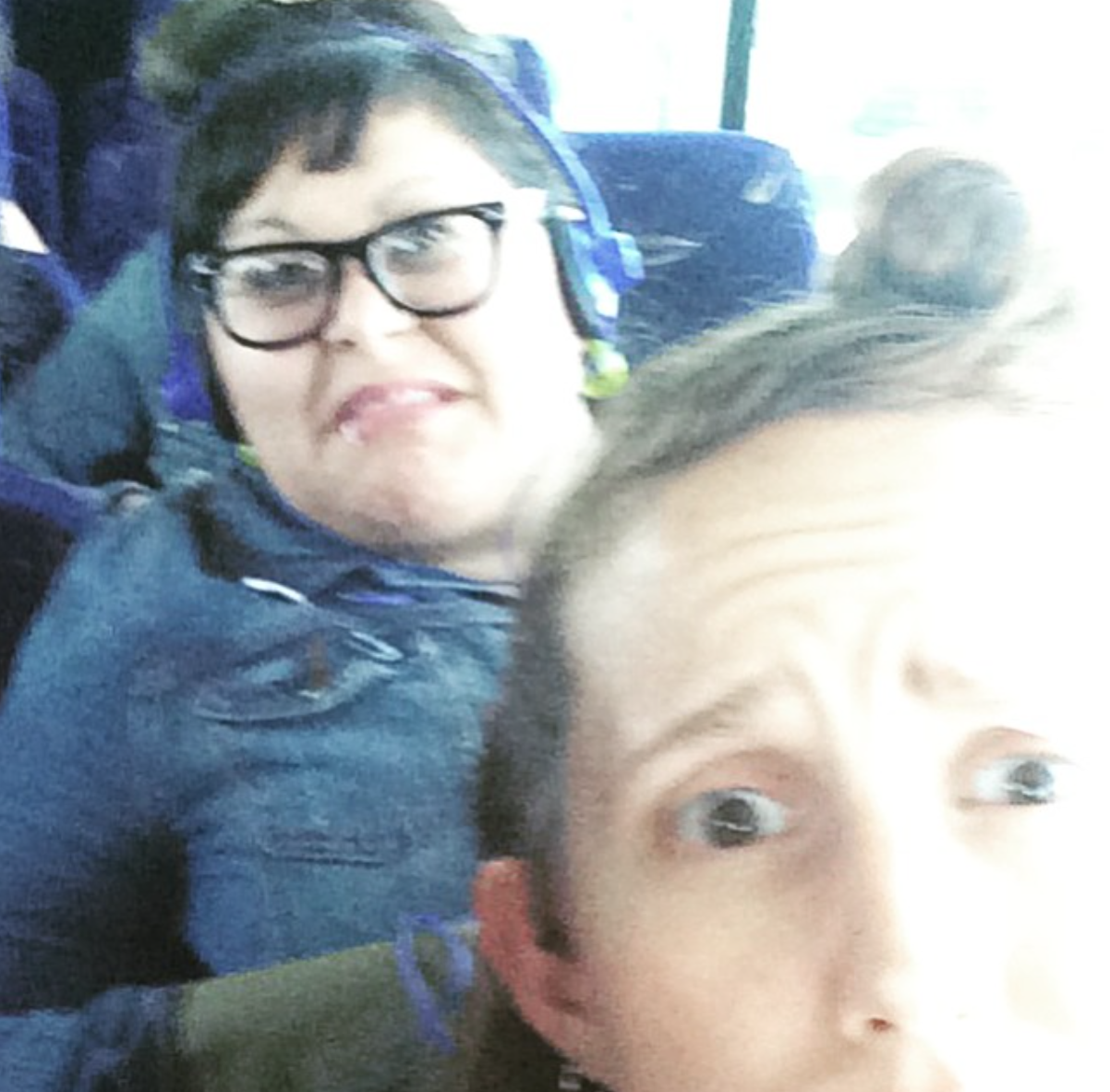 Kai: Carmen passed out some vegan-type Oreos that no one wanted because they looked strange and tasted horrible. Confession: I bit one and then put it back in the box. What's done is done, amirite?
Carolyn W: Yes everyone was jealous of my fried chicken. Just don't touch it though.
Cee Webster, Tech Director and Fried Green Tomatoes Counselor (6th A-Camp): At Trader Joe's Taylor had the genius idea of going across the street to Chipotle. So we quickly bought our provisions at TJs and ran over. We got to the front of the line and ordered two burritos and two margaritas to go. The lady behind the counter said, "oh we can't do to-go margaritas, state law, and if you're drinking you need to have your food for here." So Taylor says, "ok, two for-here burritos and two margaritas." When our order was up Tay asks for two water cups with lids, and the lady says "You really can't take these to go!". Tay says "sure" and then we turn the corner, pour the margaritas into the water cups and run out the door onto the waiting bus. Success!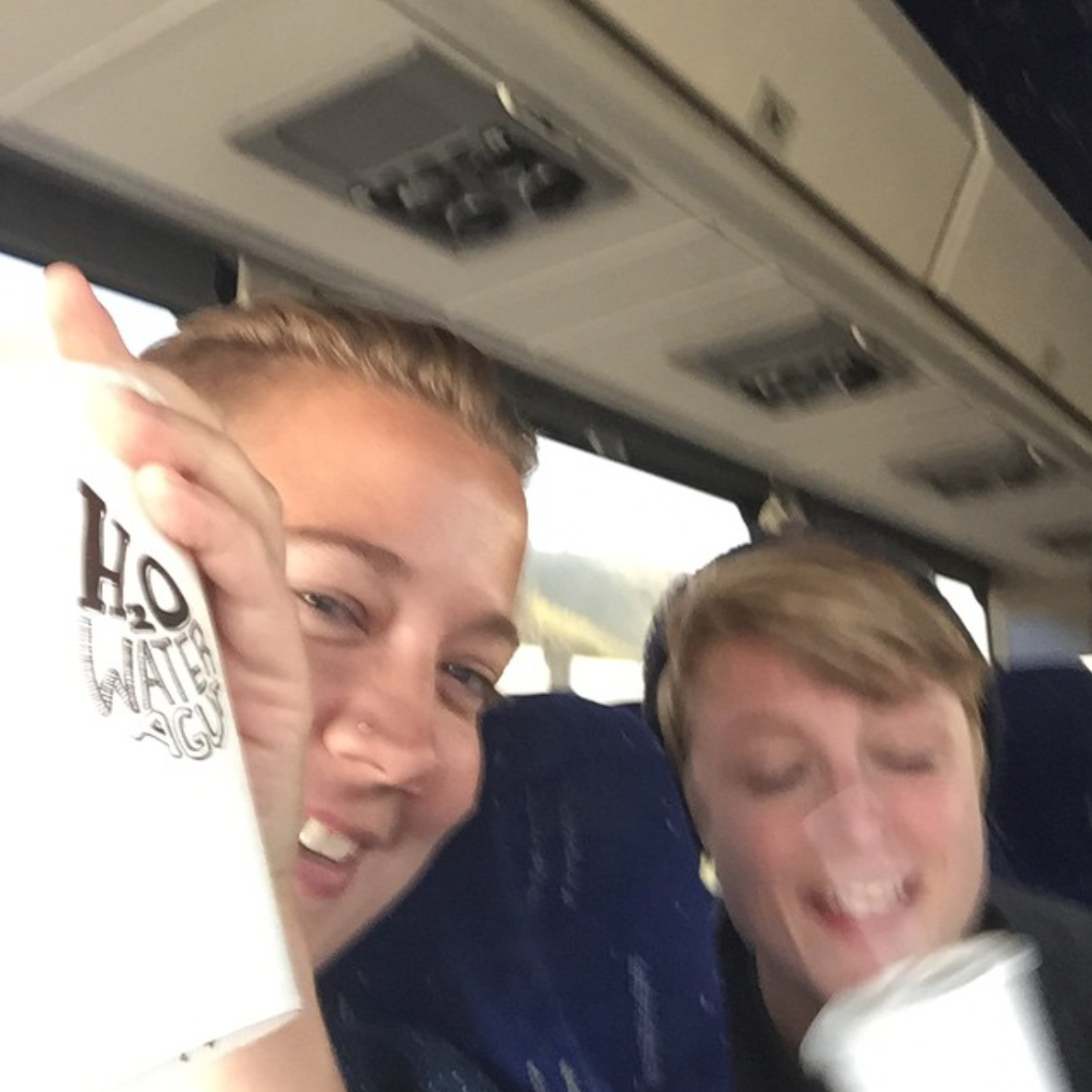 Stef: Taylor and Cee let me join in on their travel margaritas. I arrived at Alpine Meadows feeling like the Anna Nicole Smith of Angelus Oaks.
Morgan: It reminded me of when Alex and Mary and I rolled into camp 2.0 late the first night and Robin adorned in a headlamp rushed through the darkness and hug attacked me similarly.
---
TEAM LATE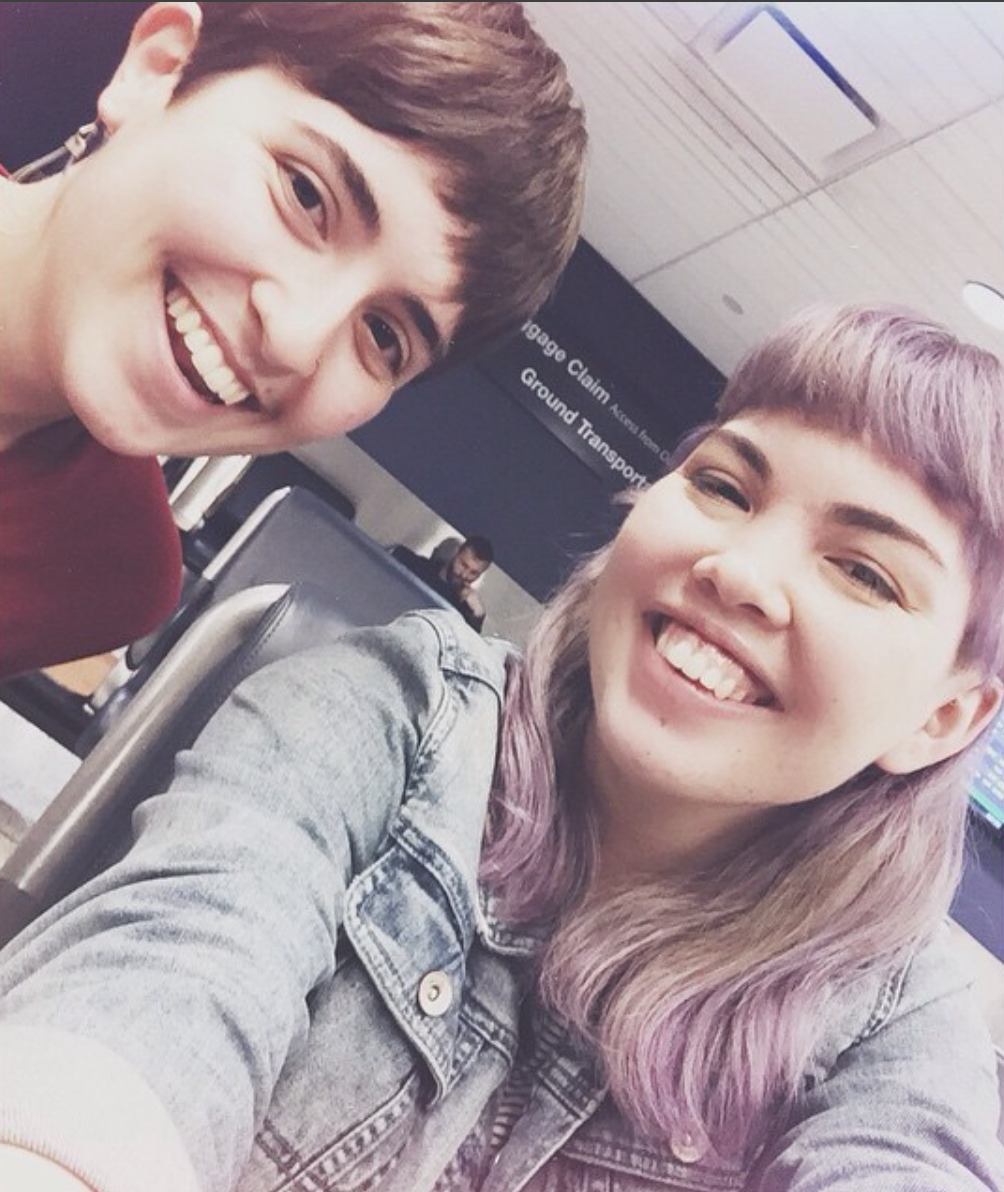 Cecelia White, Intern and Witchblades Counselor (1st A-Camp): Here are some things that happened to me before camp, in order: Houston flooded, my house flooded, my car floated away, my phone died a watery death, and then I missed my flight to camp. I'm pretty sure Abby was woken up that morning to me being like "lol oops can I just climb the mountain to get there?"
Maddie Taterka, Staff Writer and Firebirds Counselor (1st A-Camp): My flight got delayed out of Philly and by the time I got to Houston it was clear I'd miss the shuttle, but there was A NEW PLAN.
Cecelia: Riese and Abby worked amazing, benevolent magic and Chelsey generously offered to give me and Maddie (#teamlate) a ride up the mountain in her car.
Maddie: Once I got to LAX, I found Cecelia in 6, we took a #teamlate selfie, and before we knew it, we were on our way.
Cecelia: We answered the questions for girls riding together in cars, as written by Heather Hogan, and I learned that Maddie LOVES trains and Chelsey loves ants.
Maddie: We went to Target, because in California you can buy BOOZE in TARGET, and then we went to In-N-Out and then we drove up the mountain in the dark. Chelsey was totally nervous about it, but she is a really great driver and did an excellent job.
Cecelia: It was a triumphant feat.
---
Back On The Mountain…
KaeLyn: As we dragged our bags and selves towards Wolf and I saw Riese and Laneia for the first time in human flesh, I felt overwhelmed and grateful and like just so OMG IT IS ALL HAPPENING. I could relate a lot to the first time campers on their first day. It's a lot to take in: the gorgeous scenery, the chokingly high altitude, the beautiful queers everywhere, the confusion about where you are supposed to be going.
Elicia: There was a lot of hellos and hugging and fun catch up conversations.
Laneia O'Jonesy, Executive Editor and Runaways Counselor (6th A-Camp): I need to be honest here and say that I don't remember when I got up the mountain or how. I know it depended mightily on Megan and her very reliable driving skills, and I remember being very excited to meet all these new people and see all my queer family and frands!
Riese: The shuttle bus arrival is a big smear of hugs, varying in levels of familiarity: the nearest/dearest, the "I've never met you in real life before," and, "hey I saw you a week ago."
Kip: So good to see all the people I hadn't seen in awhile! Laneia, Riese, Rachel, Cee, and so on. Everyone was pretty low energy, cuz we were saving it. Calm before the storm, fo sho.
Cecelia: Meeting everyone was like feeling every feeling all at once.
Sarah Hansen, DIY/Food Editor Alum, Fun Home Counselor (5th A-Camp): When I get to A-Camp, I am wrapped up in the idea that I have never left the mountain whenever I am on the mountain. I cannot imagine life off the mountain. Everything/everyone is shockingly familiar and comfortable and I have never slept in a bed other than a squeaky bunk with a view of Mey, I am positive about it.
Heather: I wandered around looking for my cabin helplessly by myself for a stupid amount of time, and then Stef came over and was like, "Come on, you're in the senior editors cabin," and she took me to the door of it and they had saved me a bottom bunk for some reason. (The reason is they're angels.)
Mey: I had such amazing people in my staff cabin, they immediately made me feel like I was at home again.
Kai: My thought process in picking a bed was: "Do I want a top bunk? Yea, it's very campy. Let me just climb u- LOL, jokes. Top bunks are for small and nimble people." Gigler took that bed, obviously.  Plus there was Cameron who was my #1 camper at A-Camp 4.0 (Go Wildcats!), now sleeping in the staff bunk next to me. That never stopped blowing my mind. It was like Rugrats, All Grown Up IRL.
Carmen: We reunited the #SlutShack cabin from last camp almost immediately, moving me into a huge staff cabin near Wolf. Emily, Kaylah, Kai, Rory, and Cameron and I were on one end of the massive housing unit, and all was right with the world.
Trent: I was nervous because I am very particular about living, bathing and pooping situations, and I didn't know what this cabin-life was going to be about. When we opened the door to the cabin, I was relieved — I could work with this.
Carolyn W.: Because Maddie had travel delays, it was great to have Vivian to help get our goodie bags squared away. I spent the rest of the night hanging out with my new team. I was happy I would get to know them off facebook before the campers came.
Stef: The thing about having this many friends in one place is that my brain can't actually process it – I could only remember how lucky I was to be surrounded by about twenty people I love with my whole heart at any given time. I constantly found myself walking into a room and being bowled over by how delighted I was to see Laura Wooley or Morgan McCormick or some other friend I adore beyond belief. It wasn't terrible.
Maddie: When we finally walked into Wolf at 11 it easily could have been a dream: I was on a mountain, and it was really late at night, and I walked into a lodge, and all my co workers who I've never seen together in one place were there! But it wasn't a dream! It was Real Life! Everyone hugged us a bunch of times, especially my amazing co-captain Carolyn W, and our amazing "junior staff" AKA Nurse Viv, both of whom I was meeting for the very first time. Then I went to bed.
Gabby: For the first time ever, instead of partying all night long at pre-camp, I took my wheezy sleepy ass to bed right after dinner.
Carmen: I can't believe everyone went to sleep! Who the fuck does that? A bunch of us were smoking in the circle and Cee offered me one of her beers and then, what do you know, suddenly we realize nobody else is awake. The #SlutShack crew spent about another hour awake in our cabin wishing we were getting crunk and also laughing simultaneously for no reason and being unable to fall asleep like little girls at sleepovers. It was amazing. Like, I was home, y'all.
Gigler: A moth bopped Carmen in her face while she lay peacefully sexting Geneva and she wailed like a banshee and I levitated about three feet in the air off the top bunk next to her. Camp.
---
Before you go!
It takes funding to keep this publication by and for queer women and trans people of all genders running every day. We will never put our site behind a paywall because we know how important it is to keep Autostraddle free. But that means we rely on the support of our A+ Members.
Still, 99.9% of our readers are not members.
A+ membership starts at just $4/month.
If you're able to, will you join A+ and keep Autostraddle here and working for everyone?
Join A+
Pages: 1 2 3 4 5See entire article on one page