This week 2 Broke Girls introduced a love interest for Max. "And the Disappearing Bed" leads me to believe that Johnny will be popping up a few more times this season. This should excite me since Nick Zano was in one of my favorite shows as a teen, What I Like About You (I've always had impeccable taste). But then the celery scene happened and I'm kind of over it.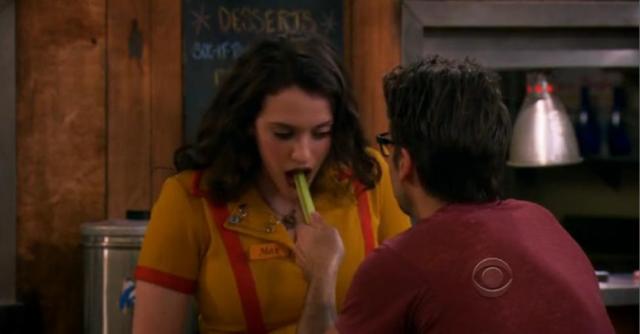 The "young people please relate to this show" joke
Caroline: Max, come in, sit down. There's something we have to talk about.
Max: This can't be about my drinking. I don't have the money to be a real alcoholic.
The dark joke
Max: Somebody date raped me and I didn't think I'd live through it but I did and now I'm stronger and, uh, still needy.

The edgy joke
Max: And the cupcake on the card has a cherry on it. My cupcakes don't have a cherry. Haven't since I was thirteen.
The non-PC joke
Caroline: Unless you're willing to switch the bedroom every other week.
Max: No, that sounds Mormon.
The "is that racist joke?"
Caroline: All you have to do is dream it.
Max: All you have to do is do it. And for you to build a Murphy bed it'll take a miracle. So unless you have Jesus or Jesus (spanish accent) on that board, not gonna happen.
The vagina joke
Max: That's the kind of pounding that's supposed to happen after you're in the bed.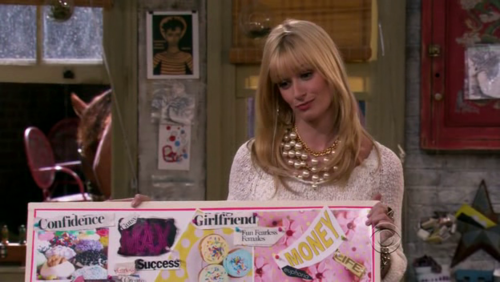 The joke that leads to a lot of questions
Max: You start with a thin white board.
Caroline: You're thin, white and I'm bored.
Wasn't the vision board on another show? Why isn't this show that show? Is that girlfriend on her vision board? Is that purple word next to girlfriend Max? Does the Art Department ship Caroline and Max?
I could ask you what you thought about the episode but I think the more pressing question is, if Kat Dennings' boobs had a spinoff, what would it be called?