85 countries signed a statement by the United Nations Human Rights Council to support gay rights on March 22.
By signing the statement, nations "call on States to take steps to end acts of violence, criminal sanctions and related human rights violations committed against individuals because of their sexual orientation or gender identity, encourage Special Procedures, treaty bodies and other stakeholders to continue to integrate these issues within their relevant mandates, and urge the Council to address these important human rights issues." While the statement acknowledges that there has been some progress recently in human rights w/r/t sexual orientation and gender identity, it also acknowledges that there's a lot left to do.
Earlier this month, Obama called for international support in fighting discrimination:
"Human rights are the inalienable right of every person, no matter who they are or who they love. The U.S. government is firmly committed to supporting the right of lesbian, gay, bisexual and transgender individuals to lead productive and dignified lives, free from fear and violence."
And he (and the U.S., which is a member of the Human Rights Council and is trying to renew that membership despite concerns about its "biased and disproportionate focus on Israel") got it. From 85 countries. The U.S. ambassador Susan Rice called the statement "historic." In a joint release, Amnesty International, The International Gay and Lesbian Human Rights Commission, and the Human Rights Watch called it "unprecedented."
But predictably, not everyone supported defending gay rights.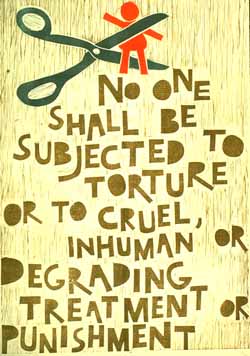 + Before signing the (non-binding) statement, the ambassador from South Africa proposed creating a new group to study "new concepts such as sexual orientation" before trying to integrate them into international policy. Groups such as Lawyers for Human Rights and the Gay and Lesbian Equality Project contested this, obviously. South Africa eventually signed along with everyone else.
+ The ambassador from Nigeria spoke against the statement, reportedly on behalf of the Africa Group, invoking heterosexuality, God, and saying that both men and women are needed to make babies. The Africa Group was previously behind a vote to remove sexual orientation from a resolution that protects against arbitrary execution. However, the ambassador still said that sexual orientation should not be criminalized. Nigeria did not sign the statement.
+ The ambassador from Pakistan, speaking on behalf of 57 nations in which Muslim people are a majority, argued against the statement and didn't sign.
+ The Russian ambassador reportedly said that "these people" do not deserve "special rights" and also didn't sign.
But! Countries such as Dominica, Honduras, Rwanda, Sierra Leone, and the Central African Republic did sign. Which is awesome, and makes it seem slightly more likely that the vision of a unified global stance against anti-gay violence can become a reality.