They say you haven't truly lived until you've made cheese plates with 35+ other queers in the out-of-doors in beautiful Ojai, California, and while I think that's a bold statement to make, it's also a little true.
Riese and I hosted a Boxed Rosé and Cheese Plate workshop at A-Camp X a couple of weeks ago and I'm still not over how TRULY ALIVE it made me feel! (Read 5 Boxed Rosés, Ranked by Bang-for-Your-Buck by a Bunch of Inebriated Queers for the full experience.) I'm really quite serious about cheese plates, in that I don't take them seriously at all and I think we should be living off of them about four times a week if possible. Perhaps you will recall my memoir, Let's Make Cheese Boards and Never Leave the House Again. I'll let that work speak for itself.
We provided all the cheese, fruits, spreads, crackers, and other accoutrement needed for cheese plating, and let the campers do with it what they would, to great results!
Here's what they had to choose from!
Cheeses
Chèvre
Extra Sharp Cheddar
Smoked Gruyère
Fresh Mozzarella
Brie
Fresh Fruits Etc
Strawberries
Apples
Cherry Tomatoes
Basil
Spreads
Deli Mustard
Raspberry Jam
Apricot Jam
Honey
Crackers and Salty Bits
Seeded Wheat Crackers
Flatbread Crackers
Gluten-Free Seeded Rice Crackers
Castelvetrano Olives
Roasted Almonds
Smoked Salmon
Bonus
Dark Chocolate
I gave some pairing suggestions, but campers were encouraged to follow their hearts and to never let anyone tell them how to make a cheese plate, as that is my mantra (that and "I can't reach this, please help me.").  Plates and utensils were compostable bamboo, by the way, which maybe means nothing to you but what if it did? You'd be pretty impressed right now.
Here Audrey has combined the raspberry jam with the chèvre, indicating that this isn't their first time at the cheese plate rodeo.
---
Torre's placement of almonds on the basil leaves shows an artistic flair that I respect.
---
The smoked gruyère is pointing to the chèvre, while the brie points to the chocolate. A beautiful puzzle.
---
Absolutely no punches were pulled here: mustard directly on the cheddar, raspberry jam atop brie, tomatoes skewered with authority alongside basil and mozzarella. Who needs crackers when you have this kind of vision?
---
Aca-scuse me. This perfect line of olives satisfies a part of my soul I wasn't aware even existed until this very moment.
---
The pile of crackers in the center lets you know this means business, and the business is Eat More Cheese Plates.
---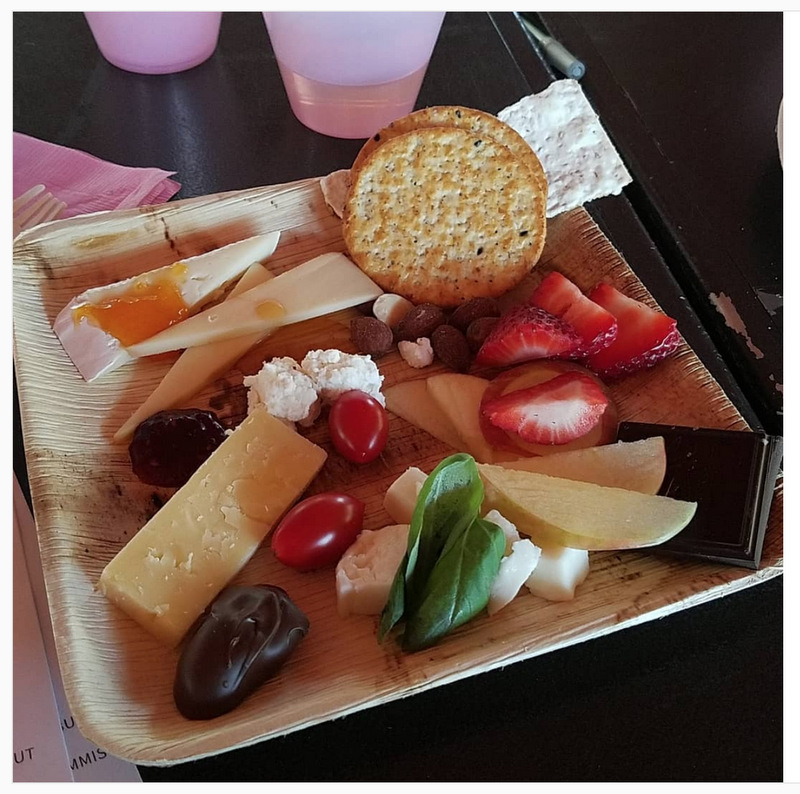 Rachel, whose Instagram is private and therefore you'll just have to take my word for it that her name is Rachel, has done some beautiful work with reds here, not to mention this expert fanning of the apple slices.
---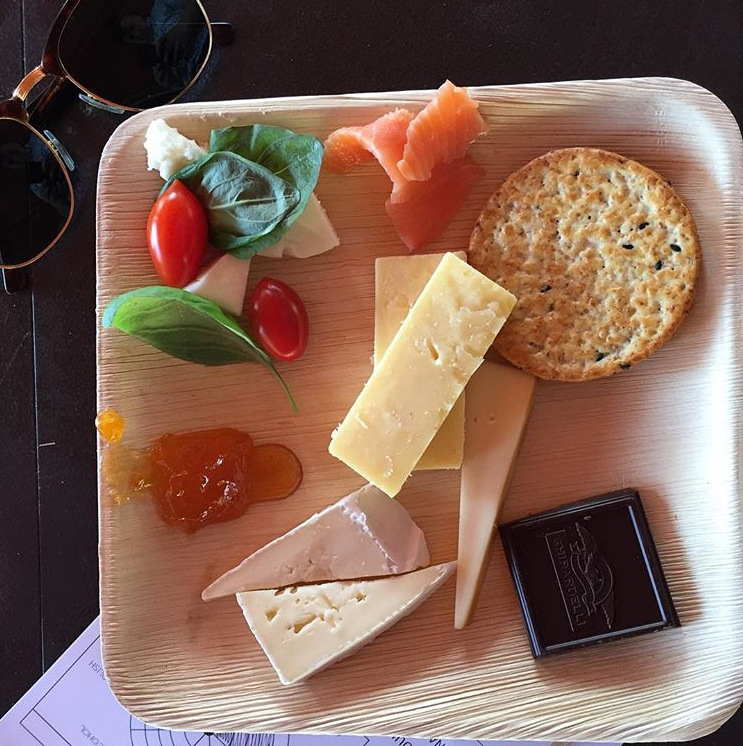 Nate, also with a private account, has kept this plate minimalistic but you can still feel the passion.
---
Tell me, what are your favorite cheese plate rules or feelings? Do you roll your own chèvre? Can I get your thoughts on pitted vs unpitted olives? Room temp brie vs warmed brie? Let me know.