Happy New Year and welcome to 2023, which promises to be yet another spectacular year for feminist and queer books. This winter is only the beginning! Highlights include: Cree author Jessica Johns's highly anticipated feminist Indigneous horror novel; a prequel to Samantha Shannon's The Priory of the Orange Tree; the North American release of UK author Alison Rumfitt's trans haunted house novel Tell Me I'm Worthless; a queer butch hijabi Muslim memoir by Lamya H; a new mystery series about a queer punk nun; a Chinese American graphic novel retelling of Carmilla; more than one YA about trans teen guys; a debut rom com by and about a bisexual Armenian American woman; and more!
---
January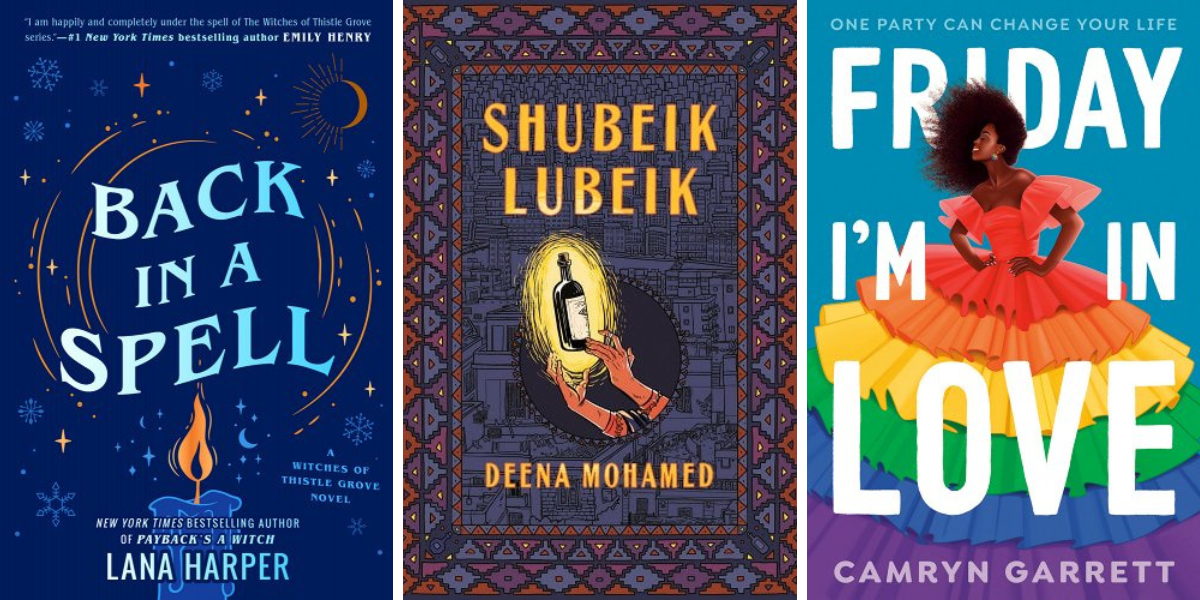 The third book in Harper's Witches of Thistle Grove series, this paranormal romance is a love story between a powerful queer witch named Nineve and a nonbinary magical newbie named Morty. Although these two have a spectacularly terrible first date, they end up drawn together anyway when Nineve's magic soars out of control and Morty unexpectedly develops powers of their own. Is it a coincidence or is something witchy telling Nineve and Morty they're meant to be?
Shubeik Lubeik by Deena Mohamed (January 10)
Originally published in Arabic in Mohamed's native Egypt, this graphic novel is available for the first time in English. The title translates to "your wish is my command," which exemplifies the alternative Cairo where wishes are actually granted like in fairy tales. The story follows three characters and their wishes, including a nonbinary college student, Nour, who wonders if they should use their wish to "fix" their depression.
In Garrett's latest contemporary YA novel, the protagonist Mahalia decides that while it's too late for her to have a sweet sixteen party, she might as well have a coming out party. Soon the idea of celebrating herself and her queerness has consumed her, and she's spending every minute she's not flirting with her crush saving money and preparing for the big bash. But when real life worries like her family's unpaid bills get in the way, she wonders if the party is going to happen after all.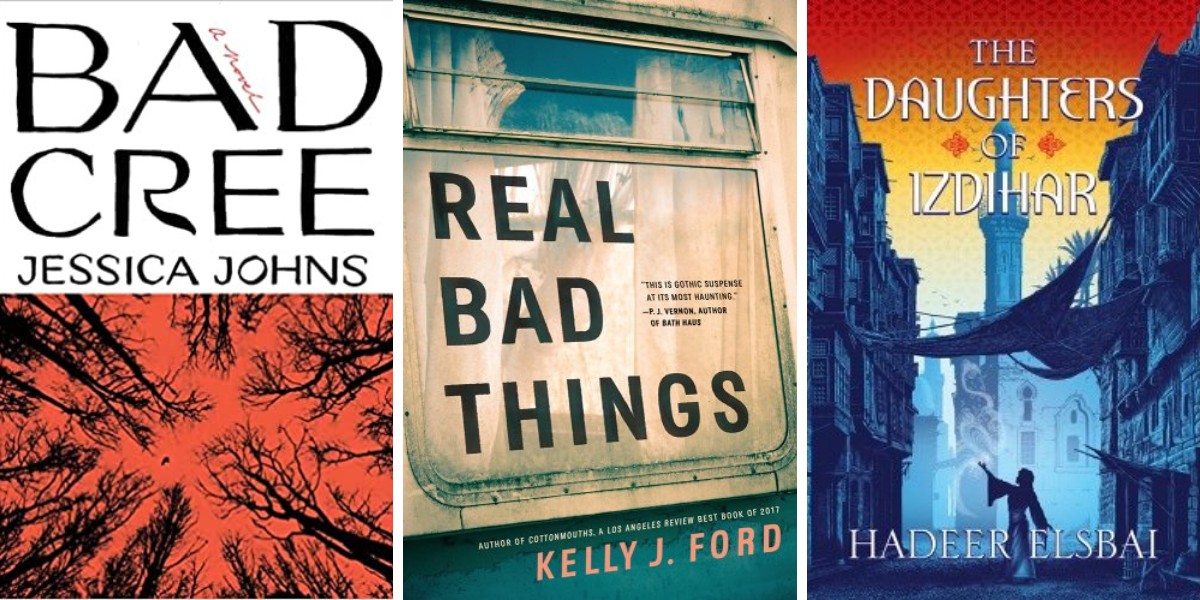 Bad Cree by Jessica Johns (January 10)
This feminist Indigenous horror novel follows the main character Mackenzie on a journey of self-discovery. In her nightmares, she keeps reliving memories linked to her sister Sabrina's early death; but when the horrors start to creep into her waking hours — like a murder of crows following her around the city — she travels north back to her home to try to find answers. Bad Cree also has secondary queer characters!
Hero Complex by Jesse J. Thomas (January 10)
Hero Complex is a hybrid science fiction superhero story and a romance, starring Bronte, a "mad scientist" who acquires superpowers. When she realizes someone is after her and her superpowered tech inventions, she joins a team of crime fighters and ends up accidentally kidnapping a nurse named Athena. Will Bronte and Athena fall in love and can they defeat Bronte's nemesis?
This debut fantasy novel set in a world inspired by modern Egyptian history is the first book in a planned duology. It focuses on two women from different spheres: Nehal is an aristocrat with waterweaving powers but no formal magical education and Giorgina is a bookseller and an earthweaver whose powers are dangerously strong.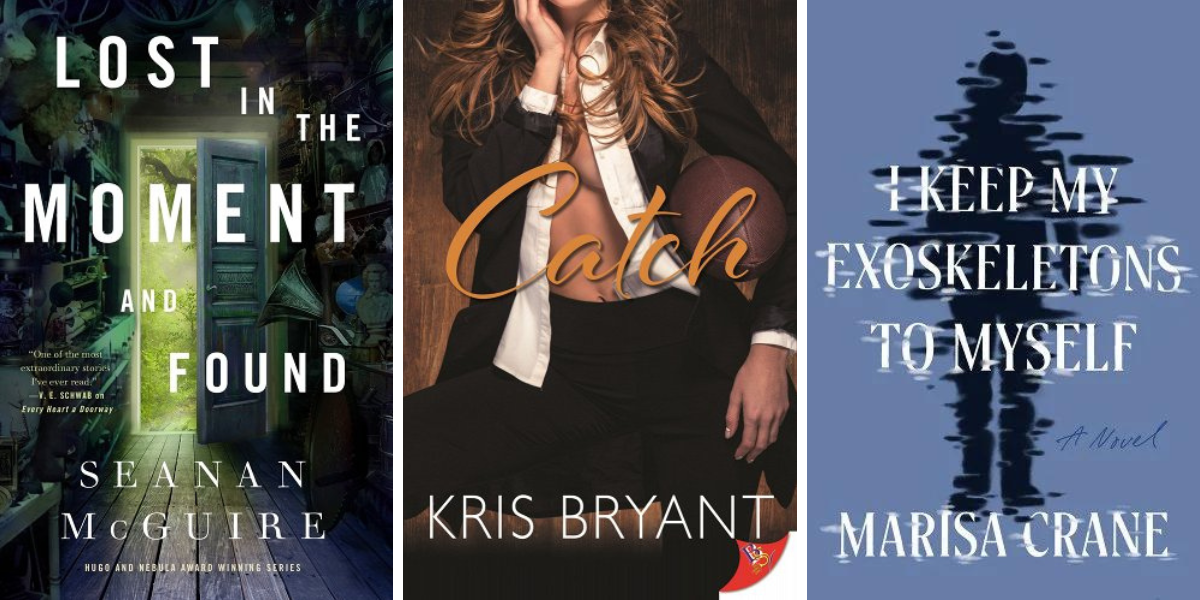 The eighth instalment in McGuire's Wayward Children fantasy series, Lost in the Moment and Found can also be read as a standalone. The book follows a young girl who comes from the Shop Where Lost Things Go. After losing her father — metaphorically — she finds herself literally lost and wandering through an infinite amount of worlds but somehow not quite able to leave her Shop for good.
Catch by Kris Bryant (January 10)
Attention sports gays! This lesbian football romance is about a second chance at love for high school sweethearts Sutton and Parker. Sutton, once her high school's first female quarterback, is starting her dream job as the offensive coordinator for a new NFL team. When the team hires their first quarterback, though, she's worried: the wife of said quarterback is the woman who got away, her first love in high school who she hasn't forgotten for 15 years.
Set in a slightly different version of the 21st century US, this intriguing novel features a "Department of Balances" that gives law breakers and wrong doers multiple shadows that follow them everywhere. But the novel focuses on the quiet, everyday life in this universe, telling the story of Kris as she prepares for the unexpected life of a single mother while grieving the death of her wife. Themes of queer resistance, the difficulties of parenthood, and grief are all prominent.
Warrior Princesses Strike Back by Sarah Eagle Heart and Emma Eagle Heart-White (January 17)
This memoir / womanifesto is written by Lakota twin activists who share their strategies for Indigenous resistance, healing, and self-care. They tell the story of their childhood growing up on the Pine Ridge Indian Reservation, attending a mostly white high school, and building careers for themselves and navigating bias. Throughout they focus on themes of collectivism, reciprocity, decolonization, truth, and acknowledgement.
Rumfitt's much acclaimed haunted house horror novel originally published in the UK is now available in North America! Not for the faint of heart, this book has plenty of blood and guts, but it also smartly tackles British fascism and TERFism. Beginning three years after friends/exes spend a night in an abandoned house, the story picks up when one of the women is taken prisoner by the house. Can the others rescue her and will they survive the house's fresh horrors?
For anyone who wants to keep the Christmas spirit going into the new year, this anticipated sequel to The Lines of Happiness is set in Wyoming during the winter and holiday season. The novel picks up with our ladies in love, Gloria and Lo, as they settle into their new life together on a ranch. But when Lo makes a difficult request, Gloria wonders if their relationship is already doomed.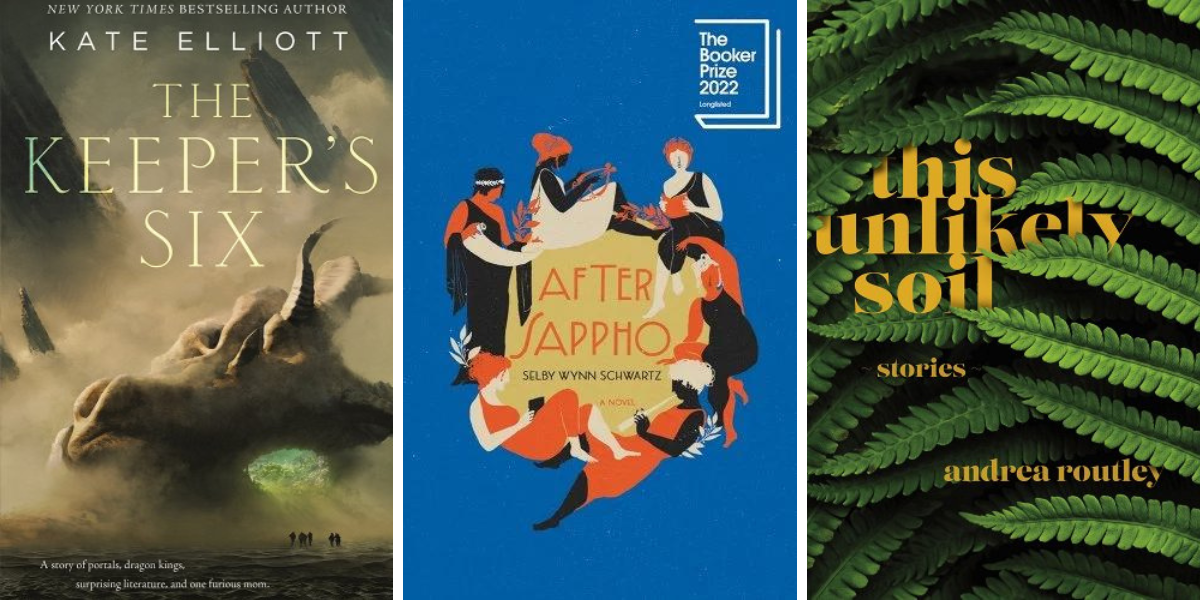 Action-packed science fantasy starring a bad-ass grandma / mom to the rescue? Sign me up! Our protagonist Esther has been relaxing in Hawaii, but when she wakes up in the middle of the night to her (queer, adult) son's cries for help, she doesn't hesitate to leap into action. She sets off for the dangerous space between worlds, on a mission to get her son back from the dragon lord who kidnapped him.
After Sappho by Selby Wynn Schwartz (January 24)
A debut novel by a British scholar, After Sappho is being released in North America in 2023. Set in 1892, 1902, and 1923, the book follows historical sapphic women including Virginia Woolf, Rina Faccio, and Romaine Brooks as their lives as queer women and feminists intersect. Schwartz writes poetically in vignettes and investigates themes of identity, the creative life, and education.
Routley's second book is a collection of short stories set in the Pacific Northwest starring queer women navigating love and loss and looking for connection and meaning. Details of the west coast and the beauty of the natural world are prominent: black bears, Dungeness crabs, mussels, and evergreen trees. The stories are loosely connected, although the women featured vary. Some have been living queer lives for decades, while others are only just coming out in later life.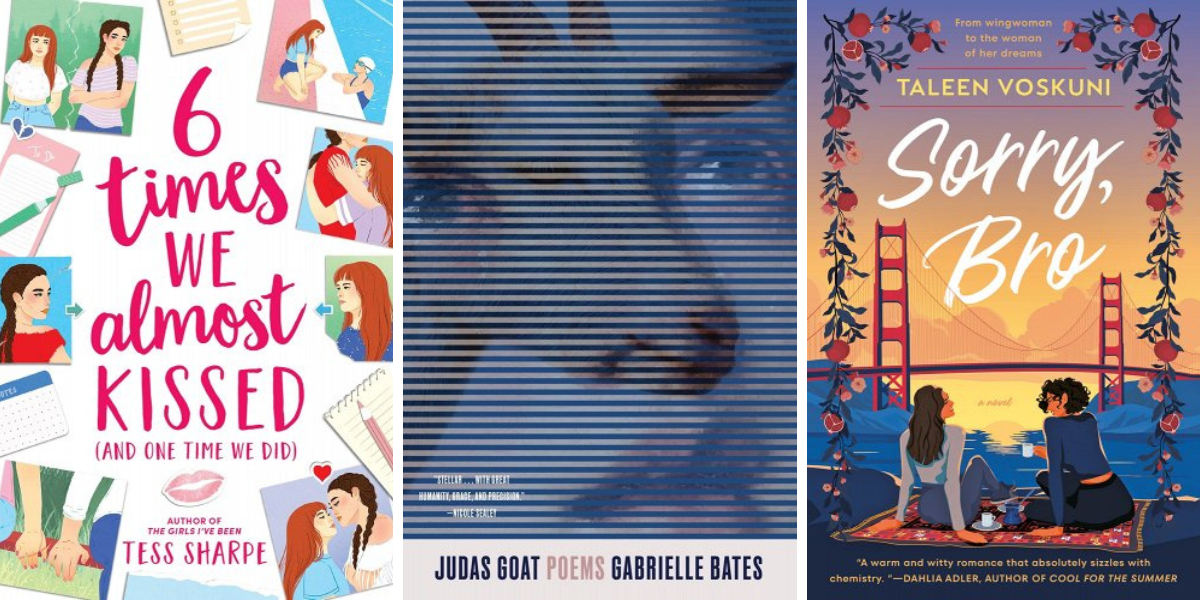 The latest book by this queer YA superstar is a contemporary romance between two teen girls, Penny and Tate, who have always clashed, despite their moms being best friends. When Penny's mom decides to become a living donor to Tate's mom who is waiting for a liver transplant and they merge their households to help both women recover, Penny and Tate are in for some quality time together. They might have to confront the fact that although they profess to dislike each other, they have a pattern of almost kissing that has been happening for years.
Judas Goat by Gabrielle Bates (January 24)
You might have read Dani Janae's early review of this book of poetry, where she tells us it made her start writing again. She continues, praising the collection as "the haunt embodied," and writing that "the images [Bates] conjures arrest you in their wildness and their brutality." Avid poetry fans might know Bates as a host of The Poet Salon podcast, where poets talk over special cocktails. This is Bates's debut book!
Sorry, Bro by Taleen Voskuni (January 31)
Voskuni's debut queer rom-com is about a bisexual Armenian American woman, Nar, who realizes her current non-Armenian boyfriend is not the one when he proposes in a loud bar full of drunk San Francisco tech bros. With the help of her mom who has been Facebook stalking potential Armenian husbands, Nar agrees to attend a month-long series of Armenian cultural events. But it's Erebuni, a witchy woman also getting back in touch with her Armenian roots, who catches Nar's eye.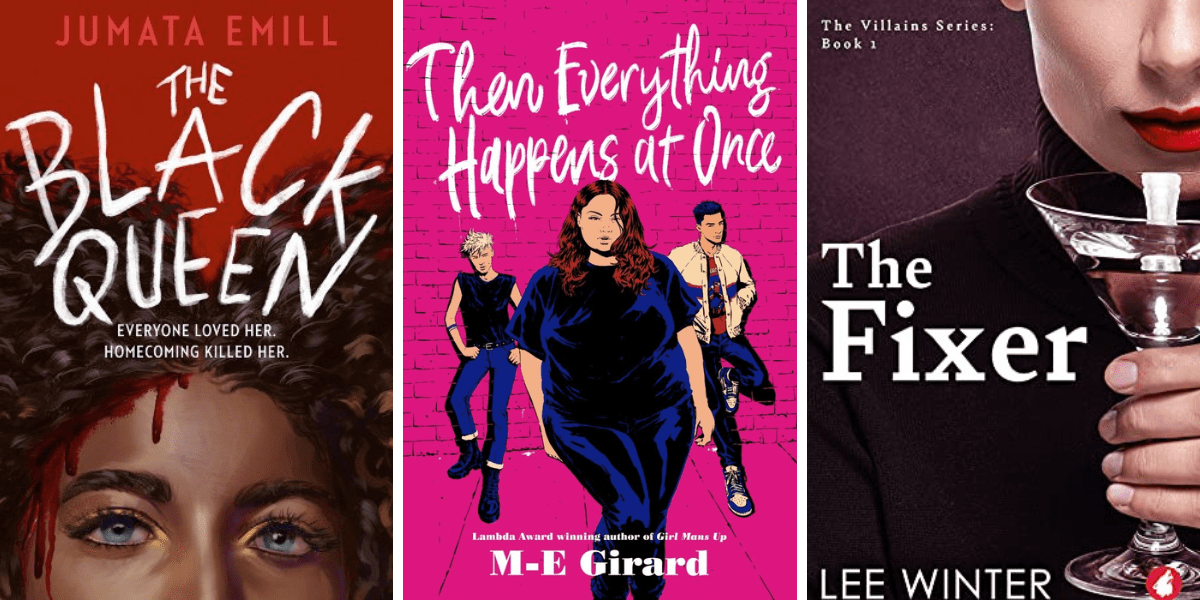 The Black Queen is a YA thriller and murder mystery about the death of Nova, the first Black homecoming queen at Lovett High. Everyone knows Tinsley, a white girl whose sister, mom, and grandmother were all queens before her, thought the title of homecoming queen was supposed to be hers. Duchess, Nova's best friend, is highly suspicious, but she can't convince her police captain dad to arrest the obvious suspect. So it looks like she'll have to do the investigating herself.
Girard's second YA contemporary book is a sex-positive story about a fat bisexual teen girl, Baylee, who winds up in the middle of a love triangle. She's had a crush on her friend and neighbour Freddie for years, but is convinced she isn't his type; at the same time, she meets Alex, a barista at her favourite coffee shop, and makes a great connection with her. But just as Freddie finally tells Baylee he's interested in her, Covid hits and Baylee's dilemma of which person to date seems like a small problem in comparison.
The Fixer by Lee Winter (January)
The Fixer is the first book in a new series — The Villains — by this popular lesbian romance author. The villain here is ice queen Michelle, who works for a secret corporation that caters to wealthy, powerful clients. Michelle's love interest? Sweet, naive activist Eden, who Michelle hires to help the company bring down a corrupt mayor. Will Eden win her new aloof but beautiful boss's heart?
---
February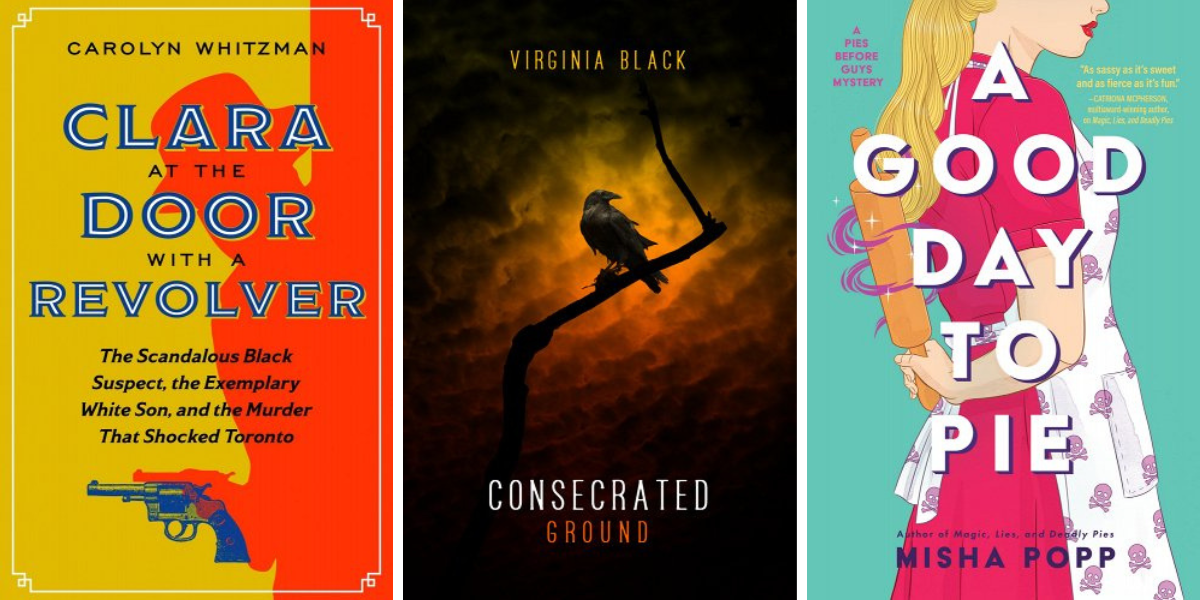 Whitzman's work of investigative nonfiction is an amazing historical true crime story about queer Black resistance and resilience. The book tells the story of Clara Ford, a young Black single mother who was working as a seamstress in Toronto in 1894 when she was accused of murdering her wealthy white former neighbor. Despite racism, sexism, and homophobia (it became known that she frequently dressed in men's clothing), Ford defended herself in court and won.
This multiracial paranormal lesbian romance tells the story of Joan, a witch in a longstanding family of witches who has just returned to her small Oregon hometown after defying tradition to go fight vampires hand to hand. When she arrives home, she has to deal with fending off brutal attacks from a vampire lord as well as her ex, Leigh, who once left Joan for her rival. Jewellery Gomez, author of the classic queer Black vampire novel The Gilda Stories, says "this story blasts through the night like a missile guided not by fuel or electronics but by spells and incantations."
The second installment in this magical, bisexual cozy mystery "Pies Before Guys" series, A Good Day to Pie picks up with the protagonist Daisy as she is entering a reality baking TV show. But, as usual, she also has a magically deadly pie to deliver to a terrible man who deserves it. But the man in question turns out to be one of the show's judges and he is discovered dead before Daisy's murder pie is even delivered! Then she has to solve the murder herself before her identity as the feminist pie murderer is revealed.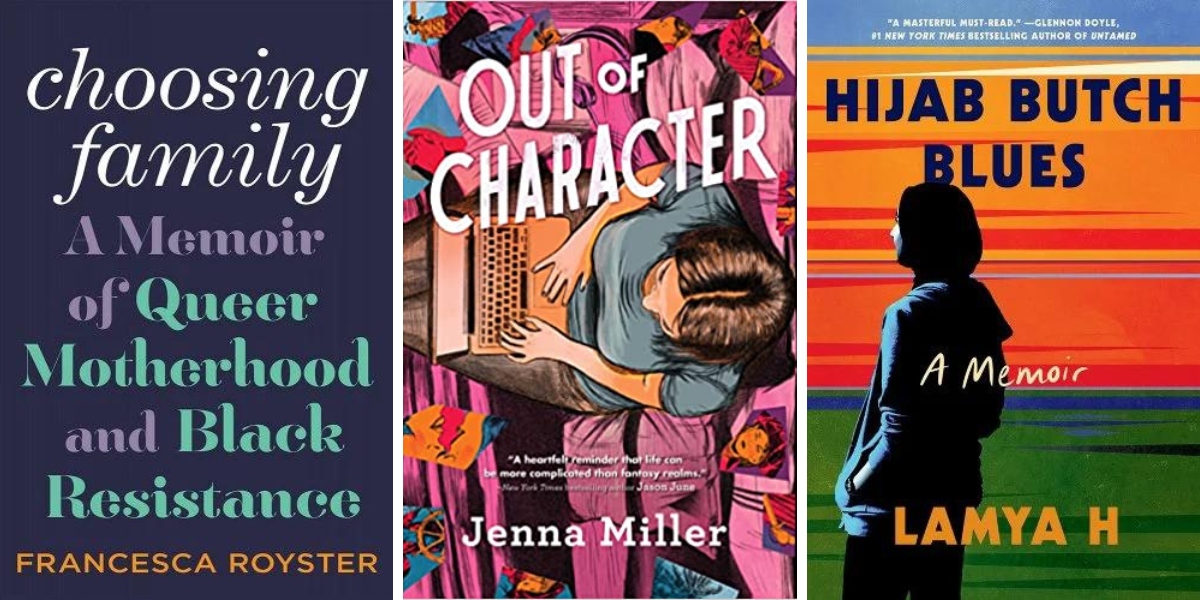 Choosing Family by Francesca Royster (February 7)
This memoir about "Queer Motherhood and Black Resistance" is about Royster's experiences building a family through adoption while Royster and her partner are in their forties and fifties. Weaving in wisdom from thinkers like Audre Lorde and José Esteban Muñoz, Royster looks at parenting, adoption, marriage, and family from a queer, Black, feminist perspective. She also recounts her memories of the matriarchs in her own family, arguing that her and many other Black families have historically had queer approaches to family that defy restrictive, white heteronormative traditions.
This nerdy YA contemporary is about a fat teenage lesbian Cass, who is openly obsessed with the Tide Wars books, although she draws the line at letting everyone know that she's part of an online Tide Wars roleplay community. But when her grades start to sink and her IRL girlfriend notices she might be crushing on her fellow RPGer, she has to make some tough decisions.
In this "daring, provocative, and radically hopeful memoir," Lamya H tells her coming of age story as a queer hijabi Muslim immigrant who grew up in South Asia and the Middle East before coming to the US. She makes sense of her desires, coming out, and identities through juxtaposing her experiences with famous stories from the Quran. She arrives at a place of community and belonging as a queer devout Muslim living in New York City as a new adult.
Anyone up for a queer "edgy Southern gothic thriller"? When Holly learns of her brother's apparent death by suicide, she's suspicious, as he sent her cryptic and odd messages the same night, one of which said "Get it out of me." Determined to find out the truth, Holly begins to investigate Maura, her brother's fiancée and a dark-eyed florist with a passion for carnivorous plants, Savannah high society, and black roses. But against her better judgement, Holly starts to fall under Maura's spell and her darkly sinister world.
Endpapers by Jennifer Savran Kelly (February 7)
This work of literary fiction is set in early 2000s New York as a genderqueer artist and bookbinder struggles with her gender identity/presentation, career, and relationship. At work at the Met, Dawn has to present as a woman although she doesn't always feel like one, while at home with her queer boyfriend he seems to only be attracted to her when she presents at her most masculine. She's finding it difficult to come by any inspiration, artistic or otherwise, when she discovers an old queer love letter written on the cover of a 1950s lesbian pulp novel and becomes obsessed with finding the letter writer.
This YA fairy tale is the sequel to last year's The Bone Spindle, a gender-flipped Sleeping Beauty. Book-smart Fi and axe-wielding Shane are partners in crime working to restore the kingdom of Andar, but although the prince has been awakened, their battle has just begun. There's the Spindle Witch to contend with, as well as the Witch hunters and a hunt for an important code hidden in a book and for the mysterious city of the last Witches. The story features a ride-or-die female friendship, two swoony romances — one m/f and the other f/f — and nonstop action!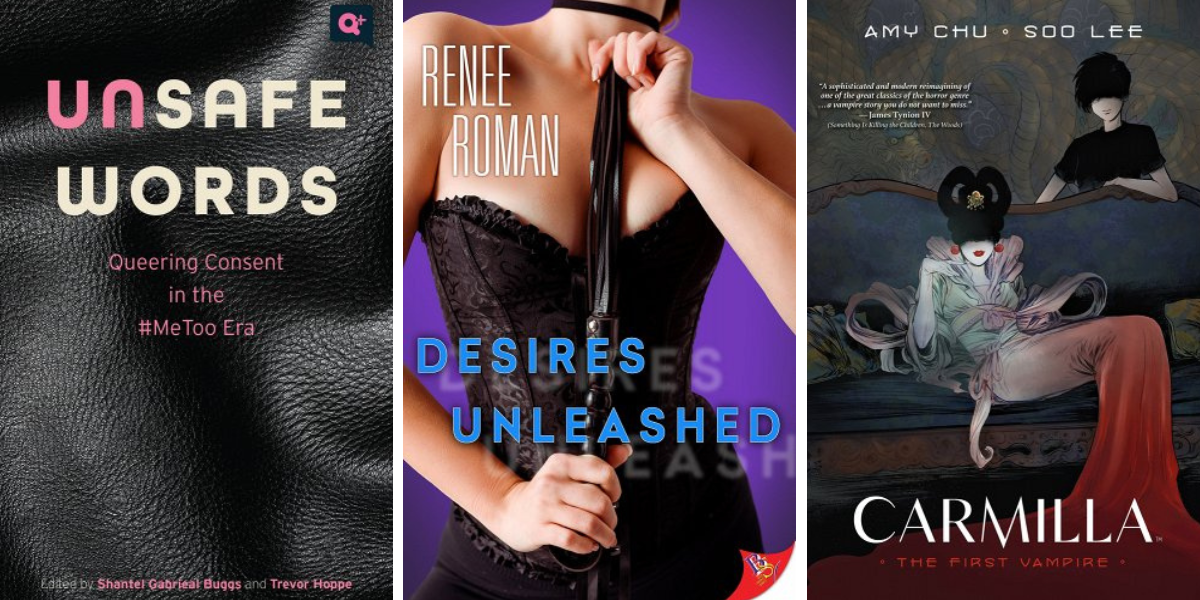 An anthology that aims to centre the voices of queer people in the #MeToo movement, this book collects works from academics, artists, sex workers, and activists addressing issues of consent, harm, and power. Their perspectives challenge the heteronormative, white, and upper class biases of the mainstream #MeToo discourse. Many essays discuss the tools queer communities have made for themselves to ensure ethical and mutually pleasurable sex and discuss options for dealing with sexual violence and harm that divest from the police.
This kinky erotic queer romance is available just in time for Valentine's Day! Kell, operations manager by day and bartender by night, is intrigued by one of her regulars at the bar, business owner Taylor. Taylor has been visiting the bar every weekend to feast her eyes on the sexy bartender, but she's wondering if Kell might be interested in the dominance / submission relationship she's craving. Is Kell up for surrendering to Taylor's control? Can Taylor trust that her longtime fantasy is actually coming true?
A moody, atmospheric graphic novel that reimagines the 1872 lesbian vampire classic Carmilla, Chu and Lee's collaboration combines Chinese folklore with a feminist murder mystery set at Lunar New Year in 1990s NYC. Our Chinese American lesbian protagonist is a social worker turned detective who uncovers a pattern of LGBTQ homeless youth disappearing. The trail leads her to a shady nightclub in Chinatown named Carmilla's.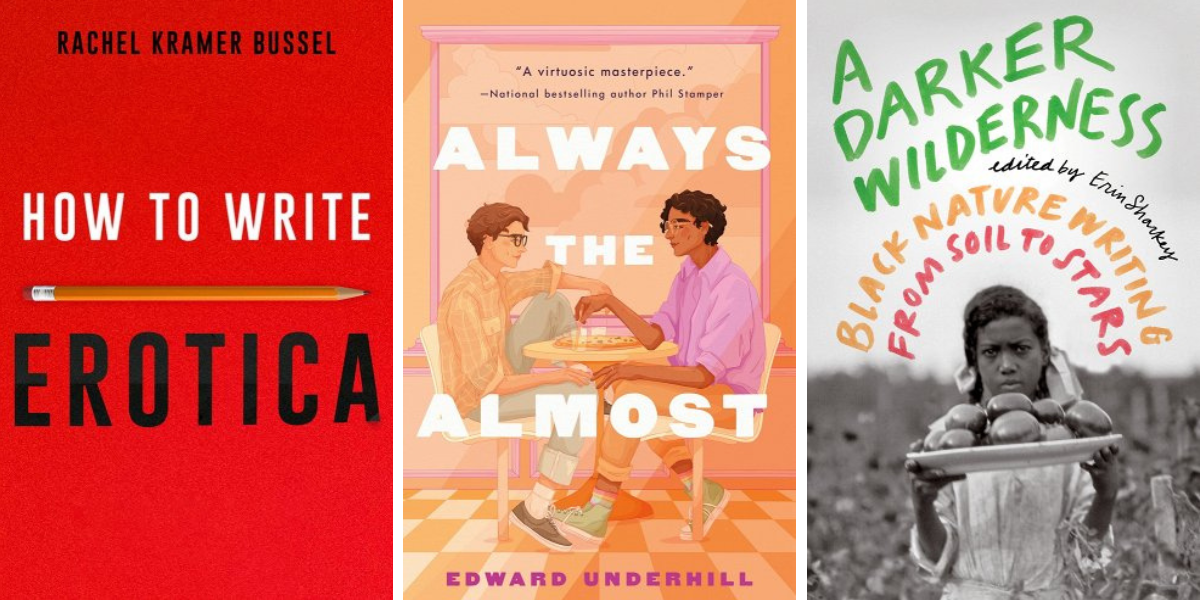 This how-to guide by the prolific bisexual erotica writer and editor is aimed at all genders who want to write erotica, whether it's for their partner or they're aiming for publication. Bussel includes practical writing tips and prompts, interviews with other erotica writers for different perspectives, and samples of her own writing. She covers topics like incorporating BDSM themes, using pseudonyms, crafting rounded characters, dealing with writer's block, and more!
A YA rom-com with a trans guy protagonist, Always the Almost is about a teenage pianist named Miles who has two goals for the new year: win back his football star ex-boyfriend and win the Midwest's biggest classical piano competition and beat his rival. Things get complicated when a new guy arrives in town and Miles wonders if getting back together with his ex is the right idea after all. And his new piano teacher keeps telling him he's playing "like he doesn't know who he is."
"Black nature writing from soil to stars," this anthology features personal essays that interact with special archival objects of note to Black history while centering nature. The work looks at how Black people's relationships with the natural world have thrived despite the oppressive forces of colonialism, slavery, and state violence. Contributions include Ama Codjoe's mediation on a photo from a Civil Rights demonstration in Alabama that discusses the intersections of rain, Black hair, and protest and Erin Sharkey's piece on following the seasons of a Buffalo garden through the lens of reading Benjamin Banneker's 1795 almanac.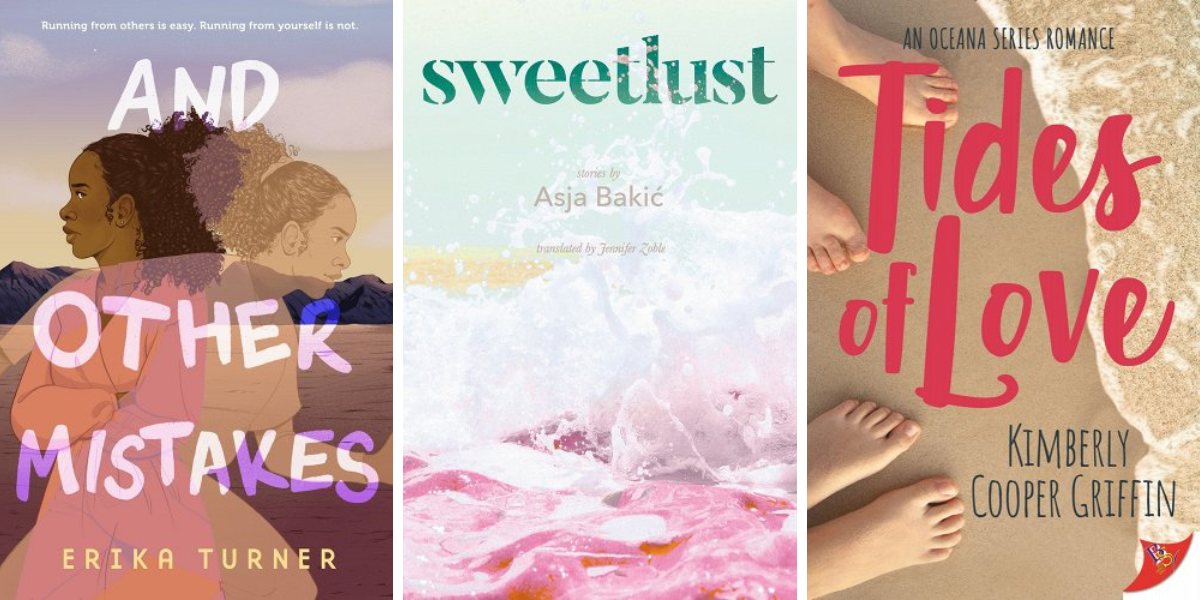 In this debut coming-of-age YA story, the protagonist Aaliyah is dealing with the aftermath of being outed by an elder at her church and trying to survive her last year of high school with her friendships and cross country running track record intact. But things aren't easy, what with her own insecurities, new track teammates, tension with old friends, and new girl, Tessa, who catches Aaliyah's eye despite herself. Can Aaliyah own up to her own mistakes, or will she keep trying to outrun them?
Sweetlust by Asja Bakić, Translated by Jennifer Zoble (February 14)
Bosnian author Bakić's second book to be translated into English is a collection of feminist science fiction stories which take up themes of climate change, gender fluidity, artificial intelligence, and sexuality. In one story set in a future Balkans flooded due to global warming, a programmer tries to build a time machine . In another, women in a dystopian future without men are sent to an erotic amusement park for "rehabilitation."
Tides of Love by Kimberly Cooper Griffin (February 14)
In Griffin's contemporary romance, Mikayla has recently gotten divorced from her husband and come out as bisexual. But she's struggling to live life on her own terms and is stagnating staying temporarily in a home at Oceana Mobile Home Park. Gem is the property manager of Oceana, and also feeling stuck taking care of her dad's business while he is ill, even though she swore it was the life she wanted to leave behind. Can these two women make it work despite neither being in the best place?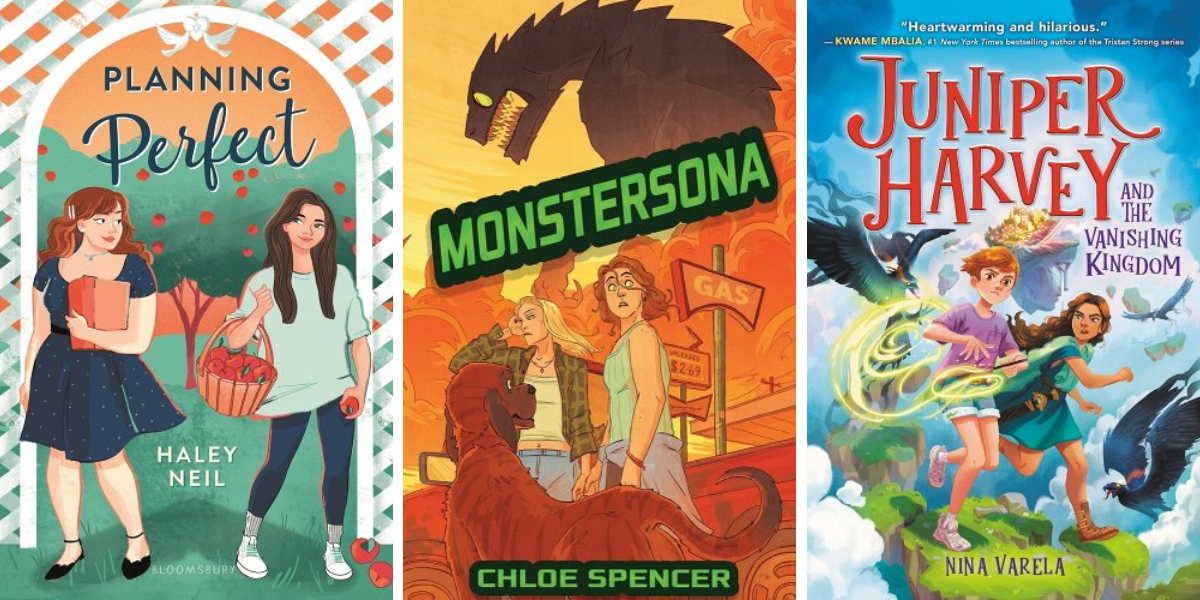 Sapphic ace YA rom-com alert! Felicity is a teenager who loves planning events, so when her mom gets engaged, it's the perfect opportunity to hone her skills. She snags a venue through her long distance friend Nancy, whose family owns an apple orchard. But as the two girls spend more and more time together over the summer, Felicity wonders if there's something romantic between them. But she's not even sure what that would look like for her as an ace girl who's never been in a relationship before.
Monstersona by Chloe Spencer (February 14)
This queer YA science fiction adventure is described as Thelma and Louise meets Godzilla! When Riley wakes up one morning in her small Maine town to widespread fire caused by an unseen monster, she and her dog Tigger flee in her truck, picking up the only other survivor they can find, Aspen, Riley's beautiful but strange crush. As the girls and the dog head across the country to Oregon where Riley's dad lives, they realize they are being followed by scientists, a shady-looking SUV with blacked out windows, and a monstrous secret.
A middle grade fantasy adventure about friendship and queer identity, Juniper Harvey and the Vanishing Kingdom is about the collision of Juniper's regular life with a sword-wielding princess from a magical realm. Juniper keeps having dreams of a mysterious girl, a temple, and a scary attack. One day while feeling down, Juniper draws the girl from her dreams and thinks, I wish you were here. The next morning she wakes up to the girl holding a sword at her throat!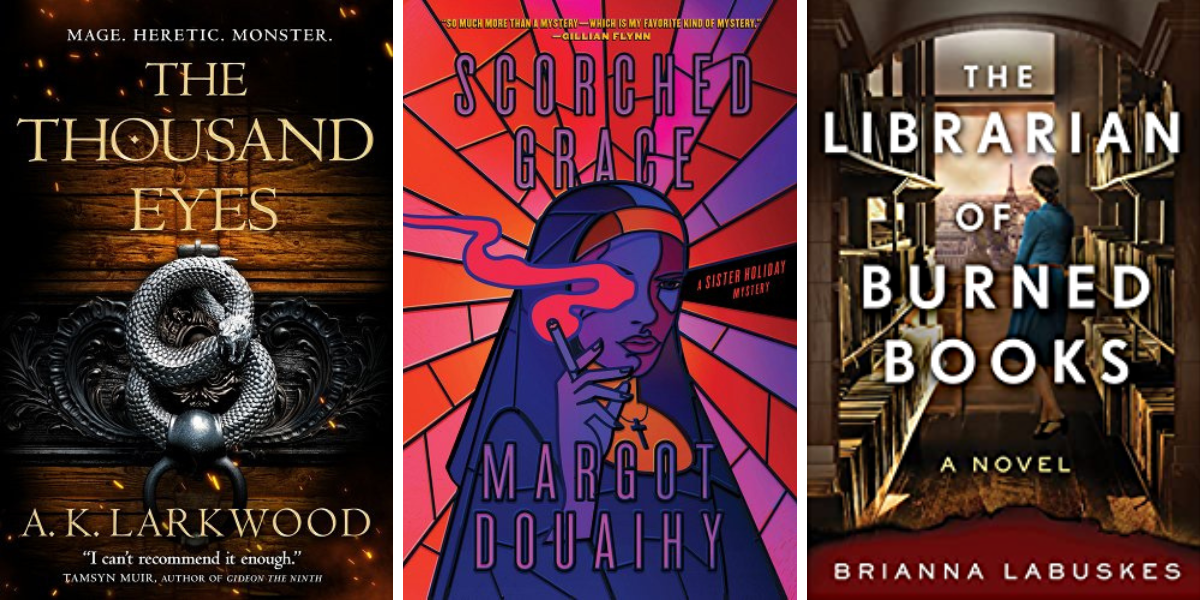 Sequel to The Unspoken Name, this fantasy novel picks up with Csorwe and her girlfriend Shuthmili two years after Csorwe's betrayal of her mentor, the wizard Sethennai, who turned out to not be such a great guy. The two women are working with Csorwe's old rival / co-conspirator, Tal, on a routine job exploring the ruins of an ancient snake empire when a previously unknown enemy emerges.
Scorched Grace by Margot Douaihy (February 21)
The first book in a new mystery series, Scorched Grace features a tattooed, chain-smoking, queer punk rocker turned nun turned amateur detective named Sister Holiday. When the New Orleans school Sister Holiday works at is the target of multiple arsons, she isn't content to sit around for the inept police to solve the crime. Her investigation leads her to suspect her colleagues, students, and even her fellow sisters, while at the same time it urges her to reckon with her own past sins. This book is the first published by Gillian Flynn's new imprint!
Set in three different cities in the 1930s and 40s, The Librarian of Burned Books follows three women: Althea in 1933 Berlin, Hannah in 1936 Paris, and Vivian in 1944 New York City. Each of them is involved with the book world — as authors and librarians — and its connections to WWII-era anti-censorship and anti-facism movements. This story is based on a real historical literary organization that aimed to use books "as weapons in the war of ideas." It also features a lesbian romance!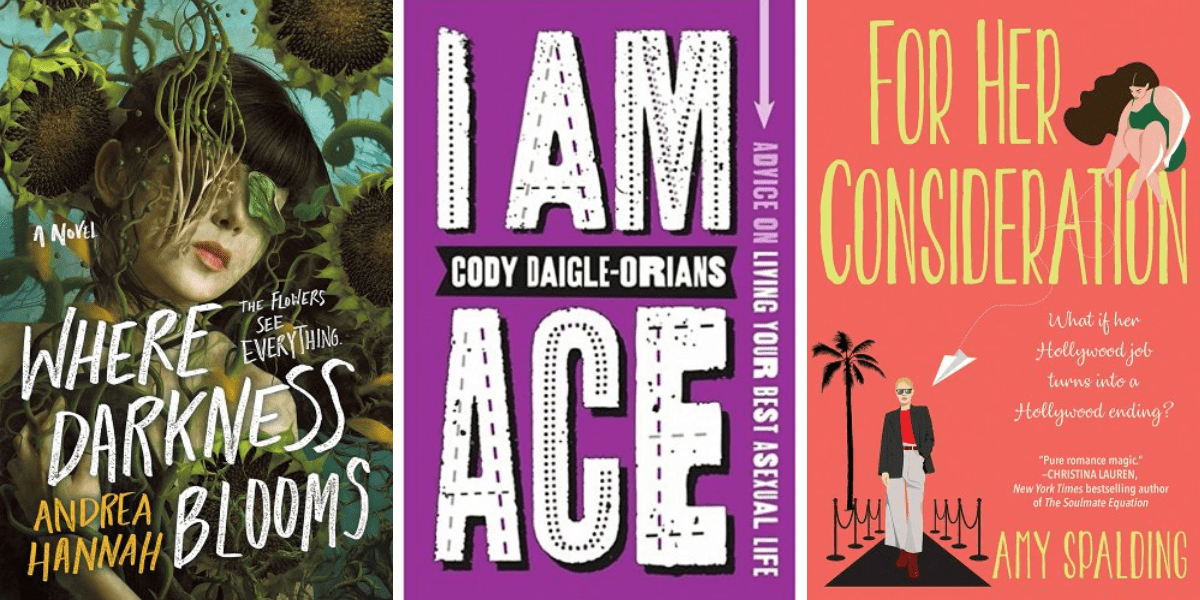 This supernatural YA thriller is set in a creepy town called Bishop, known for its seemingly endless fields of sunflowers and recurring mysterious disappearances of women. So when three mothers go missing one stormy night, their four daughters are left with little consolation as the townsfolk merely accept the disappearance as business as usual. But each girl — including Whitney, who's lost both her mother and her girlfriend — has a secret that isn't going to stay hidden for long … and so does the town itself.
I Am Ace is a work of nonfiction aimed at teens who are ace, demisexual, grey-ace, or questioning. Tackling topics like acephobia, how to come out as ace, relationships as an ace person, and variations of ace identity and the asexual spectrum, the book aims to be a helpful, approachable guide. Throughout, Daigle-Orians shares experiences from his own Iife.
This romance novel is the adult debut of a beloved queer YA author (you might be familiar with Spalding's The Summer of Jordi Perez)! Nina is an aspiring LA screenwriter who has mostly given up on her dreams — professional and personal — after a devastating breakup. Living out in the suburbs and working her talent agency job ghostwriting celebrity emails from home, the last thing she expects is to get to know Ari, a bossy out queer movie star who has her own ideas about how Nina should be managing her email account. Not only is Ari stirring up feelings Nina has long tried to bury, she also encourages Nina to pick up her script writing again. Is this Nina's romance and career comeback?
Guns's debut is a darkly funny and fierce social satire that is a queer take on the 1970 film Taxi Driver. Damani is a ride share driver just scrapping by, living in a basement with her mom in the aftermath of her dad's death on the job at a fast food restaurant. When she gives a ride to a woman named Jolene, the two women's chemistry is immediately intense, despite Damani's misgivings about dating a rich white lady. But just as Damani and Jolene's relationship takes off, Jolene does something unforgivable, setting off an unexpected and strange chain of events.
This moody gothic horror mystery YA is set in Vietnam, where the protagonist Jade has arrived for a five week visit with her estranged father, hoping to convince him to fund her college education back in the US. But her performance of the perfect, straight Vietnamese American daughter is the least of her worries when it appears the French colonial era house her father is restoring is literally out to get her. When neither Ba or her younger sister believe her about the hauntedness of the house, Jade has to figure out by herself why it wants to destroy her family, before it succeeds.
Gael is a 17-year-old trans guy who has a lot going on in this YA contemporary debut. He's busy supporting his mother struggling with depression, tentatively reconnecting with his estranged dad, and navigating everyday struggles as a trans teen in a conservative high school in Tennessee. But when his friend convinces him to go to an LGBTQIA+ support group for teens, he meets a new crush Declan, and a new group of queer friends.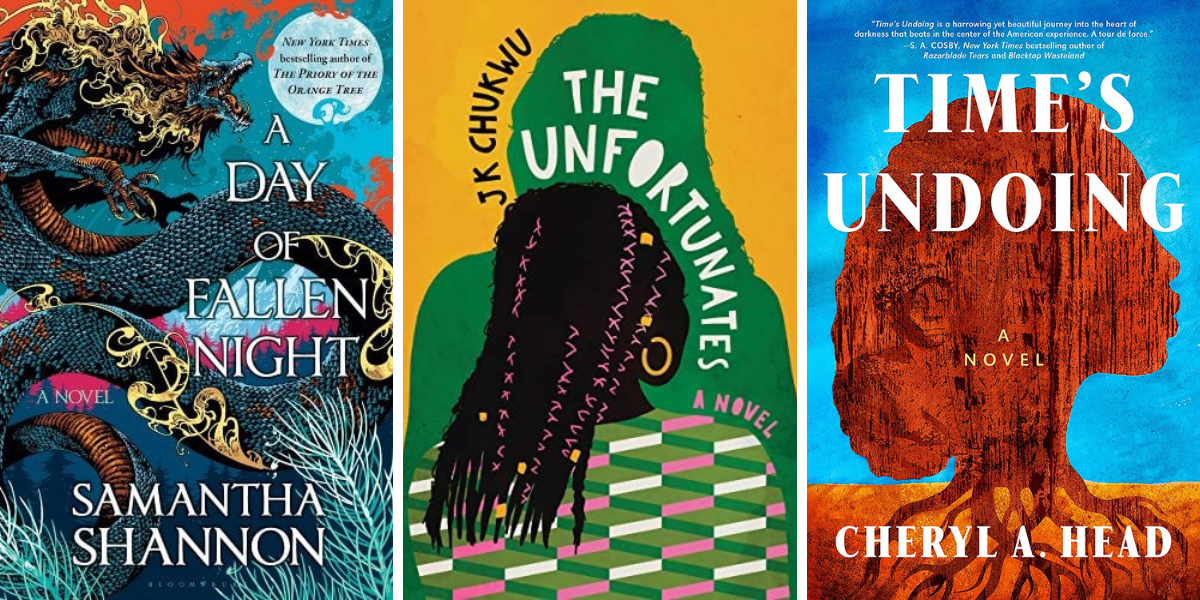 Attention, fans of 2020's epic sapphic fantasy The Priory of the Orange Tree! Shannon's latest is a prequel to her beloved previous book, but it can also be read as a standalone for anyone who hasn't read Priory yet. The story follows four women: Tunuva, sister of the Priory; Sabran the Ambitious and her daughter Glorian; and Dumai, a dragon keeper. When the Dreadmount erupts, each woman will have to do her part to protect humankind from the era of violence and terror that follows.
Sahara is a queer Nigerian sophomore at an elite American college in Chukwu's fiercely funny and edgy debut novel. Although she herself is close to throwing in the towel — she's been dealing with depression for as long as she can remember — she becomes obsessed with the "unfortunates," Black undergrad students who keep mysteriously disappearing. Tasking herself with an ironic academic "thesis" that will document the unforunates' experiences before she becomes one of them, Sahara discovers within herself a newfound will to fight, alongside her fellow women of color.
Time's Undoing by Cheryl A. Head (February 28)
This queer mystery author's latest novel is especially personal, as the story is drawn from her own family's history. Set alternately in 1929 and 2019 in Birmingham, Alabama, the narrative follows carpenter Robert in the 20s as he establishes his family in a town experiencing an economic boom but also rising white supremacist activity. In 2019, Robert's great-granddaughter, a journalist for the Detroit Free Press, travels to Birmingham to investigate his still as-yet unsolved murder. But as she gets closer to the truth, she worries that her own life is in danger.
Latinx nonbinary YA pirate fantasy, anyone? On Mar's 16th birthday, their family is visited by El Diablo, who is there to make good on the bargain he struck with Mar's father to take his soul, along with the rest of the pirate crew. Miraculously surviving and rescued by the other pirate ship in the Caribbean, Mar has to gather their strength — and magical ability — to emerge victorious against El Diablo. Good thing they have two new allies: Bas, the captain's handsome son; and Dami, a gender-fluid demonio.
---
Which winter 2023 queer and feminist books are you most excited about? Tell us about them in the comments! And see you in March for the spring queer books round-up!