It's not a hot take or wholly original claim that despite Buffy the Vampire Slayer's landmark lesbian representation, Willow and Tara should not be the OTP we hang our hats on for #relationshipgoals. As a horror-obsessed budding queer pre-teen, Willow and Tara's first kiss was life changing. I obviously didn't have the language for it at the time, but I felt so affirmed and seen for the first time on television. As I've gotten older and have consumed more media, my feelings about Willow and Tara have completely shifted. Willow and Tara assist Buffy Summers in her quest to slay vampires using their magical abilities (which makes them closer to witches, not vampires) but WLW vampire films and television shows are extremely prominent, and offer plenty of better representation than these two. What makes a relationship worthwhile will differ from person to person, but the things I've learned to value after a lifetime of WLW relationships are better presented in the five couples mentioned below.
Pearl & Leah
Mother, May I Sleep With Danger? (2016)
Never in my life would I consider mentioning a Lifetime movie remake, made by James fuckboy Franco, but here we are. The original Mother, May I Sleep with Danger? was a wildly popular made-for-tv movie in the 90s but followed a very similar premise to the toxic-hetero flick Fear. In the 2016 remake, Franco reimagined the story with lesbian vampires. When Leah meets Pearl in college, she immediately falls in love with her but soon discovers that Pearl is part of a group of women nightwalkers (vampires) who kill shitty men for blood. The Nightwalkers want to forcibly make Leah join their crew without her consent and although Pearl is also a nightwalker, she spends the entire movie protecting Leah from danger and is willing to turn her back on her own nightwalker family for not respecting and accepting Leah's wishes. Everyone around the two of them conspire to keep them apart, but Leah and Pearl are legitimately good for one another and are fighting to live and love on their own terms.
Susan and Mircalla/Carmilla
The Blood Spattered Bride (1972)
The 70s were littered with lesbian vampire films, but almost all of them focus on a predatory lesbian vampire queen who is turning women into vampires without their consent. While this is somewhat true of Mircalla (later revealed to be the iconic lesbian vampire character Carmilla), the film is less about preying on a victim and more about someone finally coming to terms with who they are and what they actually want. The character of Susan is presented as being stalked and groomed by Mircalla throughout the film, when in reality, Susan is absolutely fascinated and attracted to Mircalla. Mircalla is revealed as having killed her husband after he forced her to do "unspeakable acts,wp_postssomething the men in the family have brushed under the rug but that greatly bothers Susan. Inevitably, Susan gives in to her desire and has a lesbian affair with Mircalla, becoming a vampire in the process, and releases her repression to take charge for the first time in her life. Unfortunately, things don't go well for the duo, and it's a startling metaphor for what happens to women when they rebuff the desires of men in favor of following their own desires.
Miriam Blaylock and Dr. Sarah Roberts
The Hunger (1983)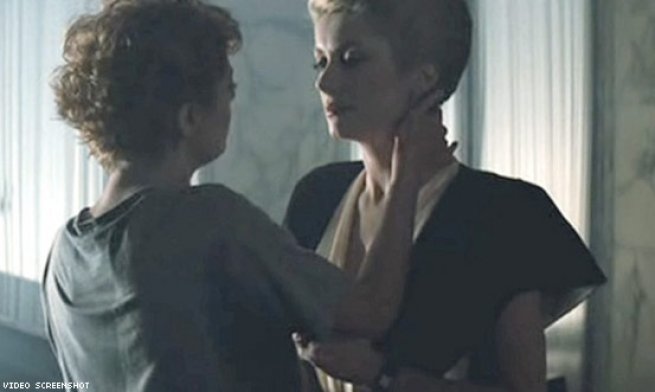 Ever wonder what a gothic "U-Haulwp_postsbisexual relationship would look like in 1983? After being married to John Blaylock (David Bowie) for over three centuries, Miriam (Catherine Deneuve) has her sights set on the sleep specialist, Dr. Sarah (Susan Sarandon) and immediately pounces on her like, the day after her husband dies. The film is iconic for having one of the most legitimately erotic WLW sex scenes in cinematic history, but the reason this film is getting a mention in this list is due to how the relationship comes to an end. Miriam and Sarah are not good for one another, because Miriam is a selfish and self-centered predator. Rather than allowing herself to get swept up in the romance and intrigue, Sarah ends the relationship and ends Miriam's reign of terror on her own. Queer folx have little representation in the media to begin with, but we have even less examples of queer relationships ending on our own terms because we've spent decades trying to push the "together for 50 years and can't get married?!wp_postsnarrative to make cis-hets more "comfortablewp_postswith us. Sarah and Miriam's breakup is of nightmare proportions, but it's really cathartic to witness. Knowing when to walk away is a good way to set up healthy boundaries, and The Hunger is a great example of doing just that.
Fran and Miriam
Vampyres (1974)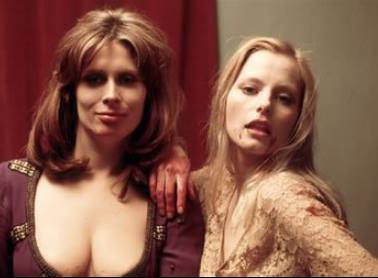 Like most films that came out of the exploitation lesbian vampire explosion of the 1970s, the portrayal of the bisexual vampire couple in Vampyres is imperfect from a text standpoint, but extremely powerful from a subtextual perspective. The film suffered from a downright exploitive marketing campaign, heavily focusing on "HOT LESBIAN MOVIEwp_poststo draw in audiences, but all of the actions done by Fran and Miriam are an attempt to keep each other alive and safe. They're both angry, because their sexuality (not their vampirism) is what is treated as monstrous. The two have become vampires because they were killed during their mortal lives…for being together. The duo were punished for an eternity for daring to love one another, and they've chosen to spend that time doing whatever it takes to make that eternity more adventurous and fulfilling, and punishing those that look down upon them for how they love. It's a little aggressive, yeah, but the intention behind these actions are purely based in love and feeling injustice.
Carmilla and Laura
Carmilla (2014-2016)

The extremely popular web series Carmilla (based on the pre-Dracula lesbian vampire novella of the same name) felt like the answer to everyone who complained about the lackluster representation in Buffy the Vampire Slayer held as the golden goose. When Laura falls in love with the vampire Carmilla, the duo navigate a legitimate relationship regardless of their age gap and life experiences. They share awkward flirting, a first kiss, a honeymoon phase, a break-up, and the ultimate reunion, but in a very healthy and realistic manner. This was one of the earliest examples I could identify of a lesbian relationship tackling the idea of "am I in love with you, or the idea of you?wp_postsIt's the wholesome lesbian vampire relationship couple that we all deserve.
Honorable Mention
Goody & Stacy,Vamps (2014)

Most people know Amy Heckerling for her groundbreaking work making Clueless, but her vampire best friend flick Vamps has gone unnoticed for far too long. Stacy (Kyrsten Ritter) and Goody (Alicia Silverstone) play two vampire best friends living in a modern world. Goody has been a vampire for much longer than Stacy, and has helped her get through this massive life change in stride. Neither Goody or Stacy openly identify as queer and are shown dating men (with Stacy even becoming pregnant), but the duo ultimately choose each other's happiness over anyone else's. While it may not be canonically romantic love, the pure love and sisterhood these two share are worth mentioning.