I get it grrrl. You all up in the club trying to pick up some nice lady to snuggle with (clothes optional), but you keep getting ignored because everyone thinks you are the straight friend that just came along for the homo-erotic ride. Trust me, I've been there, and it totally sucks! I know it's tough to want to dress nice and get hit on by girls, especially when going out, without feeling like you have to dress like a fourteen-year-old boy. FYI: I have nothing against this look (I steal my gf's Land's End shirts all the time), I just have more of an affinity towards dresses and heels and seeing the popularity of Modcloth on this site, I'm guessing many of ya'll do too.
Have no worries lil' femme chick-adees, I'm here to give you the top 5 pieces of clothing to add to your wardrobe that will instantly spike up anyone's gaydar without getting an Alternative Lifestyle Haircut.
---
1. The White V-Neck Shirt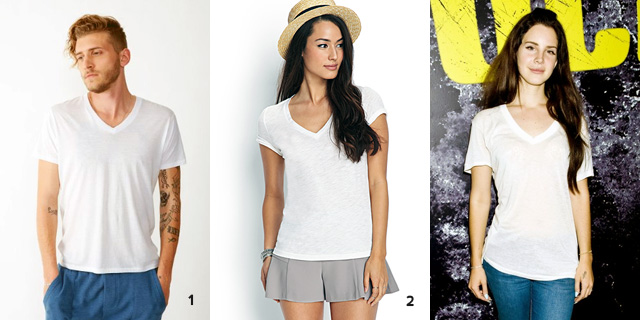 1. Perfect V-Neck T-Shirt by Alternative Apparel ($44) 2. Everyday V-Neck Top by Forever21 ($5.80)
The white v-neck shirt is the ultimate staple for any queer woman's wardrobe. It's so simple and classic, not to mention comfy. If you don't have one, you can go to any megastore ending in Mart and get a whole pack of them from Hanes. No lie, I am such a hardcore femme I did not own a single v-neck shirt, white or otherwise, until my last week of college (which, as shown by my baby face, was not that long ago). Also, don't feel like you have to completely cast aside your femme styling cues. A white-v neck is great because it can be easily styled with accessories, cute shoes and kick ass hair (Holla to my long haired beauties). Lana Del Rey is a great example of femme-ing up this classic queer style.
---
2. Invest In An Awesome Hat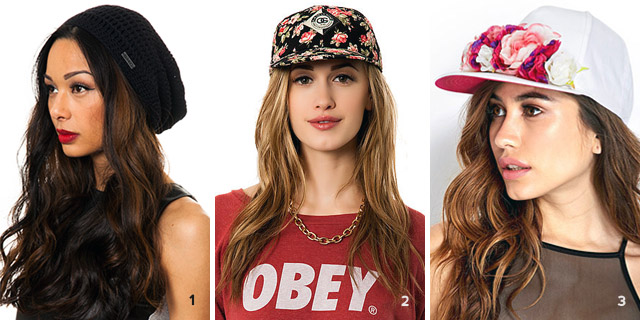 1. Summer Beanie by BMC ($24) 2. The Floral Throwback Snapback by Obey ($38) 3. Flower Power Snapback Cap by Forever21 ($12.80)
It's true, queer ladies love their hats like they love pussycats. The three most popular queer styles are the beanie, the fedora hat, and the baseball cap. I know that baseball caps sound like a big jump from the Blair Waldorf style headbands of our femme youth, but they come in so many floral styles now these hats are no longer resigned to just #tomboy status (just look at Rihanna). The beanie, while known as a winter staple, has a better queer effect in when worn all year long so invest in one made out of a light knit that wont make you sweat during the warmer seasons. With the fedora, I've noticed it's queer girl sensing powers work best at night than just wearing it during the day. Trust the power of the Night Fedora. I don't know why but lesbians have this thing for Humphrey Bogart and looking like 40's gangsters. And if you don't know who Bogart is then you need to get your life together, like right now. But try and stay away from fedoras made from straw because that's hinging on straight girl territory.
---
3. It's All About The Blazer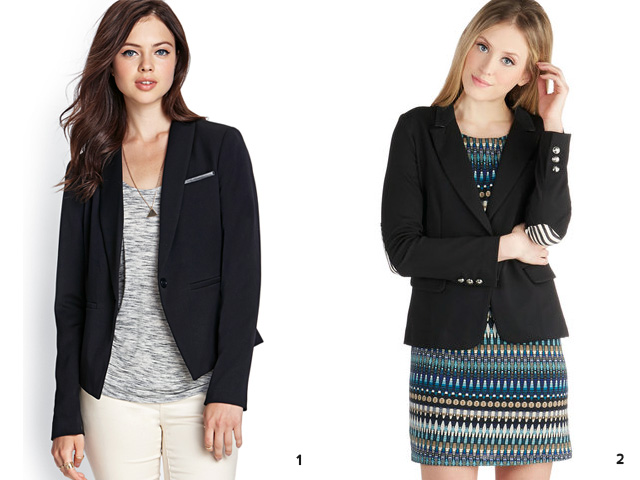 1. Faux Leather Paneled Blazer by Forever21 ($27.80) 2. Modern Maker Blazer by ModCloth ($47.99)
Now that I think about it, the classic black blazer might be the foolproof way to signal your queer girl status when out at a club or bar. It goes with anything and can be dressed down with a nice pair of jeans or dressed up with a dress and cute jewelry. It's one of those pieces that looks effortlessly cool and like you have a job (which is always a plus). It says, "I mean business that's NSFW." Put one of these babies on and you can go party with the best of celesbians out in L.A. Say hi to Kate Moenning for me!
---
4. Pledge Allegiance To Flannel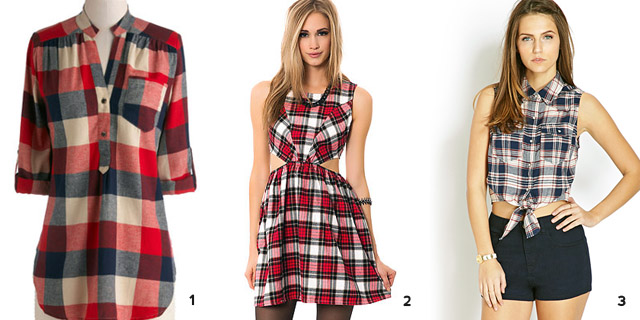 1. Bonfire Stories Tunic in Red Plaid by ModCloth ($39.99) 2.  The Flannel Cut Out Dress in Black Plaid by *MKL Collective ($15.00) 3. Prairie Plaid Self-Tie Shirt by Forever21 ($15.80)
When in doubt, just try to look like a lumberjack. Plaid flannel is making a serious come back and it has changed a lot since its last major boom in the 90s. Just think of what a grown up Angela Chase would wear. It comes in so many different styles, you don't have to feel restricted to just one thing. There's the classic plaid flannel button down, which can be easily spruced up with a gold necklace (this was pretty much my uniform in college) but there's also skirts and dresses if you feel more into the Laura Ingalls Wilder prairie girl vibe.
---
5. Stripes, Stripes And More Stripes
1. Posh Patisserie Top by ModCloth ($24.99)
Tegan and Sara. Need I say more?
I hope these fashion tips have helped any confused chicas out there. As if it isn't hard enough finding date material, it's worse coming out and being introduced into this new kinda secret super awesome club and feeling like you don't fit in. Just hang in there and have fun. Give it some time and before you know it girls from far and wide will want to buy you a beer.
---
feature image via minsct.tumblr.com