I learned a lot about you weirdos reading the results of our first-ever Autostraddle Grown-Ups Survey, which we unleashed upon the world last month in order to ensure our fingers were firmly on the pulses of our readers over the age of 29. One of the things we asked about was your job — what you did for a living, and also what you wish you were doing for a living, if not your present job.
Here's what a word cloud of answers to "if not your present job, what job do you aspire towards?" looks like: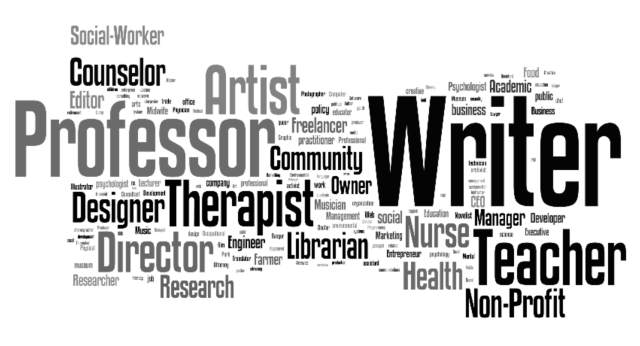 The fact that so many of you want to be librarians is the most heart-warming thing to hit my heart since we won a GLAAD Award.
And, below, some of the most kickass / interesting / unique jobs y'all named… as well as some VERY VERY SPECIAL occupations we fear may not exist.
1. queen of the world
2. Owning my own feral cat sanctuary
3. lesbian Boyz II Men a-capella cover group
4. supreme ruler of trivia nights
5. teaching poetry to kids
6. Independently Wealthy 19th century Victorian Lady-Scientist
7. Something with diplomatic immunity
8. Professional bench jeweler / metalsmith
9. Sex Ed teacher or Rock Star
10. Evil Overlord
11. One in which I use Word more than Excel
12. CBC Radio Host
13. World Changer For The Better
14. writer illustrator separatist farm queer southern rural community organizer
15. Secretary of State
16. Swashbuckler
17. Head of a venture capital firm that invests millions in Autostraddle
18. Dog therapist!
19. Luthier
20. Outreach coordinator at a California mid-size city's public library
21. Writer, Best-selling
22. Plant Ecologist for the National Park Service
23. Homesteader/woodworker/maplesugarbusher
24. Opera singer 100%, yo
25. Rabbi/Camp Director/Mother/Ohmy
26. Girls Rock Camp Programming Coordinator
27. Dominatrix
28. I aspire to be a homicide detective.
29. Lunch lady
30. Clean energy technology innovator
31. Cherie Jaffe
32. Meditation and Dreams Coach
33. Working for a large international company where i can rock a power suit and order people around all over the world, obviously.
34. I want to sit at home and write about girl bands in space
35. World, Ruler of