In 1892, the entire country was captivated by the trial of Alice Mitchell, a 19-year-old from a respected Memphis family who'd gone and murdered her ex-fiancee Freda Ward after Ward reneged on their plan to get married and be together forever. The story of Alice and Freda is told by writer, historian and researcher Alexis Coe in the book Alice and Freda Forever: A Murder in Memphis. Coe meticulously researched the girls' romance, the case against Alice and her trial, revealing the particular social norms and cultural shifts happening at the time w/r/t popular conception of gender roles, class and race that made the case such a sensation.
Nobody doubted that Alice had killed Freda — the murder had occurred in broad daylight in public — but her lawyers needed to prove that she was insane in order to get her committed to an asylum rather than sentenced to death or life imprisonment. Their primary argument: any woman who could be in love with another woman was obviously insane for that reason alone. "Therein lay the brilliance of the present insanity plea," writes Coe. "It explained what appeared to be inexplicable, and recast a murderess as the sympathetic victim of her own illness." Nobody used the word "gay" back then, of course, the popular term was "invert" (as you may recall from The Well of Loneliness) and was used to describe humans we'd now categorize as transgender and/or gay.
Unfortunately, my dear queer friends, I worry that many of you are at risk as I suspect you also possess many of these qualities. I fear for the health of your soul!
21 Qualities of Alice Mitchell Presented By The Defense As Part Of Their Case To Prove Her Insanity (And By "Insanity" I Mean "Homosexuality")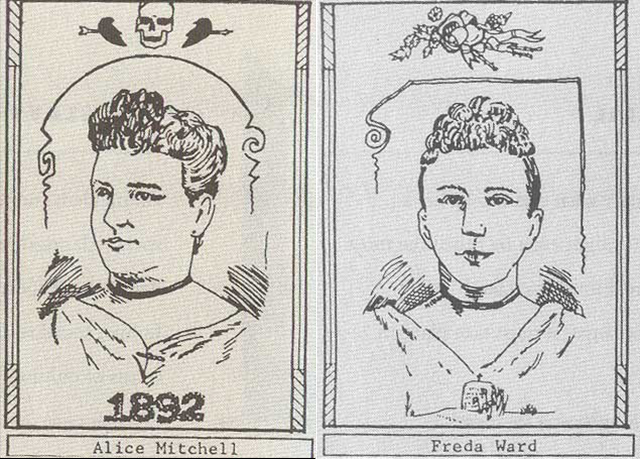 1.  "[Her mother] undertook to teach her crocheting, but could not."
2. She "delighted in marbles and tops."
3. Her best friend's older brother asked her to dance this one time and she said no, she'd rather lie in a hammock with her best friend
4. Her face was asymmetrical
5. "She often rode [her horse] bareback."
6. Her mother suffered "puerperal insanity" following the births of her children and because Alice was her final and most difficult pregnancy, it was therefore obvious that her mother had easily "passed her insanity" onto her daughter, making Alice "someone capable of perverse, unnatural love."
7. "She was regarded as mentally wrong by young men."
8. She believed she could marry a woman and that they could have a family together without having children. ("A childless home, to [the doctor's] mind, served no purpose, and could only be understood as another sign of unreason."1)
9. She was left-handed
10. She could "pump a [baseball] swing" better than her brother
11. She suffered from nosebleeds during her period, labeled as "vicarious menstruation."
12. She planned on passing as a man and supporting Freda financially
13. She kept marbles and baseballs in her bedroom
14. She thought she was in love with a woman
15.  She failed to "balk" when the butcher called her a tomboy
16. She enjoyed target shooting with a small rifle
17. She disliked sewing and needlework
18. She suffered from extreme nervous excitement and headaches
19. She was on a baseball team
20. She was a very good climber.
21. "When only four or five years old, she spent much time at a swing in the yard of the family performing such feats upon it as skinning the cat, and hanging by an arm or a leg."
---
1. Dr. John Hill Callander testified that "The frankness and sincerity of her manner on this topic was evidence either of a gross delusion or the conception of a person imbecile, or of a child without knowledge of the usual results of matrimony or the connubial state, or of the purpose of the organs of generation in the sexes."
---
Check out Alice and Freda Forever: A Murder in Memphis for yourself and learn the whole sordid story. I liked it a lot!