The main thing you need to know about day one of the Democratic National Convention is: Michelle Obama. After last week's hate-filled, fear-mongering, dictator-promising dumpster fire of a Republican National Convention painted the United States as a lawless wasteland overrun with non-Americans (people who are not white male evangelical Christians), Michelle Obama stepped up to the microphone last night and said: "Don't let anyone ever tell you that this country is not great. That somehow we need to make it great again. Because this right now is the greatest country on Earth," among other inspiring, brilliant, hopeful, intelligent, compassionate, remarkable things. She didn't mention Donald Trump by name one single time, but she fully and wholly eviscerated him.
She said the motto she and President Obama share with their daughters is: "When they go low, we go high." And then she demonstrated it to the point of transcendence.
The day leading up to the DNC's primetime show was fraught. Bernie Sanders' supporters protested in earnest and many were unreceptive to a pre-convention speech he delivered in which he implored them to acknowledge the "real world that we live in" where the Republican presidential nominee "is a bully and a demagogue" and "has made bigotry and hatred the cornerstone of his campaign" and "does not respect the Constitution of the United States or civil liberties." He followed up his speech with texts, emails, and tweets to his supporters urging them not to heckle or boo the speakers at the DNC, and not to walk out on them. "I ask you as a personal courtesy to me to not engage in any kind of protest on the floor," he texted. "Its of utmost importance you explain this to your delegations."
Despite his pleas, the early hours of the convention involved Sanders' supporters — many of whom were deeply frustrated by the recent DNC leaks that showed the Democratic party's bias toward Hillary Clinton — chanting over the party's leaders. They even broke out with shouts of "We trusted you!" when Elizabeth Warren began her speech.
Despite their unrest, when Michelle Obama took the stage, the crowd joined in thrusting their "Michelle!" banners into the air and a reverent hush fell over the audience as she spoke for 15 minutes about the character and legacy of her husband, why she endorses Hillary Clinton, and what she believes is possible for the future of the United States.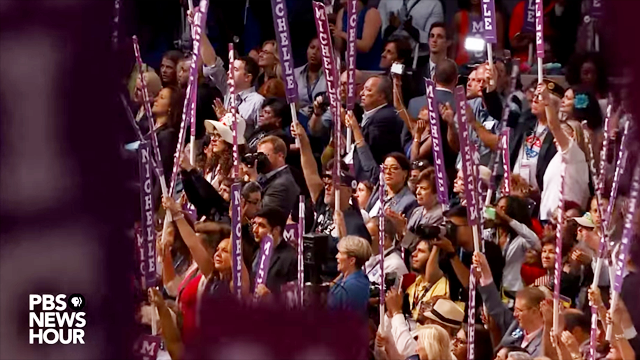 Michelle Obama's speech was the most majestic, but it was also indicative of the DNC's very conscious decision to set itself up as the polar opposite of last week's RNC. From elementary schooler Karla Ortiz, whose parents are undocumented, to gay former NBA player Jason Collins to disability advocate Anastasia Somoza, who came on stage in her wheelchair and delivered a powerhouse speech about how Donald Trump does not speak for her, a diverse parade of Democrats took the stage throughout the night to talk about where they fit into the party. It was a glorious half hour into primetime before a white man was allowed anywhere near a microphone.
The big names to join Michelle Obama were Cory Booker, Elizabeth Warren, and Bernie Sanders. Eva Longoria introduced Booker with piercing speech about how she's a ninth generation American from a family in south Texas who did not cross the U.S. border, but were instead crossed by the U.S. border when the Mexican territory was claimed by the United States. "I'm a Latina from Texas introducing the first black senator from New Jersey the week we nominate our first female president," she said. "So guess what, Donald? It turns out America is pretty great already."
Elizabeth Warren went full Elizabeth Warren, bashing Donald Trump into the ground with unceasing vigor and speaking about the middle class causes she and Bernie Sanders have been championing for their entire careers.
The biggest cheers of the night, however, were for Bernie Sanders. His arrival on stage brought down the house and had first time voters crying in the aisles. The video package that ushered him onto stage was a more diverse edit of his viral "America" ad that made me cry like a little baby every time I saw it. (It's one of the greatest political ads of all time.) And in diametric opposition to Donald Trump, who went on a baffling rant about Ted Cruz at his first post-RNC press conference and promised to put millions of dollars into super PACs to destroy the careers of everyone who ran against him, Bernie was quick and thorough as he pointed out again and again that while he lost the Democratic primary, his ideas won, and so did his supporters. And he is, of course, absolutely right. Citizens United, the $15 minimum wage, debt-free public college: he pulled the party further left than they ever have been on those issues and was able to secure their place in the official platform of the DNC.
His endorsement of Hillary Clinton was ringing. "Full-throated" is what many pundits called it.
The headlines today are selling a lot of "disunity" and "chaos" at the Democratic National Convention, and while there was definitely some unease and unrest among a small contingent of vocal Bernie supporters, the overwhelming noise of the night came for Hillary Clinton's message of hope and unity that she has inherited from Barack Obama's two previous campaigns. Perhaps the most surprising thing to come out of it was the nearly universal agreement that Michelle Obama is an even better orator than her husband. I'll just leave you with her words.
In this election, we cannot sit back and hope that everything works out for the best, we cannot afford to be tired or frustrated or cynical — no, hear me: Between now and November, we need to do what we did eight years ago and four years ago. We need to knock on every door, we need to get out every vote, we need to pour every last ounce of passion into electing Hillary Clinton as president of the United States of America. Let's get to work. Thank you all and God bless.