Look.
---
Closer
After I saw this movie, I dumped my boyfriend and got a job at a massage parlor and started lying to everybody about everything. I felt really hard and untouchable, like a human knife, like if I hid my heart deep enough in my chest, nobody would be able to find / hurt it. I felt strong and smart. I told my roommate if she saw it she wouldn't want to love anybody again but she came with me anyhow (I saw it three times) and we both cried through the whole thing and then she fought with her boyfriend in the taxi all the way home. He was a ballet dancer in Ohio. It's a play too, which I've read and seen and read and seen again. It's my favorite, I can't get enough of it, I don't know what's wrong with me.
---
Gone Girl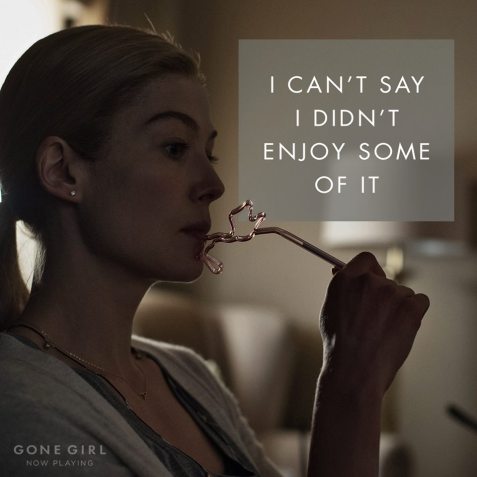 The idea here is that it's all a game, that love is a power play. You try to make sacrifices for each other but you resent them the moment you make them, and then you drift so far away from each other that before you know it you're on opposite sides of a battlefield. Secrets pile up between you and then you go out and make more of them. But I don't think this is how love actually is, or how relationships actually are. I don't think people like this are common, if they exist at all. But it's a damn good story, masterfully woven, carefully unfurled. The worst part is that the main character's description of what it is to be a "Cool Girl" is so perfect, so dead-on, so so enormously accurate, but what she does about it is so terrible.
---
Brokeback Mountain
Oh, they love the gays when we're sad! They love us when we can't have each other! When people die and pretty girls marry gay men. One of the men can't go on like this but the other one can, because he's just better at lying or something. To top it all off, Heath Ledger consequently died in real life and he was very young and it was very sad.
---
Blue is the Warmest Color
First everybody chews spaghetti really loud, then there is a very long sex scene, and then they're like, wait, is that long sex scene the only thing we have in common? Everybody messes up and then the one with the soft young face and the traditionally colored hair just can't move on. She's just sad and chewing things. It is implied that the aforementioned very long sex scene will be the best sex either of them, and probably all of us, will ever have!
---
Harriet the Spy
This movie will make you glad you're single because you'll realize that part of what made Harriet such a good spy was that she didn't fall head-over-heels for the blue-haired girl like our friend up top.
---
Old Yeller
So as a child I was deathly afraid of dogs 'cause they made me sneeze and made my eyes itch and then I'd have to go home early from the sleepover party, so I was not particularly inclined to feel deeply about the relationship between a boy and his dog. Especially a dog with so much hair. But this dog protects his human friends from WOLVES and WILD BOARS and BEARS, which I think in human terms is like the equivalent of defending your girlfriend against her homophobic family, her asshole ex and, um, a bear. Probably an actual bear (lesbians love camping!). Ugh I can't even keep talking but I cried so hard into my pillow at my Grandma's house that nobody could even tell I was having an allergic reaction to my cousin's dog.
---
Monster
I know Aileen Wournos was a serial killer and everything, but man, it bummed me out so hard when her girlfriend ratted her out, like my heart just broke for her. So I guess the moral of this story is that if you are a serial killer, you definitely don't want a girlfriend.
---
Romeo and Juliet
They just met!
---
Moulin Rouge
One time I made a girl I was dating watch this because I felt like I too was secretly choking up metaphorical blood behind the curtains and despite my legend was perched precariously on the verge of death. I wanted her to be prepared and also understand my state of mind. Conversely, I adore this film, have memorized the soundtrack, and in the summer of 2001 I listened to this soundtrack every day and I had a fabulous slutty summer of singlehood. I highly recommend it.
---
Love Actually
Even more depressing than this being the worst movie ever made, and people I love actually loving it, is that JUST LIKE YOUR LIFE, they cut out all the lesbian scenes!